You are here
Hagel talks to Saudis about Syria, Iran
By AP - May 13,2014 - Last updated at May 13,2014
JEDDAH, Saudi Arabia — US Defence Secretary Chuck Hagel flew to Saudi Arabia Tuesday for meetings with leaders there at the outset of a weeklong Middle East trip designed to reassure allies of the Obama administration's commitment to their defence.
Hagel arrived in the Red Sea port city of Jeddah and immediately met with the deputy defence minister, Salman Bin Sultan. Later he was meeting with Crown Prince Salman, the designated successor to King Abdullah
The Saudis are hosting a meeting Wednesday of defence ministers from the Gulf Cooperation Council states, including Kuwait, Qatar, Bahrain, Oman and the United Arab Emirates. It is their first session with a US defence secretary since 2008, and the formal agenda includes missile defence and other security issues linked to Iran.
Hagel said he also will discuss with the Gulf ministers the civil war in Syria and the nuclear negotiations with Iran.
On Friday, the State Department's top arms control official, Rose Gottemoeller, said Syria has moved about 92 per cent of its chemical weapons stocks to port for shipment out of the country. In a breakfast meeting with reporters in Washington, the undersecretary of state for arms control said the rest of the weapons are at a single site near Damascus.
The head of the United Nations mission charged with destroying Syria's chemical weapons had said earlier that the last 16 containers of chemical agents are in a contested area that is currently inaccessible due to the fighting.
The US has a ship on standby to undertake the destruction of Syria's chemicals. The MV Cape Ray has on board two huge machines, called field deployable hydrolysis systems, which will mix the chemicals with heated water and other chemicals to break down the toxic weapons in a titanium reactor, making them inert.
On Iran, US officials have said the Obama administration is concerned about an emerging threat to talks designed to seal a nuclear deal with Tehran.
The Russian business daily Kommersant has reported Russia plans to buy 500,000 barrels of Iranian oil a day, shattering an export limit defined by an interim nuclear agreement that world powers and Iran reached last year. The oil-for-goods exchange is still far from finalized, the newspaper said, but its potential challenges Western efforts to secure a comprehensive agreement.
In an appearance before Congress last week, Secretary of State John Kerry said Washington could impose new economic sanctions if Iran and Russia move forward with reported contract.
While nuclear negotiators met in Vienna, Kerry told the Senate Foreign Relations Committee that the Obama administration has warned Iran and Russia about moving proceeding along this path, saying that it would violate the interim agreement reached last November in Geneva.
Related Articles
May 14,2014
HRH Prince Feisal, the Regent, on Wednesday met with US Defence Secretary Chuck Hagel and discussed bilateral cooperation, especially in military and defence areas. 
Jan 30,2014
US Defence Secretary Chuck Hagel on Thursday voiced concern over Syria's delay in handing over its chemical weapons arsenal and pressed Damascus to solve the problem.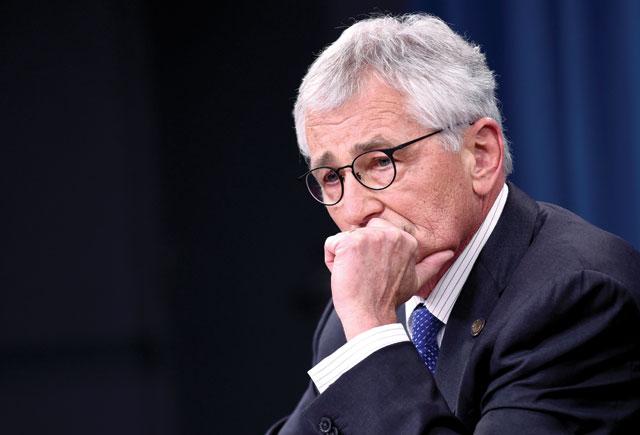 Nov 24,2014
US Defence Secretary Chuck Hagel announced his resignation Monday as President Barack Obama's White House faces mounting criticism over perceived fumbling in its global security strategy.
Newsletter
Get top stories and blog posts emailed to you each day.