You are here
Goat-sacrificing Jews arrested in Jerusalem
By AFP - Apr 14,2014 - Last updated at Apr 14,2014
OCCUPIED JERUSALEM — Israeli forces arrested five Jews suspected of trying to sacrifice a goat at Jerusalem's highly sensitive Al Aqsa Mosque compound in Jerusalem Monday as the Jewish Passover holiday begins, a spokesperson said.
The five "extreme rightwing Jews" were dragging the goat towards the flashpoint compound, known to Jews as the Temple Mount, when they were stopped and taken into custody, security spokesperson Luba Samri said in a statement.
The incident took place as the seven-day holiday, in which traditionally a lamb or a kid is sacrificed, was to begin at sunset.
The compound, in the walled Old City, houses the Dome of the Rock and Al Aqsa mosques, and is the third holiest shrine in Islam.
It is also venerated by Jews as the site where King Herod's temple stood before it was destroyed by the Romans in 70 AD, and is where the priests of antiquity would have ritually reenacted the first slaughter.
Clashes frequently break out there between Palestinians and Israeli security forces.
Muslims are intensely sensitive to any perceived threat to the status of the compound and many believe Jews are determined to build a new temple on the wide esplanade.
Jews are not allowed to pray on the Temple Mount.
Jewish fringe groups have vowed to build a third Temple, but Israeli political and religious authorities have repeatedly dismissed the idea.
Related Articles
Apr 16,2014
Dozens of Palestinians were wounded in clashes with Israeli forces that erupted Wednesday when Jerusalem's flashpoint Al Aqsa Mosque compound was opened to Jewish visitors, an AFP correspondent said.
Apr 17,2014
Thousands of Jews prayed at the Western Wall in Jerusalem's Old City on Thursday, after a series of clashes at the adjacent flashpoint Al Aqsa Mosque compound.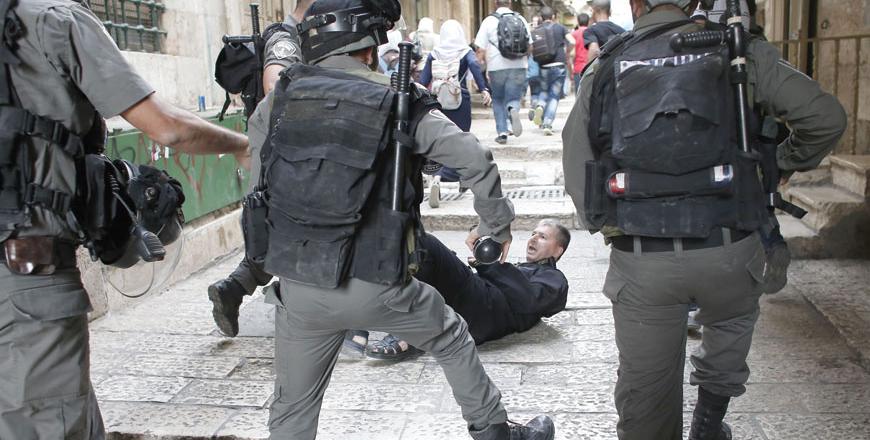 Sep 15,2015
OCCUPIED JERUSALEM — Palestinians and Israeli forces clashed at Jerusalem's flashpoint Al Aqsa Mosque compound for a second straight day Mon
Newsletter
Get top stories and blog posts emailed to you each day.