You are here
Gazans plan to try to breach Israeli sea blockade
By AFP - May 27,2018 - Last updated at May 27,2018
Palestinian highschool student Mohamed Musabih (17), who lost his leg after being struck by an Israeli occupation force bullet while he was helping a wounded woman during Great March of Return demonstrations, studies despite his injury in Khan Younis, Gaza, on Saturday (Anadolu Agency photo)
GAZA CITY, Palestinian Territories — Palestinians in the Gaza Strip will try to breach Israel's blockade by boat this week in a fresh challenge to Israeli occupation forces following weeks of protests, organisers said on Sunday.
Few details were given on the plans, but organisers said the boat would depart on Tuesday at 11:00am (0800 GMT) carrying patients needing medical care, students and job-seeking university graduates.
The boat also brings "dreams of our people and their aspirations for freedom", organiser Salah Abdul-Ati said in a press conference at Gaza City's port on the Mediterranean coast.
He called on the United Nations and other international bodies to protect the boat leaving from the enclave run by the movement Hamas.
Organisers said it would be the first attempt of its kind from the Gaza Strip.
Its intended destination was not announced.
Boats off the strip are generally limited to six nautical miles offshore, and Israeli occupation forces regularly fires warning shots at Palestinians who breach it.
The boat would likely face long odds at making it past Israeli forces.
The plan comes ahead of the eighth anniversary on Thursday of a deadly raid on Turkish-registered Mavi Marmara — part of a flotilla of six vessels seeking to break Israel's blockade and enter besieged Gaza.
Nine Turkish activists were killed in the operation, and another died in the hospital in 2014.
Mass protests began on March 30 along the fence separating Gaza and Israel.
At least 119 Palestinians have been killed by Israeli occupation forces' fire since the protests and clashes broke out, according to figures from Gaza's health ministry.
No Israelis have been killed during that time.
Low-level demonstrations along the border have continued since protests peaked on May 14, when at least 61 Palestinians were killed by Israeli forces as tens of thousands of Gazans protested against the US transfer of its embassy in Israel from Tel Aviv to Jerusalem and for the right of return of hundreds of thousands of Palestinian refugees that were forcibly displaced during the war surrounding Israel's creation.
Israel says its actions are necessary to defend the border and stop mass incursions into its territory.
The Gaza Strip has been under Israeli blockade for more than a decade.
Egypt has also kept its border with Gaza largely closed in recent years, but has opened it for the entire Muslim holy month of Ramadan.
Also on Sunday, Israeli tank fire at an Islamic Jihad observation post killed three Palestinians in the southern Gaza Strip, according to Palestinian officials.
The incident happened east of the city of Rafah in the southern Gaza Strip, a spokesman for the health ministry in the Palestinian enclave said.
The ministry identified those killed as Hussein Al Amour, 25, Abdul Haleem Al Naqa, 28, and Marwan Al Amour, 25.
Related Articles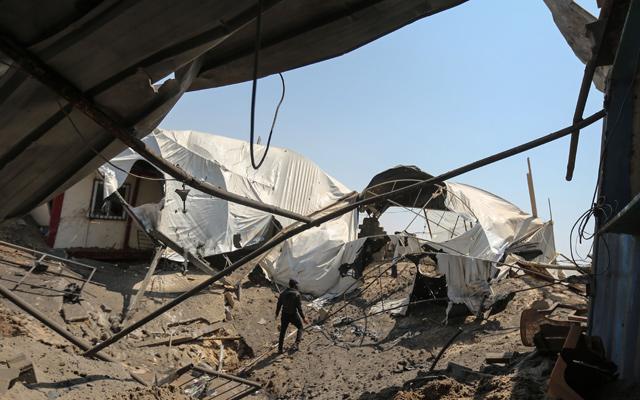 May 31,2018
UNITED NATIONS/GAZA CITY — Israel said it struck 25 more Hamas sites overnight after a barrage of rocket and mortar fire from the Gaza Strip
May 30,2018
GAZA-ISRAEL BORDER/GAZA CITY — Forces from Palestinian resistance organisations launched on Tuesday their heaviest barrages against Israel s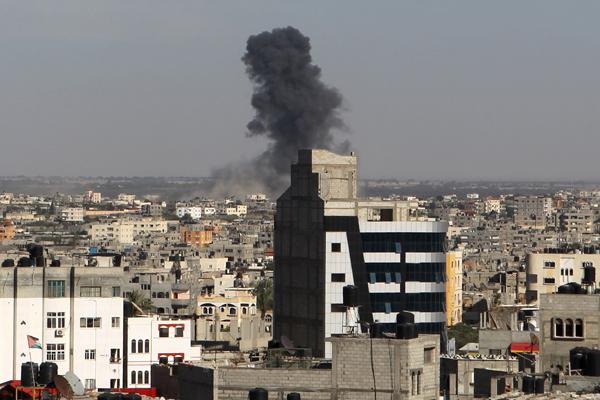 May 05,2016
GAZA CITY — A Palestinian woman was killed when Israeli tank shells hit her home in the southern Gaza Strip on Thursday, the second day of e
Newsletter
Get top stories and blog posts emailed to you each day.