You are here
'Friends of Syria' vow to step up aid to opposition
By AFP - May 15,2014 - Last updated at May 15,2014
LONDON — Western and Arab nations vowed Thursday to step up assistance for Syria's moderate opposition, while the US said "raw data" suggested chlorine had been used as a chemical weapon in the conflict.
The Friends of Syria group meeting in London poured scorn on Syrian President Bashar Assad's regime's plan to hold presidential elections in June, saying it was an "insult" while the civil war was still raging.
As they met, a car bomb killed at least 29 people on the Syrian side of the border with Turkey, a monitoring group said.
US Secretary of State John Kerry said the regime's plan to hold a presidential election on June 3 was "an insult" to the Syrian people and would be a "fraud".
A joint statement from the 11 countries at the London talks described the election as "illegitimate".
The Friends of Syria group — Britain, Egypt, France, Germany, Italy, Jordan, Qatar, Saudi Arabia, Turkey, the United Arab Emirates and the United States — was meeting for the first time since January.
Kerry said after the talks that "raw data" suggested chlorine had been used in Syria, supporting accusations made by France.
"I've seen the raw data that suggests that there may have been, as France has suggested, a number of instances in which chlorine has been used in the conduct of war," Kerry said.
French Foreign Minister Laurent Fabius suggested this week that the regime of President Bashar Assad had used chemical weapons 14 times since October, including chlorine.
US frustration with aid blockade
Kerry also voiced US frustration over blockages of aid to the Syrian population and said it was open to new ways of delivering essential supplies.
"We are open to the idea of providing aid through any means to get to the people who need it," Kerry said.
Under a UN-brokered agreement the Syrian regime is currently responsible for organising the distribution of aid through NGOs.
"We are very frustrated with the current process. It is not getting to the people, it is going through one gateway," Kerry said.
The UN's director of aid operations in Syria, John Ging, last week accused the government of blockading medical supplies bound for opposition areas, calling it an "abomination".
In a diplomatic boost to the Syrian opposition, Britain announced it had upgraded the status of their London office to a mission.
British Foreign Secretary William Hague said the move was being made "in recognition of the strength of our partnership" with the National Coalition headed by Ahmad Jarba.
Britain will also provide an extra £30 million ($50 million, 37 million euros) in "practical support" for the opposition, Hague said.
Jarba took part in the London talks after attending a week of high-level meetings in Washington in a bid to strengthen US support for the rebels.
In Washington, Jarba pleaded for anti-aircraft missiles to shoot down regime aircraft which are dropping deadly barrel bombs on Syrian civilians.
More blood was shed in Syria on Thursday, when a car bomb tore through a crowd at the Bab Al Salama border crossing with Turkey, the Syrian Observatory for Human Rights said.
At least 29 civilians were killed, including five women and three children.
Gruesome photographs posted online by activists showed distraught men standing over charred bodies.
A video of the scene on YouTube showed smoke rising from the twisted remains of a blown-up car.
up
6 users have voted, including you.
Related Articles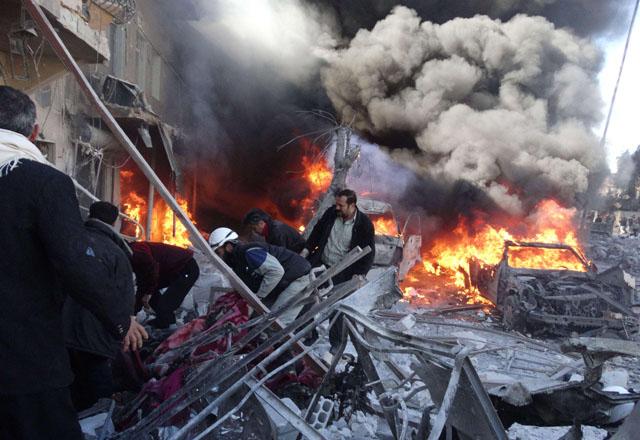 Feb 01,2014
Syrian government and opposition delegations leave 10 days of peace talks with few results and a follow-up meeting uncertain, but analysts and negotiators say the discussions are an important beginning.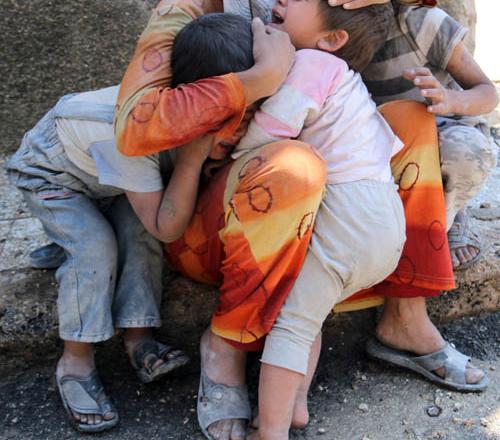 May 14,2014
The resignation of the UN's Syria envoy weeks before President Bashar Assad's expected re-election has dealt a new blow to already dim hopes for a negotiated end to the war.
Sep 21,2014
US Secretary of State John Kerry reaffirmed US concern Sunday over the use of chlorine gas against civilians in Syria and warned President Bashar Assad's regime that it would be held to account.
Newsletter
Get top stories and blog posts emailed to you each day.