You are here
'Five killed in car bomb at Mogadishu police station'
By AFP - Jun 23,2017 - Last updated at Jun 23,2017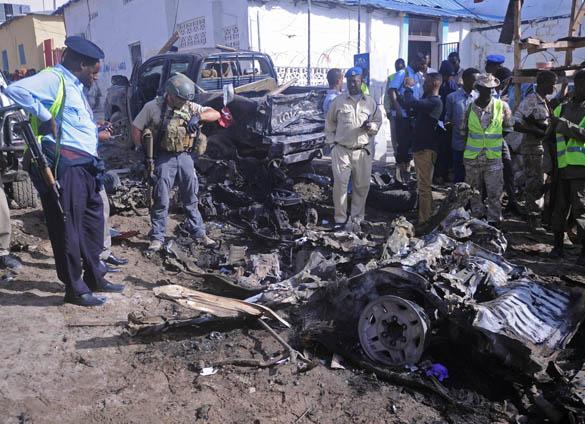 Somali soldiers attend the scene of a suicide car bomb attack on a police station in Mogadishu, Somalia, on Thursday (AFP photo)
MOGADISHU — Five people were killed and 10 were wounded on Thursday when a car packed with explosives rammed into the wall of a police station in southern Mogadishu, the security ministry said.
"The blast was caused by a car loaded with explosives, five people were killed and 10 others wounded," Ahmed Mohamud Mohamed, Somalia's internal se
curity ministry spokesman told reporters.
The attack was claimed by Al Qaeda linked Al Shabab extremists, according to a statement carried by the SITE intelligence agency.
Police officer Abdukadir Moalim said a suicide bomber had driven the car into the outer wall of the Waberi police station, killing mostly civilians.
Witnesses said the blast led to panic on the capital's busiest road, which runs alongside the police station.
"The road was congested when the blast occurred and I saw confusion as vehicles reversed, there was destruction and smoke," said witness Abdikarim Muktar.
Security forces cordoned off the road after the blast, and the wounded were being evacuated, another witness, Ali Yusuf, told AFP.
The attack comes just two days after the Shabaab drove an explosives-laden minibus into local government offices in Mogadishu, killing 10 and wounding nine.
Last Thursday, at least 18 people were killed when six Al Shabab militants launched a strike on two neighbouring restaurants in Mogadishu.
Al Shabab group, which wants to impose a Taliban-style rule on Somalia, has been fighting for the last decade to overthrow successive internationally-backed governments in Mogadishu.
It has also launched attacks in Kenya and Uganda, both contributors to a 22,000-strong African Union force in the country.
Although pushed out of the capital in 2011, the group still controls parts of the countryside and launches regular suicide bombings and raids in the capital against civilian, government and military targets.
Related Articles
Mar 09,2016
MOGADISHU — Special forces operatives in two helicopters staged an overnight raid on Somalia's Al Shabab insurgents, government officials an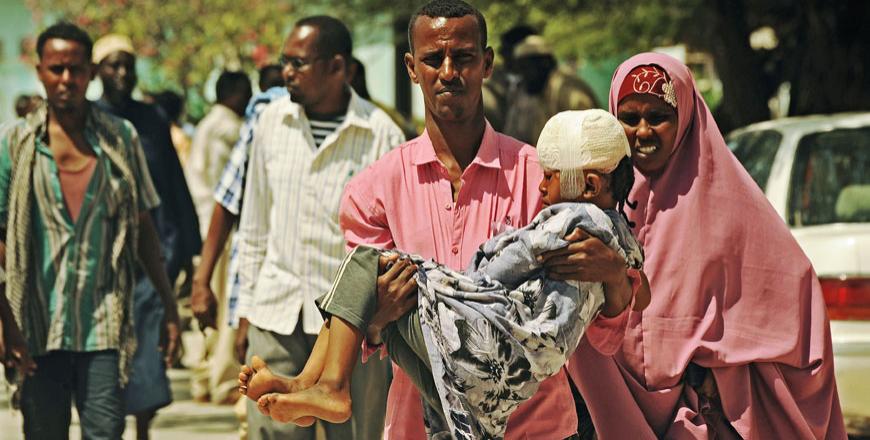 Sep 22,2015
MOGADISHU — At least seven people were killed and at least 10 wounded on Monday when a car bomb exploded near a heavily guarded complex hous
Feb 28,2016
MOGADISHU — Somalia's Al Shabab militant group bombed a busy junction and a nearby restaurant on Sunday in the town of Baidoa, killing at le
Newsletter
Get top stories and blog posts emailed to you each day.