You are here
Fateh in rare congress as succession talk builds
By AFP - Nov 27,2016 - Last updated at Nov 27,2016
RAMALLAH — Palestinian President Mahmoud Abbas' Fateh Party holds its first congress since 2009 on Tuesday as the 81-year-old leader seeks to close ranks and fend off a key rival.
While Abbas' advisers insist the congress is being held because it is overdue, some analysts see it as an opportunity for him to sideline allies of his exiled longtime rival Mohammed Dahlan.
Talk of who will eventually succeed Abbas as Palestinian president has intensified, with the ageing leader not having publicly designated a successor.
A recent hospitalisation for a heart test has only added to such talk, but Abbas has maintained that he has no intention of stepping down anytime soon.
Arab nations have reportedly been pressuring Abbas to allow Dahlan to return in hopes that it will help lead to a smooth transition.
The congress to last up to five days in the occupied West Bank city of Ramallah is expected to be key for the future of the secular party and the Palestinian Authority it controls.
It is to include elections for Fateh's central committee — in which Abbas serves as president — and its revolutionary council, considered Fateh's parliament and which has more than 120 members.
The 1,400 Fateh officials invited to attend the congress are to vote for 18 members of the central committee and 80 seats on the revolutionary council, while the rest are to be nominated.
Observers see the reduced number of officials to vote — down from more than 2,000 in 2009 — as part of a move to exclude Dahlan supporters.
Now in exile in the United Arab Emirates, Dahlan was expelled from Fateh in 2011 and has faced a series of legal cases since.
'Political infighting'

Abbas' term as Palestinian president officially ended in 2009 but there has been no election since due to an ongoing dispute between his party and its main rival, Islamist movement Hamas.
The Palestinian parliament has not met since 2007.
Fateh — which controls the West Bank — and Hamas have been at loggerheads since the latter seized the Gaza Strip in a near civil war in 2007.
Dahlan fell from grace in June 2007 after the humiliating rout of his forces by Hamas in week-long street battles that saw the Islamists expel Fateh from the coastal enclave.
The Gaza-born politician was expelled from Fateh in 2011 over allegations of financial corruption and murder.
The Palestinian high court in 2015 upheld a presidential decree lifting Dahlan's parliamentary immunity, sparking condemnation from civil society activists.
That "cannot be taken out of context: one of political infighting within Fateh around the person of lawmaker Dahlan", political analyst Jihad Harb said of the lifting of his immunity.
Fateh has become increasingly intolerant of dissent from the party line, Harb said.
The party is the main component of the Palestine Liberation Organisation (PLO) and led the movement to sign the 1993 Oslo Accords that gave birth to the Palestinian Authority.
Hamas and the Islamic Jihad — the two most powerful forces in Gaza — have never joined the PLO.
Potential successors

Recent opinion polls have suggested most Palestinians would like Abbas to step down.
Political analyst Abdel Majid Abu Sweilam says that, beyond staving off Abbas' rivals, the congress also aims to reinforce Fateh's hold within the institutions of the Palestinian Authority.
The congress will also address the Israeli-Palestinian peace process, stalled since early 2014.
It will be Fateh's seventh congress since its founding in 1959 and the first since 2009.
The 2009 meeting saw younger officials enter the central committee including Marwan Barghouti, currently imprisoned, as well as Jibril Rajoub and Dahlan.
Polls have shown that Barghouti would win if an election for Palestinian president were held today, but he is jailed for life for murder by Israel over his role in the second Palestinian Intifada.
Rajoub, a former head of intelligence, now leads the Palestinian Football Association and has been an advocate for the Palestinian cause within the sport.
Related Articles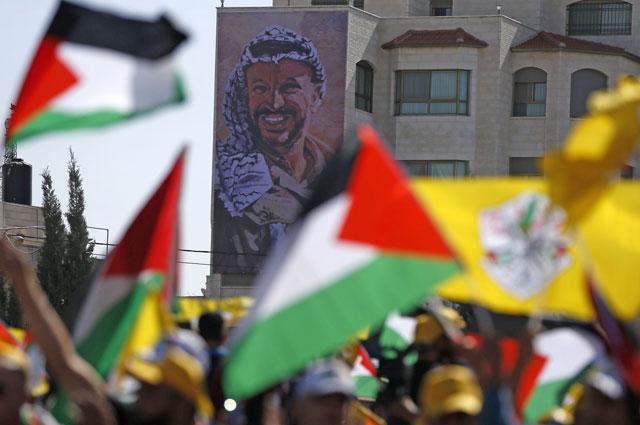 Nov 12,2016
GAZA — Days after the 12th anniversary of the death of Yasser Arafat, Palestinian leaders descended into new recriminations over who may hav
Dec 18,2014
Thousands of supporters of exiled Palestinian strongman Mohammed Dahlan protested Thursday in Gaza against the reported sacking of dozens of members of the security forces who back him.
Apr 20,2015
A Palestinian court on Sunday dismissed a high-profile corruption case against exiled Gaza strongman Mohammed Dahlan, in a move that could open the door for his return to the occupied territories.
Newsletter
Get top stories and blog posts emailed to you each day.