You are here
Eight civilians, seven soldiers killed in separate Yemen blasts
By AFP - Jul 26,2023 - Last updated at Jul 26,2023
DUBAI — Eight people, most from one family, were killed when an unexploded projectile from Yemen's years-long war detonated inside a house, while seven soldiers were killed in two separate attacks with IEDs, government officials said on Wednesday.
A government security official told AFP on condition of anonymity that "an arms dealer was killed along with his wife and five of his children (...) and another eighth person inside the family's home while dismantling a projectile left over from the war".
Another security official confirmed the death toll of the incident, which took place on Tuesday in Marib, northern Yemen.
The conflict in Yemen has rumbled on since 2014, when Iran-backed Houthi rebels seized the capital Sanaa.
A Saudi-led military coalition intervened the following year on the side of the country's internationally recognised government.
Hundreds of thousands of people have died in the fighting or from indirect causes such as lack of food in what the United Nations has called one of the world's worst humanitarian crises.
A six-month truce brokered by the United Nations expired in October last year, but fighting has largely remained on hold.
In a separate incident, an official in the government forces reported that four Yemeni soldiers were killed Tuesday evening when two IEDs "planted by the Houthis on the main road" exploded and hit a number of military vehicles on their way back from one of the fronts near Taiz.
The government military official said "the Houthis infiltrated the road and planted four explosive devices" and were able to detonate two of them as the military vehicles passed by.
And in Abyan, southern Yemen, two officers and a soldier in the government forces were killed Tuesday evening by an IED planted by unknown gunmen, believed to be from Al Qaeda, according to a military official.
According to the official, Abyan has been witnessing "security operations and confrontations between Al Qaeda members and security forces" for weeks.
Related Articles
Jul 07,2014
Clashes in the north Yemen town of Omran continued on Sunday between the army and fighters from the Houthi movement after at least 104 people were killed on Saturday, while in the south six soldiers were shot dead by Al Qaeda militants.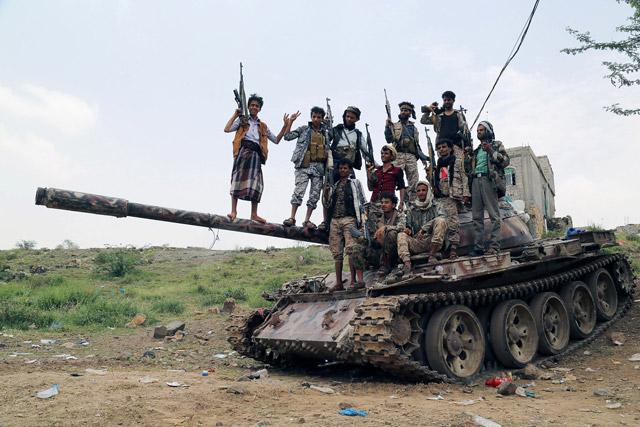 Aug 14,2017
ADEN — A roadside bomb killed 12 civilians and wounded four in southern Yemen on Monday when a blast targeting a military car hit their vehi
Dec 03,2015
ADEN, Yemen — Al Qaeda militants who fought their way into the southern Yemeni town of Jaar on Wednesday have withdrawn and police are back