You are here
Defiant Bahrain speeds up moves against main opposition bloc
By AFP - Jun 23,2016 - Last updated at Jun 23,2016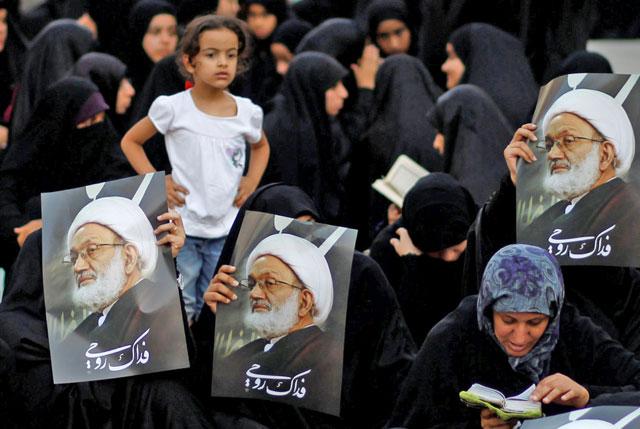 Supporters hold posters with photo of Bahrain's leading Shiite cleric Isa Qassim during a sit-in outside his home in the village of Diraz west of Manama, Bahrain, on Tuesday (Reuters photo)
DUBAI — Bahrain began court proceedings to dissolve the main Shiite opposition bloc Al Wefaq on Thursday, bringing them forward in defiance of UN and US appeals for the process to be dropped.
The bloc was the largest in parliament before its lawmakers resigned in protest at the crushing of 2011 protests calling for an elected government and Washington has labelled the crackdown on it "alarming".
The administrative court had not been due to meet on the government's request to dissolve Al Wefaq until October 6 but brought the session forward at the request of Justice Minister Sheikh Khaled Bin Ali Al Khalifa, a judicial source said.
It set its next meeting for September 4.
The court already suspended all of Al Wefaq's activities on June 14, ordering its offices closed and assets frozen.
The justice ministry said the bloc provided a haven for "terrorism, radicalisation and violence" and opened the way for "foreign interference" in the kingdom's affairs.
That was an allusion to Iran, which Sunni-ruled Bahrain accuses of fomenting unrest among its Shiite majority.
Despite repeated appeals from its US ally for "reform and reconciliation", Bahrain has carried out an intensifying crackdown on leading Shiite figures in recent weeks.
On Monday, it stripped the kingdom's top Shiite cleric Sheikh Isa Qassim of his nationality, prompting street protests in his home village of Diraz, west of Manama.
Last month, an appeals court more than doubled a four-year prison sentence handed down against Al Wefaq leader Ali Salman on charges of inciting violence.
Amnesty International urged Bahraini authorities to halt its "intensified crackdown on the rights to freedom of expression, association and movement".
The London-based rights watchdog said it was "deeply concerned" by the decision to suspend Al Wefaq.
Tiny but strategic Bahrain lies just across the Gulf from Iran and is the home base of the US Fifth Fleet.
It has been wracked by persistent unrest ever since the crushing of the 2011 protests.
Related Articles
Jun 23,2016
The Hague — Bahrain's crackdown on the main Shiite opposition bloc Al Wefaq was "creating a very dangerous situation" and needs closer inter
Jun 20,2016
DUBAI — Bahrain said Monday it has revoked the citizenship of the kingdom's top Shiite cleric, accusing him of sowing sectarian divisions, i
Jun 15,2016
DUBAI — A Bahraini court ordered the suspension of the country's main opposition group Al Wefaq on Tuesday, its lawyer said, in what appeare
Newsletter
Get top stories and blog posts emailed to you each day.