You are here
Death toll rises to 14 after Mogadishu bombings
By AFP - Feb 27,2016 - Last updated at Feb 27,2016
MOGADISHU — The death toll rose to 14 on Saturday from massive bomb blasts outside a Mogadishu hotel and a park that was claimed by Somalia's Al Shabab militants, government and medical sources said.
Eighteen people was wounded in Friday's bombings, two of whom succumbed to their injuries on Saturday, Dr Mohamed Moalim of the Medina hospital in the Somali capital told AFP.
Police on Friday said at least 12 civilians had been killed.
Two loud explosions went off near the popular SYL Hotel and neighbouring Peace Garden followed by more than an hour of automatic gunfire from 7:45pm (1645 GMT), an AFP correspondent said.
The hotel and park are close to the top-security Villa Somalia complex that houses the presidential palace and the prime minister's office.
Security Minister Abdirasak Omar Mohamed said the assailants drove a truck packed with 200kg of explosives to the SYL Hotel.
"The security forces managed to stop the truck at a checkpoint [that the driver] tried to forcefully pass and this effort minimised the casualties it could have inflicted if it was to reach the target," he told a news conference on Saturday.
"It exploded there and a number of people died".
He said it was the biggest blast to hit the city in recent years, more powerful than an attack last July when a suicide bomber rammed a truck full of explosives into the outer wall of the Jazeera Palace Hotel, killing 17 people.
Second attack on SYL
Abdirahman Ahmed, a witness who was inside the hotel at the time, told AFP several people were slightly wounded, including three security guards, "but the gunmen who tried to storm the hotel were killed outside, they could not manage to enter".
"The blast was so huge and windows broken everywhere but the gunfire was outside," he said.
"Everyone was safe inside, but terrified."
The attack is the second in a year to target the SYL Hotel, following a suicide bombing there in January 2015 that left five people dead.
Security sources said the blast in the neighbouring Peace Garden was also the result of explosives packed into a vehicle, but gave no further details.
The park is popular with Mogadishu residents, especially on Fridays, thanks to its children's playground and cafe terraces.
Al Shabab movement claimed responsibility for the attack in a brief statement on its Instagram account.
Forced out of Mogadishu in mid-2011, Al Shabab are on a mission to disprove suggestions they are close to defeat and have claimed several spectacular attacks in recent months.
On February 2, the militants said they had carried out a bombing that ripped a hole in a passenger jet shortly after take-off from Mogadishu airport, killing the suspected bomber.
Al Shabab is fighting to overthrow the internationally backed government in Mogadishu, which is protected by 22,000 African Union troops.
Related Articles
Dec 11,2019
MOGADISHU — Five people including three civilians were killed when militants stormed a hotel in Somalia's capital, police said on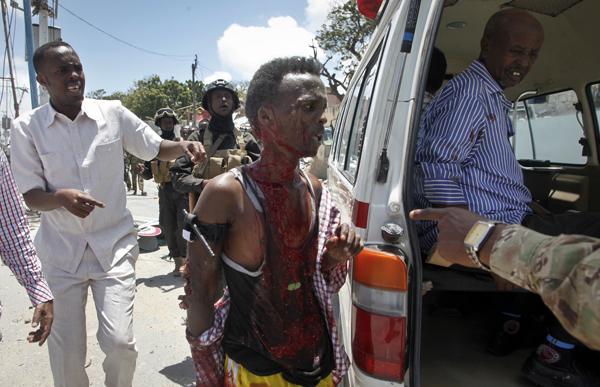 Aug 31,2016
MOGADISHU —At least 15 people died when extremists exploded a suicide car bomb outside a popular hotel close to the presidential palace in S
Jan 22,2015
At least five people were killed Thursday in a suicide car bombing against a hotel in Mogadishu on the eve of a visit to the Somali capital by Turkey's president, police and witnesses said.