You are here
Death of Palestinian youth while being arrested unexplained
By AFP - Sep 25,2018 - Last updated at Sep 25,2018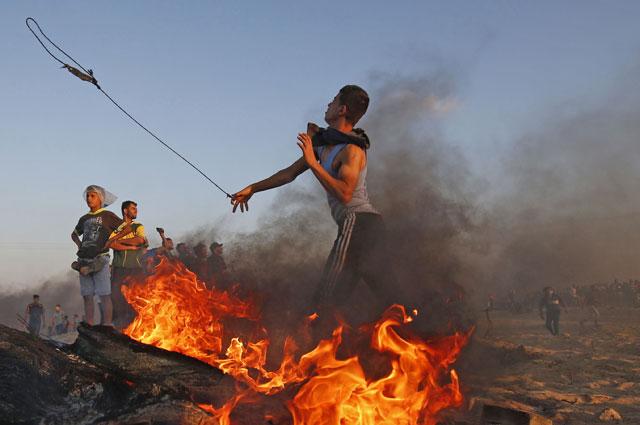 A Palestinian demonstrator uses a slingshot to throw stones during a protest calling for an end to the Israeli blockade on Gaza, on a beach in Beit Lahiya near the maritime border with Israel, on Monday (AFP photo)
OCCUPIED JERUSALEM — The Palestinian committee on prisoner affairs said on Monday that the preliminary results from the autopsy on the body of the Palestinian youth who died while being arrested on September 18 during a raid on the village of Beit Rima, in the occupied West Bank show he had been beaten.
But Israeli occupation authorities stated that it does not prove he was assaulted to death during his arrest.
Mohammed Khatib, 24, died during his arrest, and his family said soldiers raided the house while he was sleeping before beating him and causing his death.
Israeli officials said at the time that he had been "arrested without violence or resistance from his part".
An Israeli spokesman said "the autopsy during which a Palestinian doctor was present revealed that the suspect did not die as a result of trauma or force applied by [Israeli] troops."
"The circumstances regarding his death are being looked into."
The spokesman said Khatib lost consciousness during the arrest and army medics treated him at the scene before evacuating him to hospital "while carrying out resuscitation efforts".
Khatib was declared dead at the hospital, he said.
The youth was allegedly arrested on suspicions of "hostile activities" and has referred to him as a "terror suspect", but has not provided further details.
Newsletter
Get top stories and blog posts emailed to you each day.