You are here
Deadly suicide bombings hit Damascus police station
At least 11 people were killed in attack — monitor
By AFP - Oct 02,2017 - Last updated at Oct 02,2017
This photo shows the site of a double suicide bomb attack which hit Al Midan police station in Syria's capital Damascus, on Monday (AFP photo)
DAMASCUS — A double suicide bomb attack hit a police station in Syria's capital Damascus on Monday, state media said, with a monitor saying at least 11 people were killed.
Damascus has been largely insulated from the worst of the violence during the country's brutal six-year war, but several bomb attacks have shaken the city.
Syria's interior ministry said two suicide bombers had blown themselves up at the police station in the southern district of Midan, leading to the "deaths of a number of civilians and a number of policemen".
The Syrian Observatory for Human Rights, a Britain-based monitor of the war, said at least 11 people were killed in the attack, among them six police officers.
The monitor also reported that a car bomb had been detonated during the attack, but state media made no mention of a third blast.
Interior Minister Mohammed Shaar told reporters that one of the attackers had managed to enter the police station and reach the first floor of the building.
State television showed images of damage from inside the building, with a black police uniform shirt covered in dust lying in the rubble of partially collapsed walls.
The entire front of one room on the first floor had been blown out by the explosion, and inside what remained, twisted bits of metal were scattered across the rubble.
Policemen carried one body away from the scene wrapped inside a white tarpaulin.
Manal, a 28-year-old teacher living in Midan, said she heard at least two blasts on Monday afternoon.
"I was coming back from work when I heard the sound of an explosion, it was around 2:30pm, I didn't know what it was, and then there was another explosion a few minutes later and buildings shook," she told AFP.
"Afterwards I heard gunfire, which usually happens to get people to move out of the way and clear the road so ambulances can get through to retrieve the injured," she added.
Damascus has also been rocked by occasional bomb blasts throughout the Syrian conflict, including previous attacks on Midan, a middle-class residential and shopping district.
In December 2016, three police officers were wounded when a seven-year-old girl walked into the neighbourhood's police station wearing an explosive belt that was remotely detonated.
Rebel groups have been gradually expelled from territory in the capital they once held, though they maintain a presence in a handful of positions, including the Jobar neighbourhood.
They also hold territory in the Eastern Ghouta region outside the capital, and have regularly launched rockets into the city.
More than 330,000 people have been killed in Syria since its conflict began with protests that were met with a harsh government crackdown.
A wide array of international players have been drawn in on both sides, with the government relying on allies including Iran, Russia and the powerful Hezbollah militia from neighbouring Lebanon.
Ten Hizbollah members were killed on Monday in a suspected drone strike in the Badiya desert region in the central province of Homs, the observatory reported, revising an earlier toll of at least eight.
The unidentified strike came near the town of Sukhna in a region where Syria's government and allied fighters are battling the Daesh terror group.
Related Articles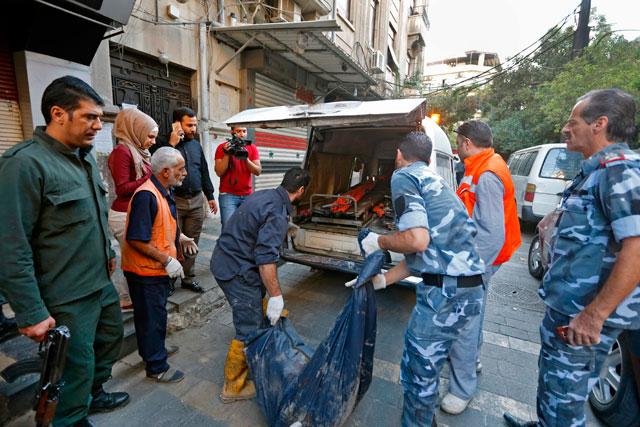 Oct 12,2017
DAMASCUS — Three suicide bombers blew themselves up near the main police headquarters building in Syria's capital Damascus on Wednesday, kil
Feb 17,2016
ANKARA — Twenty-eight people were killed and dozens wounded in Turkey's capital Ankara on Wednesday when a car laden with explosives detonat
Mar 22,2016
BRUSSELS — Victims lay in pools of blood, their limbs blown off, as the smoke cleared to reveal a scene of horror after twin explosion
Newsletter
Get top stories and blog posts emailed to you each day.