You are here
Coalition raids on Syria's Raqqa kill 29 civilians in 24 hours — monitor
Observatory says 14 of the dead were members of one family
By AFP - Aug 09,2017 - Last updated at Aug 09,2017
A huge explosion sends clouds into the air after government forces reportedly carried out air and ground strikes over the rebel-held Ein Tarma district in the Eastern Ghouta region of Damascus, Syria, on Monday (Anadolu Agency photo)
BEIRUT — US-led coalition raids on Raqqa in northern Syria have killed 29 civilians over the past 24 hours as American-backed forces battle the Daesh terror group, a monitor said Tuesday.
The Britain-based Syrian Observatory for Human Rights said nine women and 14 children had been killed in coalition air raids on Raqqa city since Monday evening.
It said 14 of the dead were members of one family.
The toll could rise because of the number of critically wounded, it added.
The American-led coalition battling Daesh in Syria and Iraq on Tuesday entered its fourth year of operations.
It began on August 8, 2014, in Iraq, moving later to battle the extremists in neighbouring Syria.
The United States is backing an Arab-Kurdish alliance that is fighting to oust Daesh from Raqqa, its main Syrian stronghold, and the province of the same name.
The Observatory, which relies on a network of sources inside Syria for its information, has regularly reported civilians killed by coalition strikes.
It says it determines what aircraft carried out raids according to their type, location, flight patterns and the munitions involved.
The United States has admitted that its strikes caused the deaths of 624 civilians since 2014. Rights organisations say the number is far higher.
United Nations war crimes investigators in June expressed alarm at the rise in civilian deaths in the fight for Raqqa.
Intensified air strikes had caused "staggering loss of civilian life" and led to 160,000 civilians fleeing their homes, Paulo Sergio Pinheiro, head of the UN Commission of Inquiry, told reporters.
Captured by the extremists in 2014, Raqqa became a symbol of atrocities by Daesh in its self-declared "caliphate".
The Syrian Democratic Forces alliance began a campaign to capture the city last year, slowly encircling the city before breaking into it for the first time in June.
They have since advanced in a pincer-like motion and taken around 45 per cent of the city.
The extremist group has responded with a barrage of car bombs, suicide bombers, weaponised drones and snipers.
Progress inside Raqqa has been hampered by Daesh mines, which have slowed advancing SDF fighters and also had devastating consequences for civilians trying to flee.
To the southeast, Syrian government forces backed by their Russian allies are fighting Daesh in the oil-rich province of Deir Ezzor.
More than 330,000 people have been killed in Syria since the conflict began with anti-government protests in March 2011.
Related Articles
Jul 29,2017
RAQQA, Syria — As the Daesh terror group militants steadily lose chunks of their Syrian bastion Raqqa to a US-backed force, the extremists a
Jun 15,2017
BEIRUT — The battle to oust the Daesh terror group from its stronghold of Raqqa is creating daunting challenges for aid groups responding to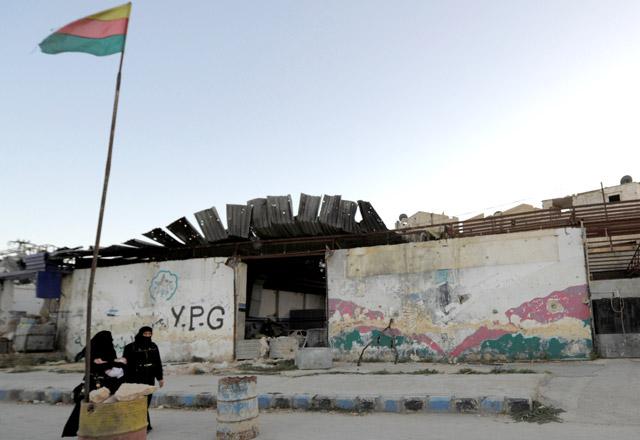 Jul 27,2017
BEIRUT — A US-backed alliance has ousted the Daesh terror group group extremists from half of their Syrian bastion Raqqa, a monitor said on
Newsletter
Get top stories and blog posts emailed to you each day.