You are here
Civilians flee Daesh-held Syria cities after strikes — monitor
By AFP - May 27,2017 - Last updated at May 27,2017
BEIRUT — Hundreds of civilians are fleeing two cities held by the Daesh group in eastern Syria after a series of deadly air strikes that killed dozens, a monitor said Saturday.
The Syrian Observatory for Human Rights, a Britain-based monitor, said a "large-scale displacement" was underway from the cities of Albu Kamal and Mayadeen.
"Hundreds of civilians are fleeing the two cities heading towards villages in the countryside," the observatory said.
The monitor's director, Rami Abdel Rahman, said civilians had begun fleeing on Friday but that the displacement was continuing on Saturday morning.
He said relatives of Daesh militants were among those fleeing.
The two cities are in Syria's oil-rich eastern Deir Ezzor province, which is largely under the control of Daesh and regularly targeted by the US-led coalition, as well as Syria's regime and its ally Russia.
On Friday, at least 80 relatives of Daesh fighters were killed in US-led coalition bombing of Mayadeen, according to the observatory.
Air raids by the coalition have pounded Daesh positions across Iraq and Syria since the group claimed responsibility for the devastating bombing at a concert in the English city of Manchester on Monday.
The monitor said 33 children were among the dead in the strike on Mayadeen on Friday, the third day of heavy bombardment of the town.
According to the observatory, 37 civilians were killed in coalition raids on the town on Thursday night, including 13 children, and another 15 were killed in coalition strikes on Wednesday.
Mayadeen has seen an influx of displaced families from Daesh-held territory in Iraq and Syria, including its bastion Raqqa.
Albu Kamal sits on the border between Iraq and Syria and has also regularly been targeted in air strikes.
Earlier this month, at least 62 people, including 42 civilians, were killed in strikes on the town.
The US-led coalition denied responsibility for those strikes.
On Thursday, a Pentagon investigation concluded that at least 105 civilians died in an anti-militant air strike on an Daesh weapons cache in Mosul in March.
Before the new revelation, the US military had said coalition air strikes in Iraq and Syria had "unintentionally" killed 352 civilians since 2014.
But monitors say the true number is much higher.
Related Articles
May 31,2017
BEIRUT — A US-led coalition air strike on eastern Syria has killed a founder of the Daesh terror group's notorious Amaq propaganda agency, S
Nov 16,2015
BEIRUT — US-led coalition warplanes have pounded the Daesh terror group in Syria after the Paris attacks, with French raids hitting Daesh st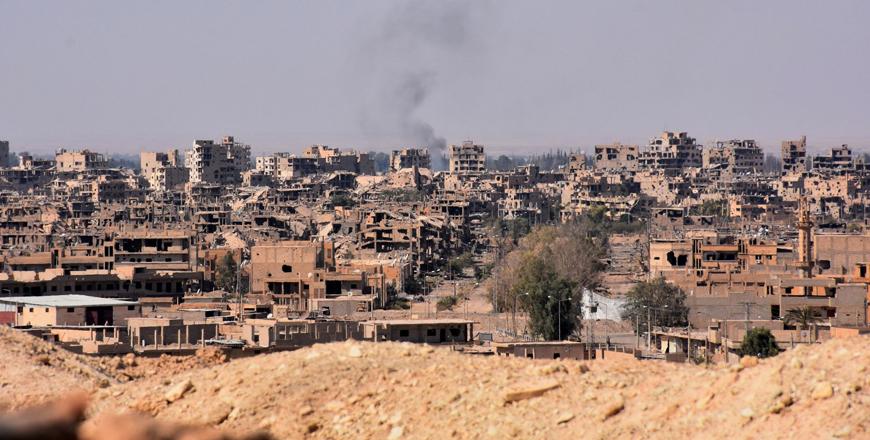 Sep 12,2017
BEIRUT — Separate Russian and US-led coalition air strikes on Tuesday killed 35 civilians in Syria's eastern Deir Ezzor province, where para
Newsletter
Get top stories and blog posts emailed to you each day.