You are here
Car bomb aimed at UAE officials kills three Somali soldiers in Mogadishu
By Reuters - Jun 24,2015 - Last updated at Jun 24,2015
Somali soldiers stand near the wreckage at the scene of a suicide car bomb attack which targeted a convoy of foreign officials in Mogadishu, Somalia, Wednesday (AP photo)
MOGADISHU — A car bomb targeting a convoy of military instructors from the United Arab Emirates exploded in the Somali capital of Mogadishu on Wednesday, killing at least three Somalis but injuring no UAE citizens, security officials said.
The officials said the UAE ambassador was also travelling in the convoy, which was attacked in Mogadishu's Hodan District. He was unhurt. Seven other people were wounded, police said.
The Islamist militant group Al Shabaab claimed responsibility for the attack and said it had "inflicted casualties".
Hussein Afrah, a Somali military officer, said the car bomb targeted the UAE trainers, who were in a bullet-proof car. Those killed were Somali soldiers, he said.
"The incident took place near the military hospital where UAE trains Somali military. Three Somali military... died and several other civilians who were passing by were injured," Afrah told Reuters.
A wounded soldier who preferred to be named only as Ahmed said the UAE ambassador to Somalia was also in the convoy and was unharmed.
"The UAE ambassador was in a bullet-proof car ahead of us and the car bomb missed its target," he told Reuters.
The ambassador, Mohammed Othman Al Hammadi, said in a statement carried by UAE state news agency WAM that the attack targeted a relief convoy.
"A terrorist car bomb targeted an Emirati relief convoy [which was] in ... Mogadishu for the blessed month of Ramadan, resulting in the death of three Somalis and wounded others," he was quoted saying.
Al Hammadi did not give more details of who was in the convoy, or if he was part of it.
Nicholas Kay, the special representative of the UN Secretary-General for Somalia, also confirmed the attack on the convoy but gave no details of who was in it.
"I condemn today's appalling attack against innocent civilians and dedicated international officials who are providing critical peace-building and state building support to Somalia," Kay said in a statement.
Al Shabaab put the number of those killed at 17, but this was not independently verifiable. In the past, al Shabaab has exaggerated the number of casualties it has inflicted and government officials have played down losses.
A Reuters witness saw the ruined car in which the bomb had been detonated, a damaged military pickup and a pool of blood.
Al Qaeda-aligned group has in the past stepped up attacks during the fasting month of Ramadan, which began a week ago.
On Sunday, Al Shabaab militants detonated a car bomb in the capital and shot their way into a national intelligence agency training site.
Four Islamist gunmen were killed, the internal security ministry said, adding that the government did not suffer any casualties during the attack. Al Shabaab said more than 10 intelligence officials were killed.
An African Union Mission in Somalia (AMISOM) and Somali army offensive last year pushed al Shabaab out of major strongholds, but the group still controls some rural areas. It launches regular attacks in Somalia and neighbouring Kenya, which also has forces with AMISOM.
On Monday and Tuesday, police said the group had killed six soldiers and an elder in separate incidents in the capital, the south central town of Beledweyne and the seaside town of Marka. Al Shabaab put the number killed at nine.
Related Articles
Apr 01,2018
MOGADISHU, Somalia — Insurgents battled for hours on Sunday with African Union (AU) troops after exploding a car bomb outside their base, So
Aug 05,2018
MOGADISHU — At least three Somali soldiers were killed in a suicide bomb attack in Afgoye district, a town 30km to the north west of the cap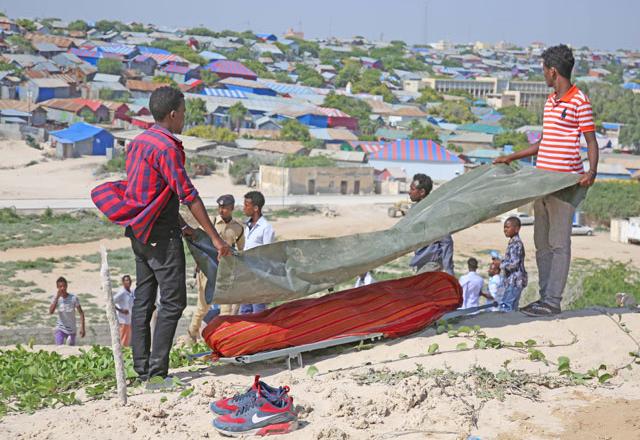 Dec 14,2017
MOGADISHU — A suicide bomber from Somalia's Shabaab insurgents killed 18 police officers and wounded 15 others on Thursday when he blew hims
Newsletter
Get top stories and blog posts emailed to you each day.