You are here
Arab war planes bomb Yemen; exiles report US-Houthi talks
By Reuters - Jun 01,2015 - Last updated at Jun 01,2015
Houthi Shiite militants inspect damage following an air strike by the Saudi-led coalition on Sunday (AFP photo)
DUBAI — Aircraft from a Saudi-led coalition bombed Yemen's Houthi outposts throughout the country on Sunday, residents said, while Yemen's government in exile said the militia was in talks with the United States in Oman.
The raids hit an air base near Sanaa Airport and a military installation aligned with the Houthis overlooking the presidential palace compound in the capital Sanaa.
The Saudi-led coalition began air strikes in Yemen in March in a campaign to restore Yemeni President Abed Rabbo Mansour Hadi to power. He fled in March, after Iranian-backed Houthis seized Sanaa in September and then thrust into central and south Yemen.
Nearly 2,000 people have been killed and over 8,000 wounded in the conflict since March 19, according to the United Nations.
The Houthis' TV channel Al Masira said the coalition had launched 25 air strikes on the main Houthi provinces of Saada and Hajja along the kingdom's border, without giving details, and said Saudi ground forces were also shelling the areas.
Residents in Saada confirmed to Reuters by telephone that Houthi positions were heavily bombed by war planes, but there was no immediate confirmation by Saudi authorities.
In the central city of Taiz, also a main battleground between armed Hadi loyalists and Houthi militiamen, residents reported Arab air strikes on Houthi forces gathered in a historic mountaintop fortress and a nearby special forces base.
Oman talks
Yemen's exiled government in Saudi Arabia told Reuters on Sunday that senior Houthi officials are holding talks with the United States in neighbouring Oman to help end the nine-week conflict, in a sign that diplomacy may be advancing.
"We have been informed that there are meetings, at American request, and that a private American plane carried the Houthis to Muscat," Rajeh Badi, a spokesman for the Hadi government told Reuters by telephone from the Saudi capital Riyadh.
The Yemeni government was not party to the talks, Badi said. There was no immediate comment from Houthi or US officials.
If confirmed, the Oman meeting would be the first between the Houthis and the United States, Saudi Arabia's main foreign ally, since the start of the war.
The United States has said it was providing arms and intelligence to Saudi Arabia during its campaign in Yemen and has historically been its most powerful ally.
"We hope that these talks are being held in the context of international efforts to implement UN Security Council resolution 2216," Badi said.
The resolution, adopted in April, recognised Hadi as Yemen's legitimate authority and called on the Houthis to quit the main cities.
UN special envoy to Yemen, Ismail Ould Cheikh Ahmed, has renewed efforts to set another date for Yemeni political factions to meet in Geneva for peace talks, which were postponed indefinitely after Hadi demanded delays.
Houthi spokesman Mohammed Abdul Salam announced on May 23 that he had departed with an official delegation from the group to neighbouring Oman to discuss the conflict with the Omani government, a frequent peacebroker in the region.
Yemeni politicians who met Ould Cheikh Ahmed in Sanaa on Saturday said he had informed them that "indirect talks" were underway in Muscat between the Houthi delegation and US officials through Omani mediation.
Officials from the UN envoy's team were not immediately available to comment.
Cluster bombs
Heavy artillery clashes along Yemen's border with the kingdom have increased as the war enters its ninth week.
Houthi TV reported that the rebels fired 20 rockets at Saudi Arabia's southwestern border city of Najran on Saturday, and broadcast a video it said showed Houthi forces shelling a Saudi border post.
A Saudi interior ministry spokesman said a border guard was killed and seven others were wounded on Saturday in the Najran region by rocket attacks from inside Yemen.
The coalition's campaign aimed to neutralise "the threats posed by heavy weapons in the hands of elements not backing the legitimate authority in Yemen", Foreign Minister Sameh Shukri of Egypt, a member of the Saudi-led coalition, told reporters alongside his Saudi counterpart in the capital Cairo on Sunday.
Related Articles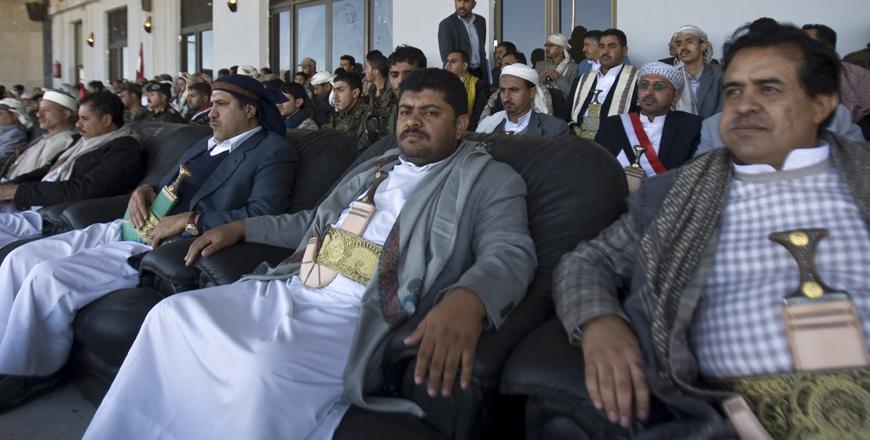 Jun 04,2015
SANAA () — The second-in-command of Yemen's Shiite rebels on Wednesday assailed the Saudi-led air strikes pounding his group's positions and
Jun 02,2015
SANAA — Armed tribesmen killed 18 Houthi fighters in an ambush in Yemen's central province of Ibb on Tuesday, residents said, in one of the
Jun 01,2015
SANAA — Efforts to bring Yemen's warring factions together to discuss their conflict have made some progress, officials said on Monday, as w
Newsletter
Get top stories and blog posts emailed to you each day.