You are here
Al Qaeda takes two Syrian bases in major blow to regime
By AFP - Dec 16,2014 - Last updated at Dec 16,2014
BEIRUT — Militants linked to Al Qaeda dealt a major blow to Syria's regime on Monday by seizing two key army bases within hours, giving them control over most of Idlib province.
The gains also signalled another defeat for Western-backed rebels who were driven out of most of the northwestern province last month by the jihadist Al Nusra Front.
The Syrian Observatory for Human Rights said Al Nusra Front — the battered country's Al Qaeda branch — seized Hamidiyeh and Wadi Al Deif, the regime's largest outposts in Idlib.
The jihadists advanced in coordination with Islamist rebel groups Ahrar Al Sham and Jund Al Aqsa, the observatory said, adding that a string of villages in the area also fell.
Al Nusra Front claimed via Twitter it was "the only faction that took part in the liberation of Wadi Al Deif", and that it was now "chasing down" soldiers.
State television cited a military source as implicitly acknowledging the loss.
"The army redeployed this morning in the Wadi Al Deif region and is engaged in fierce fighting at Hamidiyeh," it reported the source as saying.
The attack on Wadi Al Deif, which began on Sunday, killed at least 31 troops and 12 jihadists, the observatory said.
Speaking to AFP on condition of anonymity, a source from Lebanon's Shiite Hizbollah movement which had deployed fighters to bolster regime efforts in Idlib said "more than 3,000 [Islamist] gunmen" joined the twin offensive.
Mainstream rebels had been battling to take Wadi Al Deif and Hamidiyeh for around two years, but despite repeated attempts had failed to do so.
Rise of the jihadists
Charles Lister of the Brookings Doha Centre said the gains highlighted the rise of the jihadists in the province.
"The nature of the operations has served to underline the renewed prominence of more Islamically minded forces in Idlib, with Jabhat [Front] Al Nusra and Ahrar Al Sham having played the dominant role in practically capturing the facilities," he said.
Observatory director Rami Abdel Rahman said Al Nusra had used tanks and heavy weapons captured last month from the Western-backed Syrian Revolutionary Front.
Its defeat of the SRF was seen as a blow to US efforts to create and train a moderate rebel force as a counterweight to jihadists of the Islamic State group.
Within hours of taking Wadi Al Deif, Al Nusra and the two other Islamist rebel groups also seized Hamidiyeh, the observatory said.
"They took 15 soldiers prisoner from Hamidiyeh," Abdel Rahman said, adding that helicopters evacuated senior officers late Sunday, hours before it fell.
After Al Nusra and its allies moved in, regime warplanes launched 17 air raids against the base, the Britain-based group said.
Thomas Pierret, who teaches Islamic and Middle Eastern studies at the University of Edinburgh, said the advance is important militarily because the bases are on a road linking the central province of Hama to Aleppo in the north.
Top leadership wiped out
Lister said the advance may pave the way for "a major assault on Idlib city", which like most Syrian provincial capitals remains in regime hands.
The gains give Al Nusra firm control of much of Idlib province, limiting the chances of a challenge from potential rivals.
Until September this year, Ahrar Al Sham had sought to distance itself from more hardline jihadists in Syria.
But a September 9 explosion that killed its top leadership "pushed the group to align itself more openly with Al Nusra", Abdel Rahman said.
"Now the two are fighting side by side."
On Monday, Ahrar Al Sham broke its silence on the September blast, blaming "a criminal group" with "international links". Abdel Rahman said this was an apparent reference to Western intelligence agencies.
Idlib was among the first provinces to fall, soon after the March 2011 outbreak of the armed revolt against President Bashar Assad's rule.
Syria's war began as a pro-democracy movement demanding his ouster, but later morphed into a brutal war after the regime unleashed a massive crackdown.
More than 200,000 people have been killed in nearly four years, and around half the population has been forced to flee.
Related Articles
Dec 16,2014
Nearly 200 combatants on both sides were killed in 24 hours when the Syrian branch of Al Qaeda took two regime bases in Idlib province, a monitoring group said on Tuesday.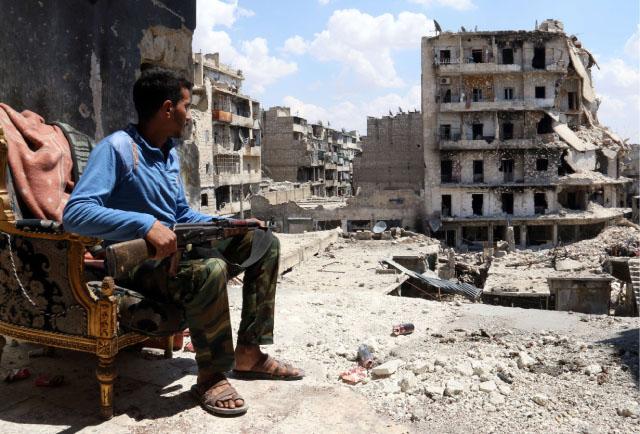 May 26,2014
Syrian rebels made advances on Monday in the war-torn country's northwest, seizing several army checkpoints as they inched closer towards taking over two major bases, a monitor and activists said.
Sep 10,2014
Syria's Islamist Ahrar Al Sham rebel brigade named new chiefs on Wednesday after a devastating blast killed nearly 50 members of its leadership in a northwestern province largely under rebel control.