You are here
Al Qaeda-linked militants in Lebanon apologise for civilian deaths
By Reuters - Mar 08,2014 - Last updated at Mar 08,2014
BEIRUT — A Sunni Lebanese militant group linked to Al Qaeda has apologised for the civilian casualties of a suicide bombing last month, and said its fight was against Iran and its ally Hizbollah, not Shiites in general.
The Abdullah Azzam Brigades took credit for a February 19 attack on Shiite Iran's cultural centre in Beirut that killed eight people in an area where support for the Shiite political and military movement Hizbollah runs strong.
But in an unusual statement published on Islamist websites and on the group's Twitter feed, the group said it had intended the explosions to go off in an area where shrapnel would not reach the main street, so as to spare civilian lives.
"The Abdullah Azzam Brigades' operations do not target Shiites in general, or any other sect, and we always stress to our martydom-seekers to be cautious and abort an operation if they think it could kill others than those targeted," it said.
It blamed an "unintended defect" for the error.
Lebanon has been increasingly hit by violence linked to the war in its much larger neighbour Syria, which has killed over 140,000 people over the last three years and forced millions to flee their homes, including nearly 1 million into Lebanon.
The conflict has taken on an increasingly sectarian character. Hizbollah has sent fighters to assist President Bashar Assad, a member of the Shiite offshoot Alawite sect, while the rebels are overwhelmingly Sunni and include many hardline Islamists, including some linked to Al Qaeda.
The Abdullah Azzam Brigades also claimed a November attack on the Iranian embassy in Beirut.
A group describing itself as the Lebanese branch of the Nusra Front, Al Qaeda's affiliate in Syria, has also claimed suicide attacks in Shiite areas of Lebanon, including several in Beirut's southern suburbs.
The Abdullah Azzam Brigades said in its statement it chose only "legitimate targets" of Iran and Hizbollah, but also accused Hizbollah of using civilians as "human shields".
"We assure our people, the Sunni people and all Lebanon's sects: Our war is with the party of Iran, and our targets are its interests and its military, security, and political centres in Lebanon and abroad," it said, referring to Hizbollah.
Related Articles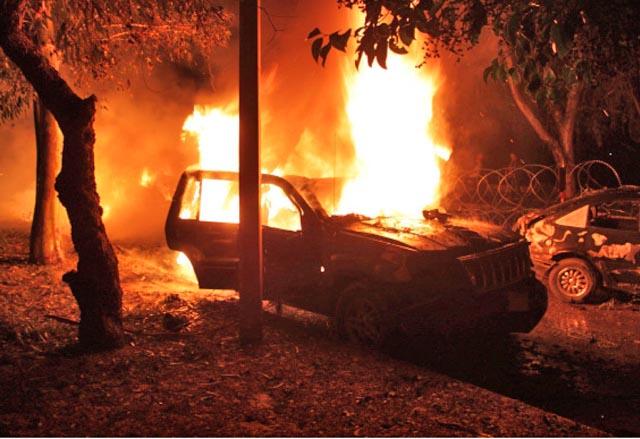 Feb 22,2014
A suicide bomber killed two Lebanese soldiers with a car bomb near an army checkpoint in a Hizbollah stronghold in northeast Lebanon on Saturday, security sources said.
Jan 25,2014
Former premier Saad Hariri said Saturday Lebanon's Sunni Muslims refuse to be a part of any conflict between Al Qaeda and Shiite movement Hizbollah, denouncing sectarian attacks on civilians anywhere in the country.
Feb 12,2014
Lebanon's army on Wednesday arrested a commander of a group loyal to Al Qaeda that in November claimed a twin suicide attack against the Iranian embassy in Beirut, killing 25 people.