You are here
After sweeping into northern Syria, Turkey faces hard choices
By Reuters - Sep 01,2016 - Last updated at Sep 01,2016
JARABLUS — Flashing victory signs and firing in the air, the young rebels who took this Syrian town from Daesh a week ago may be jubilant, but their ability to hold territory will hinge on Turkey's appetite for keeping its forces inside Syria.
Sweeping in to Jarablus may have been the easy part. Backed by Turkish tanks, jets and special forces, Arab and Turkmen fighters under the loose banner of the Free Syrian Army (FSA) drove out Daesh in a matter of hours last Wednesday.
It could prove more difficult for the rebels, who number only around 1,500 fighters, to push west and secure the 90 km stretch of Daesh-held border territory that Ankara has touted as a potential buffer zone.
They face not only the challenge of displacing the ultra-hardline group but of preventing Kurdish militia fighters, backed by the United States but viewed as a hostile force by Turkey, from filling the void.
"Daesh and the Kurds are the same. Both of them brought these people to hunger," said Fikret Ismail, a rebel fighter in his late 20s.
"We will fight for our land with our last blood," he said, as he patrolled a street near the Jarablus town centre, brandishing a rifle and surrounded by a group of small children.
Turkey has revealed little about the strategy behind its first major incursion into Syria, beyond saying it wants to drive Daesh and Kurdish fighters away from the border.
"Operation Euphrates Shield" has drawn criticism from NATO ally Washington, which has called on Turkey to avoid confrontation with Kurdish-aligned forces and stay focused instead on the joint battle against Daesh.
The United States sees the Syrian Kurdish YPG as its strongest ally against the extremists. Turkey views them as a terrorist group and is worried that their advance in northern Syria will embolden a Kurdish insurgency at home. It has said no one can tell it which terrorist group it should fight.
On Thursday, the Turkish military said it had taken three more villages around 20km west of Jarablus and hit 15 militant targets with howitzers and four more in air strikes. It gave no details on the targets, but the villages were in an area still held by Daesh.
The British-based Syrian Observatory for Human Rights, a monitoring group, confirmed the takeover of 3 villages near the border.
Coherent force
Jarablus had been under Daesh rule for three years and its black and white murals can still be seen on the walls. The town is slowly coming back to life. Women walk the streets, their faces uncovered. One man told Reuters one of his first acts when the group fled was to trim his beard.
A week after it helped drive out the extremists, there is no sign of the Turkish military in Jarablus itself. Instead, the town was filled with the scruffy young rebels Ankara is backing, some driving their Toyota trucks, machine guns mounted in the back, at high speed through the streets.
Turkey's aim is to turn the fractured Free Syrian Army into a coherent force as a counterweight to the Kurdish YPG, said Metin Gurcan, a former major in the Turkish military and an analyst for the Monitor journal. Which group gained control of Al Bab, a town to the south, would be critical, he said.
Al Bab, held by Daesh, lies on the southern edge of what Ankara sees as its potential buffer zone. Abu Muhammad Al Adnani, one of the ultra-hardline group's most prominent leaders, is thought to have been killed in a US air strike there this week.
"You have two forces who are very eager, highly motivated, to capture Al Bab. At the end of the day, this serves the strategic interests of the US, which is prioritising the fight against ISIS [Daesh]," Gurcan said.
Turkish-backed forces have also been advancing towards Manbij, a city around 30km south of Jarablus that was captured last month from Daesh by a US-backed coalition that includes the YPG.
Ankara, which accuses the YPG of "ethnic cleansing" in northern Syria, has demanded that Kurdish fighters return to the east of the Euphrates River. Manbij, like Jarablus, is west of the river. Turkey has long said that a Kurdish presence west of the Euphrates is a "red line" it cannot abide.
Mohammed, a 16-year-old rebel in Jarablus who had been fighting with the FSA for just a month, told Reuters he was from Manbij and had no desire to fight the Kurds.
"Everything is destroyed in Manbij now," he said, blaming the ruin on Daesh.
Buffer zone
Turkey has repeatedly lobbied for the creation of a "buffer zone" just inside Syria to help secure its border and create a protected area for displaced civilians. But the idea has failed to resonate with NATO allies, who see such a move as requiring a prolonged intervention and whose focus is on Daesh.
Turkey has taken in nearly 3 million Syrian refugees since the start of its neighbour's five-year war, and is under pressure from Europe to stem the flow of migrants trying to travel onwards illegally from its shores.
Ankara has been providing aid to tens of thousands of displaced civilians just inside Syria, effectively a step towards creating a de facto safe zone.
"In order to create a 'buffer zone,' Turkey would have to keep a significant force on the Syrian side of the border," said James Stavridis, former NATO supreme commander and dean at the Fletcher School at Tufts University.
Such a strategy appeared immediately unlikely, he said, but added it could not be ruled out in the longer term.
"Turkey will have a set of unpalatable choices ahead of it having entered into serious military operations in Syria."
Colonel Ahmad Osman, head of the Sultan Murad forces, one of the main Turkish-backed rebel groups, told Reuters last week that the priority was now to advance some 70km westward to the town of Marea, long a frontline with Daesh.
The next phase of their operation could take weeks or months, he said, and could require an increase in the number of rebel fighters from their current level of 1,200-1,500.
While they did not wish to fight Kurdish forces, they would do so if necessary, Osman said.
For Turkey, which has long called for the ouster of Syrian President Bashar Assad, containing advances by the Kurdish militia appears to have eclipsed all other concerns.
"The fundamental Turkish red line is not Assad," Stavridis, the former NATO commander, said. "It is against the formation of a Kurdish state."
Related Articles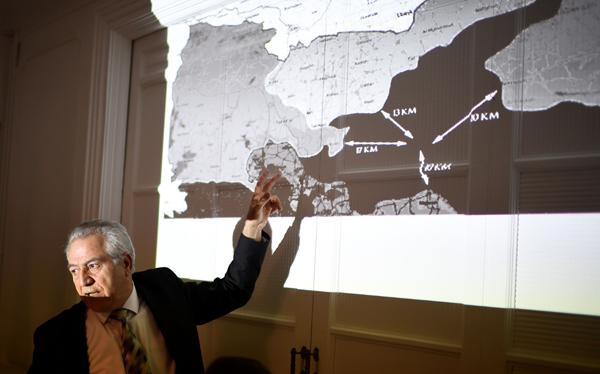 Oct 27,2016
BEIRUT/ISTANBUL — Fighting between Turkey and Kurdish militias in northern Syria is complicating plans to drive their mutual enemy the
Nov 13,2016
BEIRUT — Syrian rebels backed by Turkish forces are 2km from the Daesh terror group stronghold of Al Bab as they press Ankara's Operation Eu
Sep 08,2016
ISTANBUL — A group of 292 Syrians went back to the Syrian town of Jarablus from Turkey on Wednesday, marking the first formal return of civi
Newsletter
Get top stories and blog posts emailed to you each day.