You are here
After fleeing Mosul, displaced face arrest over alleged Daesh ties
By AFP - Jun 07,2017 - Last updated at Jun 07,2017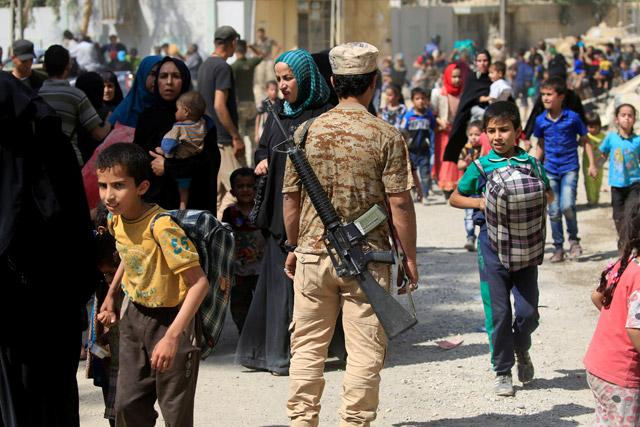 A member of Iraqi Rapid Response forces stands guard while displaced Iraqi people who fled from clashes walk in western Mosul, Iraq, on Saturday (Reuters photo)
KHAZIR, Iraq — After fleeing the battleground city of Mosul, Yusra Mohammed says her children were detained by Iraqi Kurdish forces and she did not hear from them for around two months.
Hundreds of thousands of people have fled their homes as Iraqi forces press a massive operation to retake Mosul from the Daesh terror group.
Security forces have tried to prevent Daesh members from slipping out among the fleeing civilians, but their efforts to catch extremists have added to the burdens of families already suffering from the war that has consumed their city.
Mohammed said members of the Asayesh, the Iraqi Kurdish region's internal security forces, detained her two teenage boys after the family left east Mosul in February.
"The Asayesh came to ask about Saddam and Qusay, and said they were wanted... and took them," she told AFP in the Khazir camp for displaced people, referring to her sons, who are aged 16 and 14.
"They were accused of being Dawaesh," Mohammed said, using a pejorative Arabic term for members of Daesh.
The boys "were working, selling water in Mosul before the Dawaesh prevented them from doing so, and they became unemployed", she said.
Mohammed heard nothing about the fate of her boys for weeks, until she received a letter from the Red Cross that included a message from Saddam.
He asked for "a lawyer and a meeting and money," saying that he was in a juvenile prison in the city of Dohuk, one of three provincial capitals in Iraq's Kurdish region.
They "are young and are being unjustly treated and we do not have money for a lawyer," Mohammed said, the fatigue and sadness clear on her face.
Her sons were arrested some two months after the family arrived at the camp in Khazir following a complaint by an informant, their mother said.
She appealed to Kurdish authorities for a trial: "If my sons are found guilty or are cooperating with the Dawaesh, try them" in court.
Mohammed's family is not the only one in the camp to have had members arrested after fleeing fighting and instability in the Mosul area.
Two days after Mousa Mahmud Mousa, 57, arrived at the camp in March, Kurdish forces arrested his 27-year-old son Wazir.
'We are imprisoned here'
"He employed workers who previously worked with the Dawaesh, but they [security forces] told him: 'As long as Dawaesh worked with you, you are a Daeshi,'" Mousa said.
His son was running a shop that produced water tanks, and had been a teacher before Daesh seized Mosul in 2014.
Like Mohammed, Mousa received a letter from the Red Cross confirming his son's detention, in his case in the Kurdish regional capital of Arbil.
"We want to go out to see him but they prevented that," Mousa said. "My son is imprisoned in Arbil and we are imprisoned here."
People in the camp say the Kurdish forces have their identification cards and do not let them leave pending the completion of a security investigation.
Human Rights Watch said on Saturday: "New cases have emerged of Kurdistan Regional Government authorities detaining men and boys fleeing Mosul on suspicion of affiliation with the Islamic State [Daesh]" group.
"Family members reported that after Kurdish authorities took their relatives into custody, the families had no contact with the detainees for as long as four months," the watchdog said.
"Authorities would not tell the families where their relatives were, and... the families had no means to challenge their relatives' detention," it said.
A Kurdish regional government committee tasked with responding to international reports rejected both the families' accounts and HRW's findings.
"All defendants are provided access to lawyers and family members, and their families are informed of their arrest," the committee said in a statement.
Arrests are based on "substantial evidence" and only carried out after a warrant from a judge is obtained, it said.
The committee added the region's procedures were necessary "to safeguard itself against acts of potential terrorism".
But Abdullah Suleiman said his 30-year-old brother Ali was arrested based on the length of his beard and suspicion over his name.
"We don't know anything about him," Suleiman said.
Related Articles
Jun 05,2017
MOSUL — After extremists turned the roof of his house into a sniper position, Owayid Mohammed and his family fled west Mosul in an escape th
Nov 08,2016
SHAHREZAD, Iraq — Seif Mohammed, his nose cut and swollen, winced and held his back.
Dec 21,2016
KHAZIR, Iraq — One wrong word to a Daesh terror group militant in Mosul last year was all it took to set in motion a harrowing chain of even
Newsletter
Get top stories and blog posts emailed to you each day.