You are here
Abbas to seek wider peace process in UN speech — officials
By AFP - Feb 19,2018 - Last updated at Feb 19,2018
RAMALLAH, Palestinian Territories — Palestinian President Mahmoud Abbas will call for an alternative to US-mediated negotiations with Israel during a rare address to the United Nations Security Council, Palestinian officials said Monday.
Addressing the council Tuesday for the first time since 2009, the longtime Palestinian leader is expected to call for multiple international powers to facilitate peace negotiations and again criticise the United States' controversial recognition of Jerusalem as Israel's capital.
President Donald Trump's December announcement angered the Palestinians, who also consider the city the capital of their future state, and led them to say the US had disqualified itself from its traditional role as lead mediator in talks with Israel.
In a statement ahead of the visit, Abbas' spokesman Nabil Abu Rudeina told state media a "new phase of struggle has started" as they seek to protect their claim to Jerusalem.
Senior Palestinian official Nasser Al Qudwa said on Monday that Abbas would be looking to gain support for a multilateral initiative, but added that the Palestinians would not dictate what shape it would take.
The 2015 Iranian nuclear agreement negotiated by the so-called P5+1 — the five permanent members of the UN Security Council plus Germany — is seen by many Palestinians as a good example.
"We can live with different formats, the P5, P5+1, expanded Quartet, we can live with an international peace conference," Qudwa told a news conference in Ramallah.
"Anything that can do the job, provide a reasonable basis for negotiation and follow up the process — sponsor it until it successfully concludes."
Israel's ambassador to the United Nations, Danny Danon, is expected to respond to Abbas' comments.
Israel, which often accuses both the European Union and the United Nations of bias against it, would be reluctant to accept any other mediator than the US.
Palestine currently has non-member observer status at the UN, but would need a UN Security Council vote to be upgraded to full membership.
The United States has said it would veto any such attempt and Qudwa said he did not expect a major policy announcement, such as a fresh push for full membership, during the speech.
"At this stage I don't think the statement will be followed immediately by any specific action within the UN system, whether at the Security Council or otherwise," Qudwa added.
Another senior Palestinian official, Mustafa Barghouti, said he expected Abbas to again attack the US declaration and call for the recognition of East Jerusalem as the Palestinian capital.
Grant Rumley, who focuses on Palestinian politics at the US think tank Foundation for Defence of Democracies, said the Palestinians had reduced their rejection of any American role.
Related Articles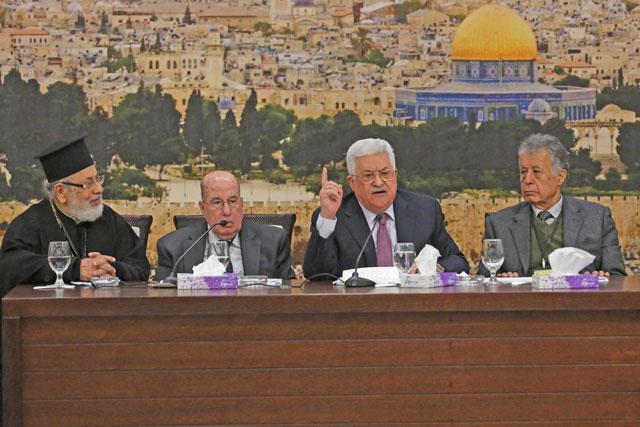 Jan 16,2018
RAMALLAH, Palestinian Territories — Palestinian leaders met Monday to plan a response to what they see as US President Donald Trump's attack
Oct 01,2015
UNITED NATIONS — Palestinian President Mahmoud Abbas on Wednesday accused Israel of sabotaging US efforts to broker peace and said that Isra
Oct 01,2014
The Palestinians are asking the UN Security Council to set November 2016 as the deadline for ending the Israeli occupation, according to a draft resolution obtained by AFP on Wednesday.
Newsletter
Get top stories and blog posts emailed to you each day.