You are here
6 dead as clashes rock Palestinian camp in Lebanon — Red Crescent
By AFP - Sep 11,2023 - Last updated at Sep 11,2023
Smoke billows above buildings in the Ain Al Helweh camp for Palestinian refugees in Lebanon's southern coastal city of Sidon on Sunday, amid renewed clashes between fighters of the Palestinian Fateh movement and Islamists (AFP photo)
SIDON, Lebanon — At least six people have been killed and dozens wounded in clashes in a Palestinian refugee camp in southern Lebanon, first responders said Monday as fighting raged for a fifth day.
Violence broke out late Thursday in the Ain Al Helweh camp on the outskirts of the coastal city of Sidon, just weeks after similar clashes pitted members of Palestinian President Mahmoud Abbas' Fatah movement against Islamists.
The toll has risen to at least "six dead, one of them killed on Monday, and more than 60 wounded", said Imad Hallak from the Palestinian Red Crescent's Lebanon branch.
The casualties include both fighters and civilians, he added.
An AFP correspondent in Sidon reported ongoing clashes with automatic gunfire and shelling, after fighting had subsided somewhat overnight.
Lebanon's official National News Agency (NNA) said the city's southern entrance was closed to traffic.
The NNA had reported Saturday that three fighters and one civilian had been killed.
Ain Al Helweh is home to more than 54,000 registered refugees and thousands of Palestinians who joined them in recent years from neighbouring Syria, fleeing the civil war there.
The camp, Lebanon's largest, was created for Palestinians who were driven out or fled during the 1948 war at the time of Israel's creation.
The UN agency for Palestinian refugees, UNRWA, said Sunday that "hundreds of families have left the camp" since the clashes began.
Some 400 families were sheltering in a mosque, while others were taking refuge with relatives or in emergency shelters, it added in a report.
The Lebanese army said Sunday that shells hit two military sites near the camp, "leaving five soldiers wounded, one of them in critical condition".
By long-standing convention, the army stays out of the Palestinian camps and leaves the factions to handle security there.
In a statement on X, formerly Twitter, the army warned "the relevant parties inside the camp" against endangering military sites, adding that it would "take appropriate measures".
Five days of clashes that began in late July left 13 people dead and dozens wounded, in the worst outbreak of violence in the camp in years.
That fighting erupted after the death of an Islamist militant, followed by an ambush that killed five Fateh members including a military leader.
Lebanon hosts an estimated 250,000 Palestinian refugees, according to the UN agency.
Most live in Lebanon's 12 official camps, and face a variety of legal restrictions including on employment.
Related Articles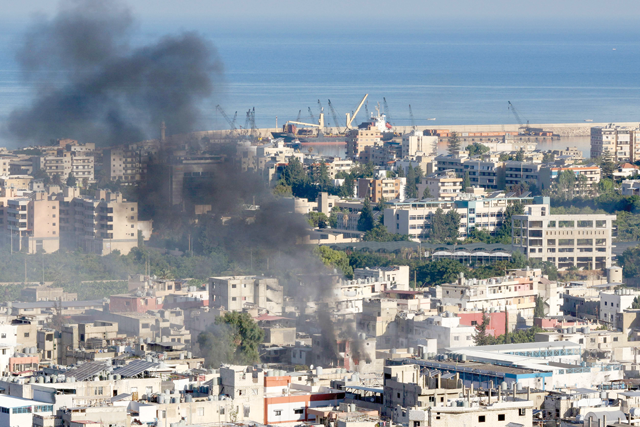 Sep 09,2023
SIDON, Lebanon — Two fighters and a civilian were killed Saturday in clashes at a south Lebanon Palestinian camp, official media reported, a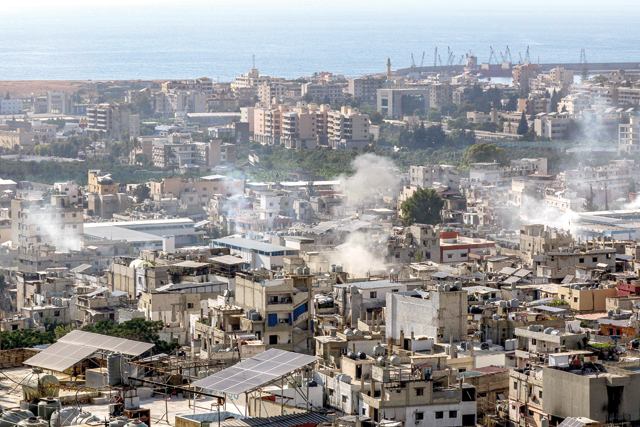 Aug 02,2023
SIDON, Lebanon — Three days of fighting in south Lebanon's Ain Al Helweh Palestinian refugee camp have left at least 11 dead and dozens woun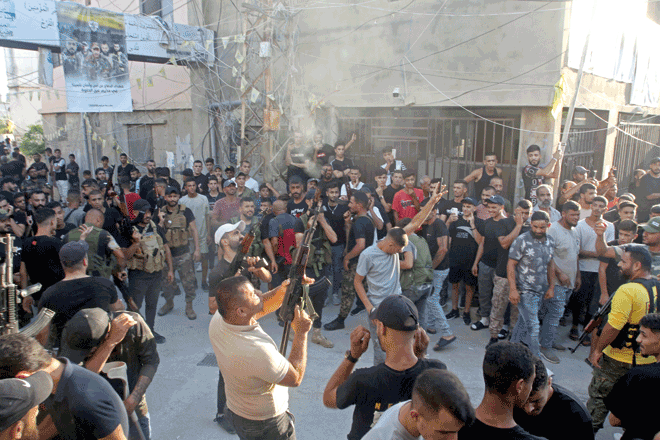 Jul 31,2023
SIDON, Lebanon — Clashes in south Lebanon's Ain Al Helweh Palestinian refugee camp killed at least two people on Monday, medics told AFP, br