You are here
34 civilians killed in bombing on Syrian town — monitor
By AFP - Feb 16,2017 - Last updated at Feb 16,2017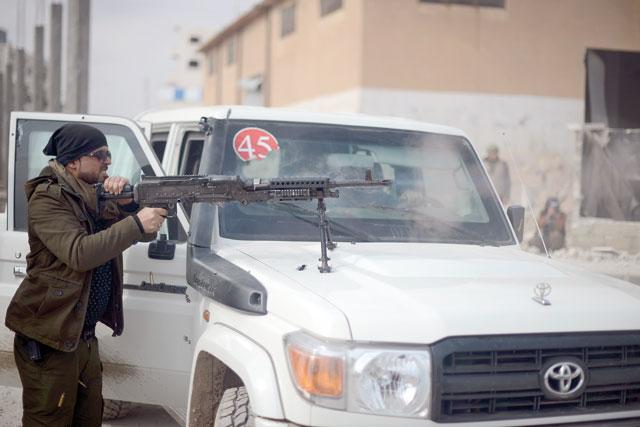 A member of the Free Syrian Army attacks Daesh positions in Al Bab town of Aleppo during the operation 'Euphrates Shield' in Syria on Monday (Anadolu photo)
BEIRUT — Turkish bombardment of a Daesh terror group-held town in Syria has killed 34 civilians in one day, a monitor said on Thursday, but Turkey's army said only "terrorists" died in the operation.
The Syrian Observatory for Human Rights said the dead in air strikes and shelling on the town of Al Bab had killed 24 civilians — including 11 children — by Thursday morning.
Renewed bombardment later in the day killed another ten civilians, among them six children, observatory head Rami Abdel Rahman told AFP.
Turkey's army, quoted by the state-run Anadolu news agency said it had killed 15 "terrorists" in air strikes, artillery fire and clashes.
Al Bab is Daesh's final stronghold in the northern Syrian province of Aleppo and has come under fierce attack in recent months by Turkish forces and allied Syrian rebels, fighting under the "Euphrates Shield" banner.
The joint force entered Al Bab over the weekend and Turkish Prime Minister Binali Yildirim said on Tuesday that the town had "largely been taken under control".
The observatory however said Turkish forces had made little progress since entering the town from the west.
Abu Jaafar, a field commander in one of the Euphrates Shield brigades, described a fierce Daesh defence of Al Bab.
"We tried a new tactic and were able to advance in Al Bab at 1:00 am [Thursday]" seizing several key grain silos in the city's west, he told AFP.
"But unfortunately, as we were storming the city, we were surprised by an ambush set for us by Daesh," Abu Jaafar said, using the Arabic acronym for IS.
He said that several of his fighters were wounded when they were attacked by at least one suicide attacker and their equipment sustained serious damage.
Abu Jaafar said his forces were regrouping for a fresh attack, and that air strikes by Turkish warplanes and the US-backed coalition were ongoing.
On the eastern side of the town, an AFP correspondent saw fighters from the Mustafa Regiment, part of Euphrates Shield, attacking Al Bab from a large olive grove on Thursday.
Perched atop white pickup trucks, they strafed the town with machine gun fire before entering a few bombed-out buildings.
Turkey began military operations in Syria in August, targeting both Daesh and Kurdish fighters.
Initially its forces advanced quickly, but they stalled around Al Bab in December.
The town is also a key target for Syrian government forces, who had been advancing towards from the south.
But they have yet to enter Al Bab, instead focused on clearing Daesh-held territory in the surrounding countryside in recent days.
More than 310,000 people have been killed in Syria since the conflict began in March 2011 with anti-government protests.
The war has displaced over half the country's population and drawn in terrorists and international militaries.
Related Articles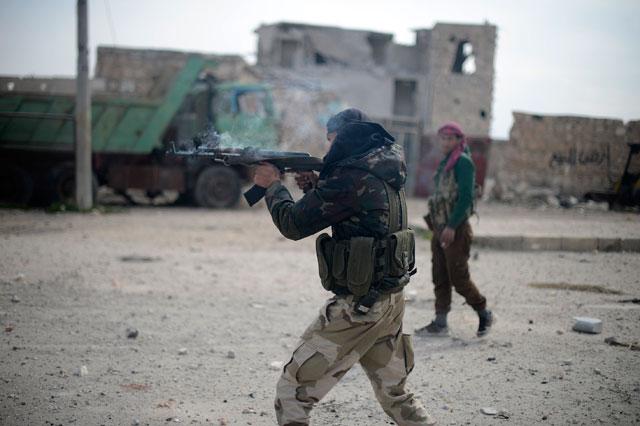 Feb 14,2017
ANKARA — Turkey-backed rebels have largely taken control of Syria's Al Bab from the Daesh terror group militants, Turkish Prime Minister Bin
Nov 13,2016
BEIRUT — Syrian rebels backed by Turkish forces are 2km from the Daesh terror group stronghold of Al Bab as they press Ankara's Operation Eu
Feb 11,2017
BEIRUT — Turkish troops and Syrian rebels on Saturday entered the Daesh-held town of Al Bab in northern Syria, as government forces mo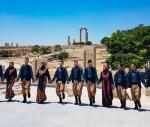 Newsletter
Get top stories and blog posts emailed to you each day.