You are here
16 killed as homes hit in Khartoum air, artillery strikes
By AFP - Jul 25,2023 - Last updated at Jul 25,2023
WADI MADANI, Sudan — Air strikes and artillery barrages from Sudan's warring generals killed at least 16 people in a Khartoum neighbourhood on Tuesday, a neighbourhood group reported.
After more than 100 days of war, the latest bombardments added to a toll of at least 3,900 killed nationwide.
"Sixteen citizens died today in this senseless war" when shells hit civilian homes in the Ombada area of Khartoum's northwest, the neighbourhood group said.
It is one of many pro-democracy "resistance committees" that have cobbled together supplies over the patchy Internet, land lines, or by risking their own lives to venture out since the war began.
The total number of casualties from the latest strikes was still unclear, the committee added in statements provided to AFP.
Mohamed Mansour, a local resident, told AFP he "helped pull eight bodies" from the rubble of homes destroyed by the blasts.
"Four people were killed in the house next door, including two children," said another resident, Hagar Youssef.
The war that began on April 15 between army chief Abdel Fattah Al-Burhan and his former deputy Mohamed Hamdan Daglo, commander of the paramilitary Rapid Support Forces (RSF), has uprooted more than 3.3 million other people from their homes.
Much of the fighting has taken place in densely populated neighbourhoods of the capital Khartoum, where residents on Tuesday reported a renewed RSF attack on the army's ammunition corps in the city's south.
Pro-democracy lawyers said late Monday that civilians in the city's south and centre were again being "forcibly evacuated from their homes, to be used by fighters" as bases.
Mediators from the United States and Saudi Arabia have previously accused the RSF of "occupation of civilian homes, private businesses, and public buildings".
'Catastrophic humanitarian crisis'
For more than three months, millions have been rationing water and electricity in the stifling heat, shielding their families from blasts and unable to reach the few health care facilities still functioning.
The World Health Organisation (WHO) warned Tuesday of the "catastrophic humanitarian crisis" facing Sudan, "with more than 67 percent of the country's hospitals out of service".
Healthcare and aid facilities have themselves frequently come under attack or been looted by both forces.
Fighters have also been accused of rampant sexual violence, reports which the WHO said it was "appalled by".
Alleged sexual and gender based crimes are a focus of a new investigation announced earlier this month by the International Criminal Court into alleged war crimes in Sudan.
The WHO reiterated demands for an urgent response to help prevent outbreaks of disease during the rainy season, which began in June and brought increased reports of malaria, cholera and other water-borne diseases — particularly in remote areas.
"Outbreaks are likely to claim more lives unless urgent action is taken to halt their spread," said Ahmed Al Mandhari and Matshidiso Moeti, WHO regional directors for the Eastern Mediterranean and Africa, respectively.
On Monday, the UN children's agency said it had documented "2,500 severe violations of children's rights — an average of at least one an hour" since the fighting began, with at least 435 children killed and 2,025 injured.
More than half of Sudan's 48 million people are in need of aid and protection, the UN says, but only a fraction of those have received assistance because of the security challenges, bureaucratic hurdles and other obstacles cited by aid groups.
The UN's World Food Programme said it has reached more than 1.4 million people with emergency food aid as needs intensify.
Civilian talks
Although there is no sign an end to the war is near, peace attempts have taken place.
The Forces for Freedom and Change, Sudan's main civilian bloc, attended a two-day civilian meeting, which began on Monday in Cairo and sought to "restore the path of peace and stop the war in Sudan", according to FFC spokesman Jaafar Hassan.
The FFC was ousted from power in a 2021 coup orchestrated by Burhan and Daglo, and which derailed the country's transition to democracy.
The two generals later fell out in a feud that exploded into war.
US- and Saudi-brokered ceasefires were systematically violated, before Washington and Riyadh adjourned talks.
A quartet from East African regional bloc IGAD has also sought to mediate, but with little success.
Related Articles
Sep 06,2023
WAD MADANI, Sudan — Hundreds of families fled on Wednesday from a Khartoum suburb where Sudanese army shelling killed 19 civilians the previ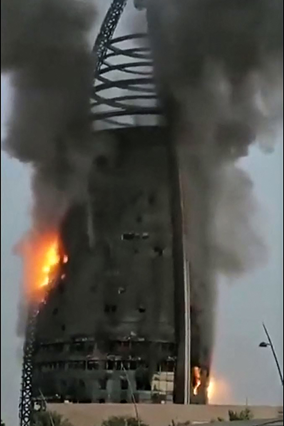 Sep 17,2023
WAD MADANI, Sudan — Flames gripped the Sudanese capital on Sunday and paramilitary forces attacked the army headquarters for the second day
Jul 30,2023
KHARTOUM — Sudan's paramilitaries have ordered civilians to vacate homes in the capital's south, several residents said on Sunday, as fighti