You are here
11 dead in Syria government raids, regime gains in Aleppo
By AFP - Feb 27,2017 - Last updated at Feb 27,2017
Syrians walk past the rubble of destroyed buildings in the rebel-held town of Douma, on the eastern outskirts of the capital Damascus, on Monday (AFP photo )
BEIRUT — Government air raids on northwest Syria killed at least 11 people overnight, mostly civilians, a monitoring group said Monday, while the military said its forces made advances in Aleppo province.
"Government warplanes carried out air strikes after midnight on several areas in the town of Ariha" in Idlib province, said the Syrian Observatory for Human Rights' head Rami Abdel Rahman.
"The preliminary toll is 11 killed, including at least seven civilians," three of them children, he said.
Others were still missing and rescue teams were searching for anyone trapped under the rubble, Abdel Rahman added.
Leith Fares, a rescue worker in Ariha, told AFP his team had pulled at least 20 wounded people out of the rubble.
"We've been working since 3am to rescue victims still under the rubble of two four-storey buildings that totally collapsed on the residents inside," he said.
"We're still looking for two families, estimated at eight to 10 members each, that are still trapped," Fares said.
The deaths come two days after 10 civilians were killed in government air strikes on Ariha, held since spring 2015 by an anti-regime coalition dominated by extremists.
Idlib province has been battered by heavy air strikes in recent weeks, with intensifying bombing raids by regime warplanes in particular, according to the observatory.
It has also been rocked by infighting between rebel and extremist factions, including Al Qaeda's former Syrian affiliate, Fateh Al Sham Front.
Regime advance in Aleppo
Syria's conflict began in March 2011 with protests against President Bashar Assad's rule but has since spiralled into a multifront civil war pitting government forces, rebels, extremists and Kurds against each other.
Troops loyal to Assad scored their biggest victory yet in late December when they secured full control of Syria's second city Aleppo.
In recent weeks, they have also steadily advanced on several fronts in the province of the same name, including against the Daesh extremist group.
A Syrian military source told AFP on Monday that the army had "seized 18 towns and villages, including the town of Taduf and a number of strategic hilltops in eastern Aleppo province, totalling about 600 square kilometres.
Taduf had been held by Daesh extremists and lies near Al Bab, a key town where rebel fighters, backed by Turkish soldiers, artillery, and air power, defeated the group last week.
Daesh on Monday also withdrew from nearly two dozen villages near the town of Manbij, in what the observatory called a sign of "swift collapse" of extremist ranks.
Manbij is held by the Syrian Democratic Forces (SDF), a US-backed alliance of Kurdish and Arab fighters.
"Regime forces moved into those 23 villages, linking up with SDF forces in the area," said Abdel Rahman.
The government's advance in the area is, according to the observatory, part of a bid to block the Turkish-backed forces from expanding their zones of control in Aleppo province.
But regime troops are also trying to advance east to reach Daesh-held Khafsah, the main station pumping water into Aleppo city, Abdel Rahman said.
Residents of the northern city have been left without water for 42 days, after Daesh extremists cut the supply at Khafsah — around 90 kilometres away.
Related Articles
Jul 15,2015
BEIRUT — Thirteen civilians, among them seven children, were killed in aerial attacks by Syria's government Wednesday on the northern provin
Mar 05,2017
BEIRUT — Twin Daesh terror group suicide attacks killed 15 people in Syria's northern province of Aleppo, where the extremists have faced si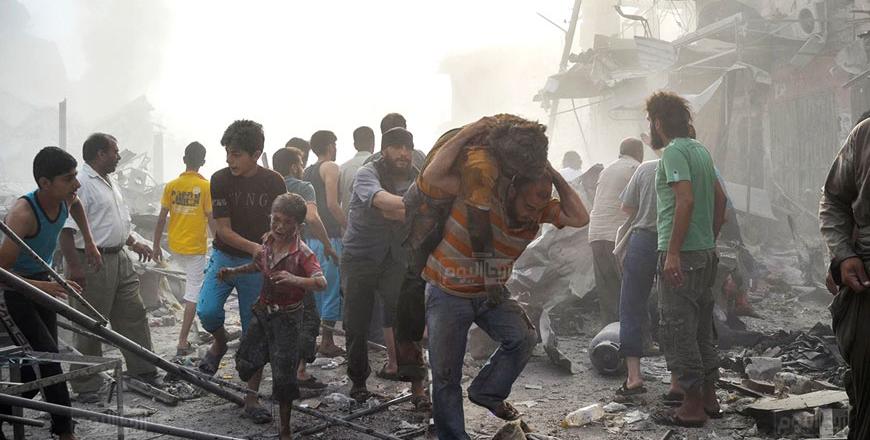 Aug 03,2015
BEIRUT — A Syrian army aircraft crashed during a bombing run over rebel-held Ariha on Monday, killing at least 31 people and destroying a ve
Newsletter
Get top stories and blog posts emailed to you each day.