You are here
Young activists host sessions to raise awareness on SDGs
Workshop enables trainees to perform their own SDGs awareness sessions
By Ana V. Ibáñez Prieto - Dec 15,2018 - Last updated at Dec 15,2018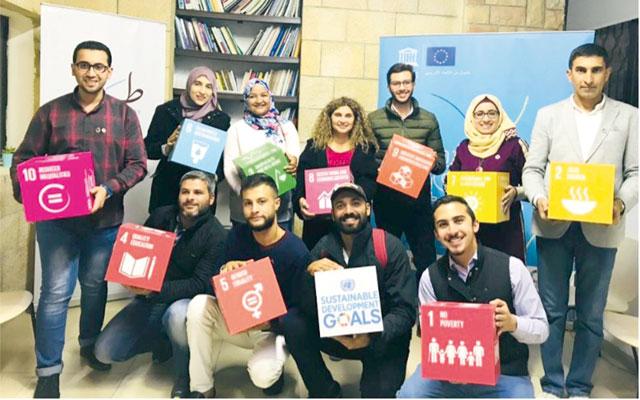 In this undated photo, young trainees pose for a picture at a UNESCO workshop. The Sustainable Development Goal advocates recently held awareness-raising sessions for youth around the Kingdom (Photo courtesy of UNESCO)
AMMAN — Over the past month, advocates for the Sustainable Development Goals (SDGs) have hosted eight awareness-raising sessions in Amman, Irbid and Ghor Safi, which reached over 180 youth with the principle of "leaving no one behind".
The sessions were the result of a recent SDGs peer-to-peer awareness workshop held by UNESCO, which sought to enhance the skills of 10 SDG advocates to spread the 2030 Agenda for Sustainable Development to more communities.
Funded by the European Union through the Networks of Mediterranean Youth project, the workshop aimed at enabling the trainees to perform their own SDGs peer awareness sessions across the Kingdom.
In addition to the sessions rolled out by the SDGs advocates, the participants also encouraged individuals across Jordan to complete the My World 2030 survey, which brings people's ideas into official debates about the SDGs.
Aisha Salman, one of the 10 young activists who participated in the initiative and the leader of Jordan's youth "SDG Advocates" group, told The Jordan Times that the training helped them "work together as a team and obtain an overview of the reality of youth in Jordan".
Salman explained that during the sessions, the team focused on introducing SDGs to young people to provide them with a better understanding of the goals and the ways in which they can support them.
"If we want to make the SDGs a reality in Jordan, we must engage the Jordanian society with the agenda and promote it through different media channels," Salman continued, stressing the need to "achieve a better understanding of the goals, and to show the people of Jordan the importance of working together to achieve them by 2030".
"Youth have the power to create and be a part of solutions, and it is important for all of us to understand that a small thing can make a big change for others," she continued.
From September 2017 until now, the SDGs advocate group, led by Salman has collaborated with several institutions to conduct awareness-raising campaigns at public and private schools, universities and youth centres.
"Youth represent one group at risk of being left behind, and they are key stakeholders with which the UN strives to collaborate closely with to ensure broad participation and representation," the UNESCO Amman office said in a statement.
"Inclusion lies at the heart of the 2030 Agenda for Sustainable Development, speaking to the notion of empowerment and the principle of no discrimination," it continued.
"The present day generation of youth will mature during the upcoming 12 years: the period which remains to realise the 2030 Agenda," the statement noted, calling on the community to remember "by definition, sustainable development is a development that meets the needs of the present without compromising those of the future, and that youth play a compelling role in shaping our collective future".
Newsletter
Get top stories and blog posts emailed to you each day.