You are here
Warsaw sees Amman as partner in pursuit of peace — Polish president
Duda arrives in Kingdom for working visit, to meet His Majesty, senior officials
By Khetam Malkawi - Nov 05,2016 - Last updated at Nov 05,2016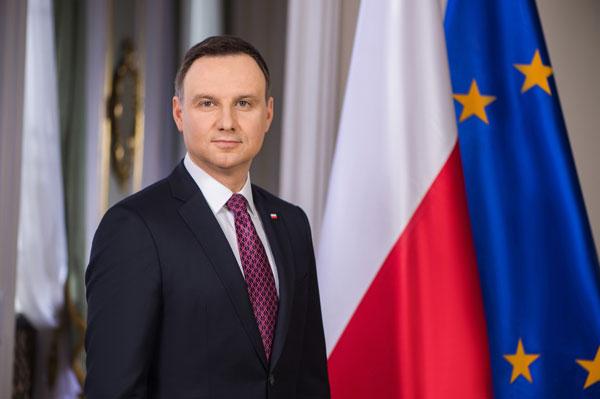 AMMAN — Poland perceives Jordan as a lynchpin of stability in the Middle East, and Warsaw seeks to be a political partner of Amman in its pursuit of peace in the broader Middle East, said Polish President Andrzej Duda.
The president and Polish first lady, Agata Kornhauser-Duda, arrived in Amman on Saturday for a working visit, during which he will meet with His Majesty King Abdullah, Prime Minister Hani Mulki and senior officials, a Royal Court statement said.
In an interview with The Jordan Times via e-mail prior to the visit, Duda said that he is "impressed by the efforts undertaken by the Kingdom in this respect. Security and stability are of crucial importance for our countries, in times of intense geopolitical rivalry, which results in armed conflicts in various parts of the world".
International relations should be based on the concept of equality and respect for the law, applied to all countries, regardless of their size, relevance or military potential and "we want to develop an agenda of 'peace through law'," the president said.
"Therefore, Poland is campaigning to become a non-permanent member of the UN Security Council for the years 2018-19," he added.
Regarding his visit's itinerary, Duda said: "Apart from matters relating to security, I would like to put more emphasis on economic cooperation, particularly between our defence industries, where I see the greatest potential for joint action."
Military cooperation
Apart from cooperation in the field of defence industries, focus has also been given to military cooperation between Amman and Warsaw, Duda said, noting that the bonds between the two countries in the field of security "have solidified over the past few years".
He cited a contract signed between Polish aviation company PZL Mielec and Jordan, under which the former will supply the military with M28 Skytruck aircraft, while the Royal Jordanian Air Force has established cooperation with the Polish Institute of Aviation Medicine.
"We are also offering our military equipment and our experience in the process of modernising the Jordanian armed forces," Duda said.
War against Daesh
Poland and Jordan share a common view of today's terrorism, the Polish president said.
"Our stance is unbending: we are determined to fight terror with all means available, since we realise how ominous this threat is for the Middle East as well as for Europe."
In recent years, unlike many other EU countries, Poland has not been affected by acts of terrorism, Duda explained, while stressing his country's commitment to supporting its allies.
"We are committed to aiding our allies and partners who cope with this danger on a daily basis. That's why Poland is currently an active member of the anti-Daesh coalition," he stressed.
Last June, "I decided to deploy two Polish contingents to Kuwait and Iraq as part of the operation 'Inherent Resolve'."
In addition, Duda noted, four Polish aircraft participate in training missions in the region.
Economic cooperation
Poland is becoming an important trade and transport hub, the president said, adding that "I have no doubts whatsoever that a Jordanian embassy in Warsaw would constitute a boost to our bilateral economic relations".
He noted that economic diplomacy is a vital element of "my foreign policy".
"During my trips abroad, I always promote Polish companies, Polish products and Polish technologies. I will be soon travelling with a group of young managers of Polish start-ups," Duda said.
"I admire their vigour, their courage and innovative approach to business and I want to help them conquer new markets. I consider it my duty to strengthen the ties between Polish entrepreneurs and their foreign partners, also in the Middle East."
Poland's economy, the president added, has been growing uninterruptedly for over 25 years. "It's vibrant and flexible, easily adapting to new circumstances."
Syrian refugee crisis
According to Duda, the governments of EU countries have been struggling with the ever-growing wave of refugees.
"The relocation scheme has turned out to be unfeasible," he said.
Thus, the Visegrad Group, an alliance encompassing the Czech Republic, Hungary, Poland and Slovakia, has come up with the proposal of the so-called "flexible solidarity".
"We are all trying to find a solution to the ongoing crisis. But we also have to take into account the economic realities of the individual EU countries as well as the choices of the refugees as regards their preferred destinations," he said.
Duda added that refugees' freedom of movement should not be limited. "Whoever asks for asylum in Poland and fulfils all legal requirements will be welcome and treated with all fairness," he said.
"On the other hand, we appreciate the effort made by the Kingdom of Jordan, which has admitted large groups of refugees, in many cases literally saving their lives."
He added that the EU has also substantially contributed to easing Jordan's burden.
"We should act together to bring the violence in the region to an end and to ensure the safe return of the refugees to their homes once the war is over."
up
24 users have voted, including you.
Related Articles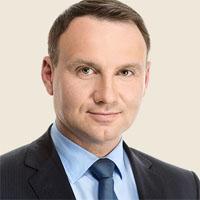 Oct 08,2016
AMMAN — Polish President Andrzej Duda is due in Amman next month on his first visit to the region, the Polish embassy in Amman said on Satur
Oct 25,2016
AMMAN — Polish President Andrzej Duda and First Lady Agata Kornhauser-Duda are due to arrive in Jordan for a several-day official visit on N
Nov 07,2016
AMMAN — Stability and valuing democracy are among the "distinctive" characteristics of Jordan, which is a safe haven in a region of turmoil
Newsletter
Get top stories and blog posts emailed to you each day.