You are here
Underprivileged youth graduate from vocational training
By Ana V. Ibáñez Prieto - Jun 14,2018 - Last updated at Jun 14,2018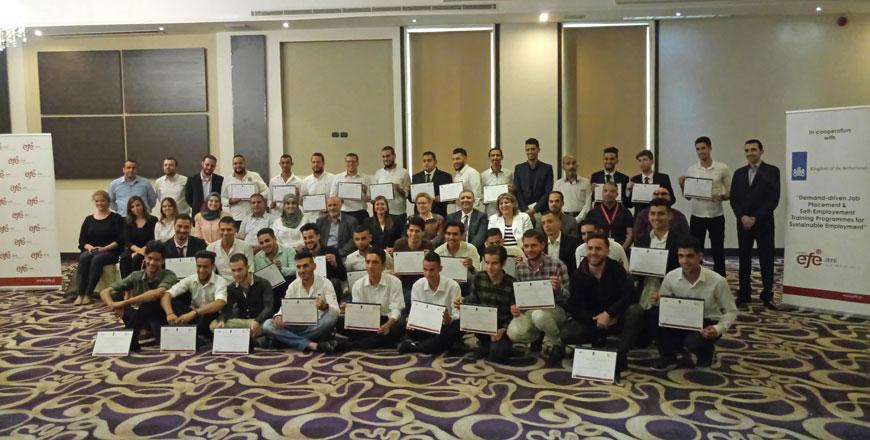 Graduates pose with Dutch ambassador and JEFE CEO in Amman on Wednesday (Photo by Ana V. Ibañez Prieto)
AMMAN — The embassy of the Netherlands in Jordan on Wednesday celebrated the graduation of the first two groups of trainees at the "Demand-driven Job Placement and Self-Employment Training Programs for Sustainable Employment" project, a programme launched in partnership with Jordan Education for Employment (JEFE) to address youth unemployment in the Kingdom.
Established with the objective of alleviating poverty by delivering demand-driven job placement and self-employment training programmes for underprivileged youth, the project provides auto mechanics, Heating, Ventilation and Air Conditioning (HVAC) training to youth from Amman as well as micro-entrepreneurship training to youth from Tafileh and Karak.
The project is the second beneficiary of the Shiraka fund, a Netherlands-MENA partnership aimed at supporting social democratic transition, economic growth and a changing relationship between citizens and the government based upon "shiraka" (partnership in Arabic).
"This is really one of the best days in my career," Dutch Ambassador to Jordan Barbara Joziasse said during the graduation ceremony, noting that the Dutch government is "keen to support the vocational sector in Jordan — because we believe that here [the vocational sector] is where the jobs are and where people can really make a difference, giving a chance for the youth to grow their talents while making an income and starting their own families".
"This is all about jobs for the young people," the ambassador stressed, highlighting that the programme has trained a total of 128 people, 95 per cent of whom have already found employment.
"The Jordanian people are obviously aware of the striking unemployment rates among youth, which go above 30 per cent," CEO Ghadeer Khuffash told The Jordan Times, explaining "what JEFE tries to do is to find the most vulnerable youth across different locations to provide them with real opportunities to learn and start earning an income with a decent job — something that can empower them socially and economically."
"My skills have overall improved after this training, and now I really feel ready to find a job," said Ahmad, a graduate from the HVAC technical training, expressing how he started while "knowing nothing and thinking that it would be incredibly hard to get into this field but eventually learned all about it".
"Not only have I learned HVAC skills, but I also learned how to promote my abilities to potential employers and how to stay safe at the workplace," he continued, adding "now, getting into the labour market seems to be way easier for me."
The training was also a career-changing experience for Abdullah, a trainee in the auto mechanics technical stream, who shared with The Jordan Times the struggle of finding a job as a young person in the Kingdom.
"The job market is extremely competitive and that is why I am always looking for ways to improve myself and my skills in the mechanics specialty," Abdullah said, noting that the course helped him "develop new abilities hand in hand with the professionals, in addition to job-seeking techniques that allow us to find appropriate employment".
Newsletter
Get top stories and blog posts emailed to you each day.