You are here
Tyre defect behind MP Amamreh and family's fatal car crash
By Rana Husseini - Apr 22,2018 - Last updated at Apr 22,2018
AMMAN — Traffic officials on Sunday said a defect in one of the tyres of the vehicle belonging to the late MP Mohammad Amamreh caused the deadly accident on the Desert Highway on Saturday night.
Deputy Amamreh and seven people, including six of his family members, were killed in a road collision with a winch truck while driving in a detour area near Sawaqa.
"The right-rear tyre malfunctioned, causing the deputy's vehicle to suddenly swerve to the other side of the two-lane road and collide head on with the winch," a senior traffic official said.
"There were scratches on the road that were caused by the wheel's rim because of the rubber that tore," the senior traffic official told The Jordan Times, adding that the strong impact on the two-lane road, where there was road construction, caused the "immediate death of seven people, including five children".
The traffic official said that Amamreh was heading back to Amman when the accident occurred.
Several people criticised the condition of the area where the accident occurred, including the detour and the construction, saying it "did not comply with safety protocols".
Mustafa Sheshiny wrote on the Traffic Department's Facebook page where the accident's latest news was posted: "If there was a street divider in this failed detour, the damages would be much less. All trucks and heavy vehicles drive very fast and it could become very dangerous."
Mahmoud Ali added: "I believe the government should lift taxes on vehicle's tyres because tyres play a major factor in accidents."
Related Articles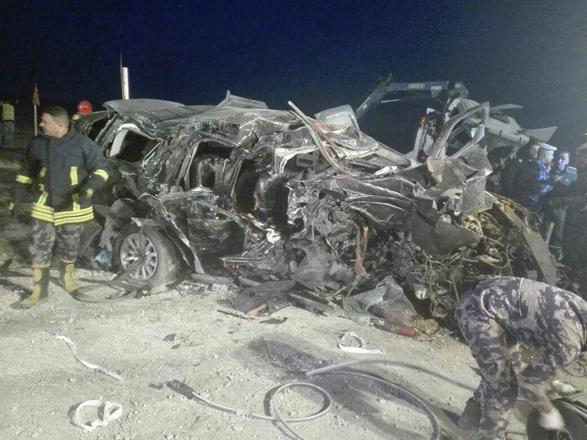 Apr 21,2018
AMMAN — Eight people, including Deputy Mohammad Amamreh and six of his family members, were killed in a road accident on the Desert Hi
Mar 01,2016
AMMAN — Four people were killed on Tuesday in a road collision between two vehicles on the Azraq-Omari highway, official sources said.The ac
Dec 23,2017
AMMAN — Traffic officials on Saturday said they arrested a motorist who was allegedly driving in reverse in a two-lane road on a busy street
Newsletter
Get top stories and blog posts emailed to you each day.