You are here
Turkish embassy has activities planned to mark 70 years of ties with Jordan
By Mohammad Ghazal - Jan 18,2017 - Last updated at Jan 19,2017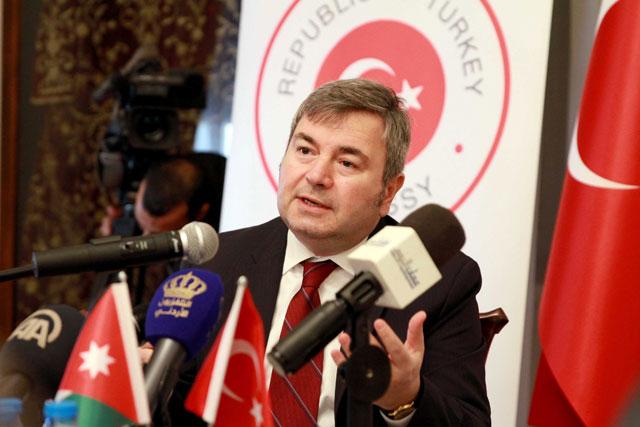 Turkish Ambassador to Jordan Murat Karagoz speaks to reporters in Amman on Wednesday (Photo by Hassan Tamimi)
AMMAN — A series of activities will be held during the upcoming period in celebration of the passage of 70 years since the establishment of Jordanian-Turkish ties, Turkish Ambassador to Jordan Murat Karagoz said on Wednesday.
Stressing that the ties between Jordan and Turkey are deeply-rooted and strategic, the ambassador told reporters that the activities will include photo exhibitions, workshops and seminars on tourist sites, cultural events, Turkish films screenings, fashion shows and concerts.
He added that Jordan is a genuine partner for Turkey in the region.
The diplomat said Prime Minister Hani Mulki is scheduled to visit Turkey soon.
Karagoz added that Jordan and Turkey face common challenges and issues, and they are both key players in the war on terrorism.
Noting that the free trade agreement between the two countries has played a role in boosting ties, he said trade exchange reached $1 billion in 2014.
The ambassador added that there are efforts to achieve balance in the trade exchange, which is in favour of Turkey at present.
According to Karagoz, the volume of Turkish investments in Jordan stands at about $2.2 billion.
He added that there is cooperation between Jordan and Turkey in various areas, including defence industries.
On tourism, the ambassador said there is potential for more efforts and promotion to boost cooperation in this sector, calling for further promotion of Jordan's tourist attractions.
There are some 700 Jordanian students in Turkey. The number of Turkish nationals living in Jordan stands at 3,500, according to the embassy.
Related Articles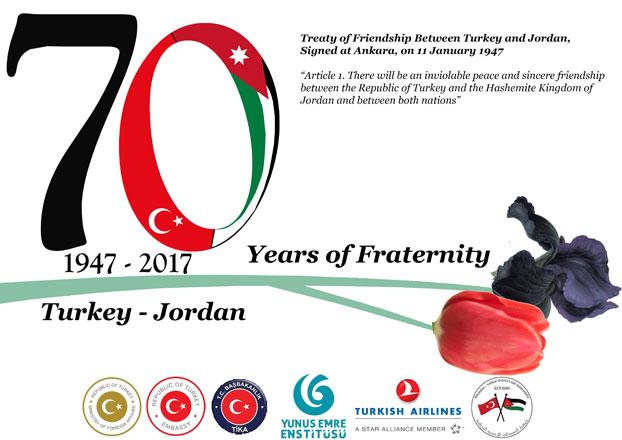 Jan 10,2017
AMMAN — Celebrating seven decades of cooperation, Jordan and Turkey on Wednesday mark the anniversary of the establishment of formal diploma
Sep 07,2017
AMMAN — Chairman of the Joint Chiefs-of-Staff Lt. Gen.
Apr 29,2017
AMMAN — Dozens of Jordanians on Saturday gathered for the 2nd Turkish and Jordanian Products Bazaar, where they had the opportunity to shop,
Newsletter
Get top stories and blog posts emailed to you each day.