You are here
Terrorism is a challenge, not a threat to Jordan — Gen. Hawatmeh
Gendarmerie commander says state functions, assets remain intact and well protected
By JT - Aug 13,2017 - Last updated at Aug 13,2017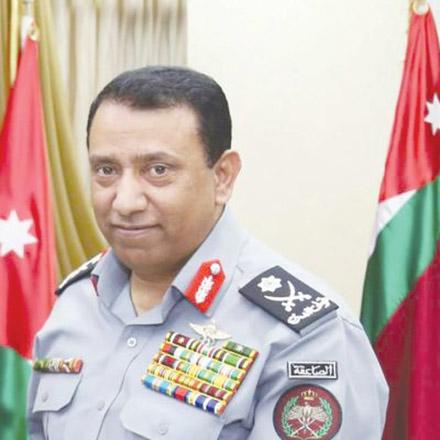 AMMAN — Jordan has not reached the stage where it has to deal with "threats", but it is rather addressing a set of challenges, mainly brought about by regional instability, among other factors, a top general said.
In remarks exclusive to The Jordan Times, General Director of Gendarmerie Department Major General Hussein Hawatmeh said it is essential and "urgent" for political analysts and strategists to differentiate between the two "confused" terms as they examine the Jordanian strategic environment.
Hawatmeh, a holder of two MA degrees, including one in strategic studies and national security from the US-based National Defence University, explained that since business is as usual in the Kingdom and the leadership and all sectors are functioning with no disruptions, it would be inaccurate to state that the country is under any threat.
A threat is considered inherent in a given situation "when the country is forced to compromise or sacrifice any of its higher national interests or all of them to neutralise it", said the officer, who currently serves as president of the Association of European and Mediterranean Gendarmeries and Police Forces with military status (FIEP), since October 2016.
For example, he explained, "terrorism continues to constitute a challenge to Jordanian national security", because the Kingdom "with all its political and military arms, is able to address terrorism without having to sacrifice any of its higher national interests".
Economy, tourism, education, health, security, and other interests have not been affected and continue to develop and grow, therefore, terrorism has not yet risen to the level of a threat, said Gen. Hawatmeh, who has had a long and diversified military career, starting in the special forces.
"For example, the country may be forced to suspend the tourism sector or impose security restrictions that hinder the movement of investment, progress and growth, to address a threat," and in this case, the challenge evolves into a threat.
Listing the factors that have sustained the country's security and stability during dangerous history cycles, he cited the "Hashemite leadership and its strategic role as a safety valve", Jordanians' confidence in their leaders and the high level of professionalism showcased by the Jordan Armed Forces/Arab Army and security agencies that "play complementary and harmonious rather than competitive roles".
This harmony has prevailed across generations and sectors in Jordan, he concluded, noting that the trend has been, at the leadership and grassroots level, to put public interests before private interests.
Related Articles
May 16,2016
AMMAN — His Majesty King Abdullah, the Supreme Commander of the Jordan Armed Forces-Arab Army, visited the Gendarmerie Department on Monday.
Oct 15,2016
AMMAN — Gendarmerie Director Hussein Hawatmeh has been named president of the Association of Mediterranean and European Gendarmeries (FIEP),
Feb 15,2018
AMMAN — Gendarmerie Department Director Maj. Gen.
Newsletter
Get top stories and blog posts emailed to you each day.