You are here
Tech bootcamp trains 'tomorrow's peacebuilders' through coding
By Camille Dupire - Nov 19,2017 - Last updated at Nov 19,2017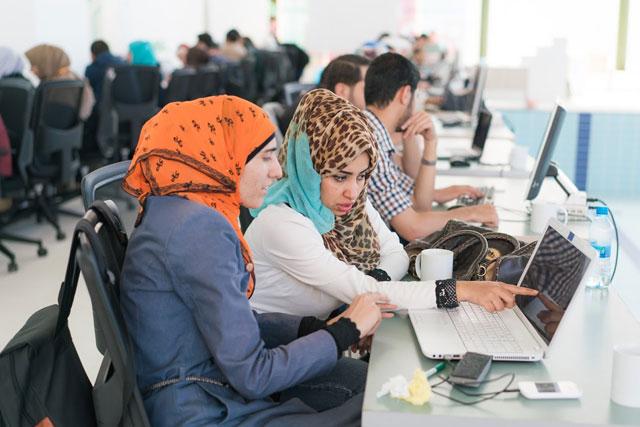 The 16-week intensive programme teaches refugees and Jordanians to code and programme in an immersive bootcamp setting (Photo courtesy of RBK)
AMMAN — "We are using technology to create a generation of peacebuilders, to combat extremism, early marriage and terrorism through coding and programming," said Hugh Bosely, the founder of ReBootKamp (RBK), the first code bootcamp for refugees in the Arab world.
A former architect from San Francisco turned tech specialist, Bosely manages the RBK immersive programme that trains refugees and Jordanians to become state of the art software programmers.
"Our goal is to turn refugees into programmers, developers through a 16-week programme and to rapidly move them from poverty to prosperity," said Bosely, noting that graduates start working for an average of JD1,000 a month in a country where the salary for "lucky university grads" amounts to JD300.
At the RBK house, everything is set to provide the best learning environment for trainees who sometimes spend more than 18 hours working per day.
"We have students who are still here at 3am, coding and programming," said Aude Sapere, programme manager, noting that she makes sure to provide "happiness raising and relaxing activities to avoid burnouts."
The mental and emotional component is indeed one of the core aspects of the programme, according to Bosely, who said that he started out by conducting a field prospect study when he first came up with the RBK idea.
"We surveyed over 250 companies in Jordan, asking them what was the most sought-after skill in their new hires. Contrary to what we might think, they all answered English!" he told The Jordan Times at the bootcamp house.
"The following qualities were soft skills [creativity, communication, ethics, listening…], problem solving and autonomous learning," he continued, noting that technical skills came way down the list of priorities.
"People need to understand that autonomous learning is the key to any worker's ability. If you learn how to code, but not how to learn, your work will be obsolete in 10 months, or even 10 weeks. Everything moves incredibly fast, and learning how to solve problems is way more important than learning a set skill," he argued.
Through a four-month programme of 1,000 hours, students are taught how to work together, solve problems and conflicts, code etc, in a process of never-ending mental stimulation.
"This is so intense. You sometimes feel like you won't be able to make it. But this is also what teaches you that you can do anything," said Areej, a 23-year-old Jordanian who just graduated from the third cohort.
"When I graduated from network engineering at university, I was petrified. I stayed at home for four months because I didn't dare to go to interviews," she recalled, noting that "I didn't feel like I had anything to offer. I only knew theoretical stuff and I didn't know how to do anything concrete."
The main focus of these bootcamps is practical learning and self improvement. "There is a huge gap between what universities are providing and what the labour market demands," said Bosely, noting that RBK seeks to fill that gap by enhancing human skills and producing creative, critical and self reliant professionals.
"A lot of these young men and women did not study ICT or science related subjects. We actually don't search for tech-aware individuals, rather, we look for motivated, ethical and passionate people. People who have grit," he said.
"Here, we have to abide by a very strict code of ethics: we know the team has no grudge in kicking some of the trainees out even one week before graduation if they don't respect the mindset," said Siaj, a 28-year-old Syrian who graduated from RBK last Thursday.
"However, this is truly a life changing experience and I would never have even dreamt of getting where I am now," said the young man, who fled Syria and had to juggle multiple dead-end jobs to make ends meet in Jordan.
Funded by a combination of private entities such as Adobe, Autodesk, Hack reactors and public partners including the King Abdullah Fund for Development, the Queen Rania Foundation and the Royal Court, among others, RBK allows trainees to enroll for free, until they are able to gradually pay back their tuitions once they secure a stable job.
"In the US, the cost of [this] programme is $35,000. Here, we only charge $8,000. And this does not even apply to all of them, as we have partnered with INGOs who invest in our graduates through their livelihoods programmes, freeing them from the entire cost," RBK's founder explained.
So far, RBK has helped trainees from all walks of life, aged between 18 and 45 years, with 50 per cent male and 50 per cent female, half of whom are Syrian refugees.
The programme also trained Yeminis, Iraqis and Palestinians. "We target all vulnerable populations: refugees, women in the governorates, LGBT, physically disabled and ethnic and religious minorities," Bosely said, noting that RBK seeks to break down biases among the trainees so as to create potential leaders.
"We want to produce future leaders who, by being exposed to diversity and speakers from very different stripes, will be able to bridge various conflicting factions together to rebuild their country," he concluded, stressing that all students start by signing an agreement to remain in Jordan once they graduate from the programme.
Related Articles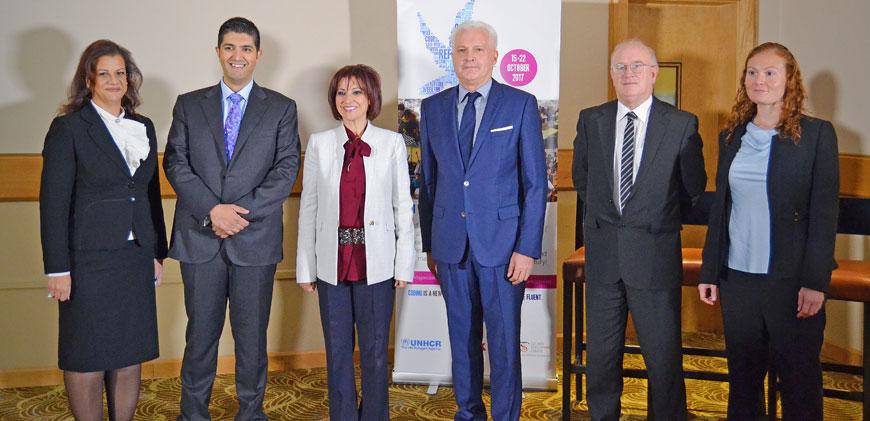 Oct 24,2017
AMMAN — The Refugee Code Week on Sunday held the closing ceremony of its 2017 edition, celebrating the training of over 15,000 youth and Syr
Apr 11,2018
SAN FRANCISCO — Aspiring software engineers Kevin Yook and Becky Chen are hunched over a computer screen, fervently discussing lines of code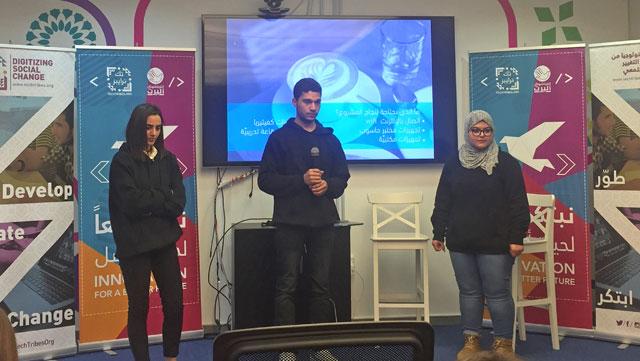 Mar 16,2017
AMMAN — Seeking to mitigate the repercussions of the Syrian crisis on local communities, a new project is helping young Jordanians and Syria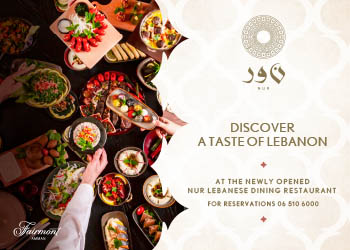 Newsletter
Get top stories and blog posts emailed to you each day.