You are here
As Syrian produce floods market, some Jordanians sceptical of safety
By Hana Namrouqa - Nov 07,2018 - Last updated at Nov 07,2018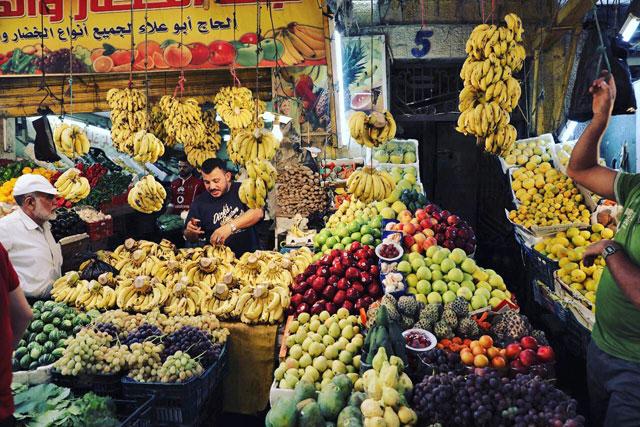 Before the crisis broke out seven years ago, Jordan exported more than 250,000 tonnes of fruit and vegetables to Syria and Europe every year ( Photo by Osama Aqarbeh)
AMMAN — Since Syrian fruits and vegetables started to flood the local market following the reopening of the Jordanian-Syrian borders last month, consumers have expressed concern over the safety of food imported from the war-torn country.
The shiny red Zabadani apples, known for their sweetness, and the yellow-hued Syrian pears can now be found in piles at stores, but consumers are hesitant to purchase produce imported from Syria, citing concerns that the fruits and vegetables could be polluted with chemicals from the bombings over the past eight years.
Muntaha Rawahneh, an eighth-grade teacher, said that she prefers to buy fruits and vegetables from origins other than Syria for the time being.
"It is absolutely heartwarming to see that Syrian products are back in the local market, that the borders reopened and that the war in Syria is coming to an end, however, we all know that Syria had witnessed bombing daily since 2011, and sometimes with chemical weapons," Rawahneh told The Jordan Times on Wednesday as she was grocery shopping in a small store in the sports city area.
The mother of four said she was worried that Syrian fruits and vegetables could have absorbed weapon chemicals from the soil, thus becoming dangerous to one's health.
Abu Sami Awad, a civil service retiree, said that in addition to agricultural produces' possible contamination, inspections by agriculture and health authorities on farmers and producers "must have been absent during the war".
"I do not think that control over different production sectors, including agriculture, in Syria has been going on, if ever, in a systematic manner. Thus, let's wait before we let our children consume raw fruits and vegetables from Syria," Awad said.
Jordan and Syria reopened the Jaber/Nasib border crossing in mid-October. News reports have claimed that more than 55,000 people had travelled between the two countries since the reopening.
In April 2015, Jordan closed the Jaber border crossing with Syria for security reasons. Passenger and cargo traffic was halted as a result of the escalating violence in the Syrian town of Nasib, just across the border station, some 80km north of Amman.
Zuhair Jweihan, vice president of the Jordan Exporters and Producers Society for Fruits and Vegetables, said that Jordanian importers had indeed been importing produce, especially pears and apples, from Syria in sufficient amounts since the reopening of the borders.
Jweihan underlined that public concern over the safety of food, especially fruits and vegetables are justified.
"Of course it is understandable for people to feel concerned about consuming produce imported from Syria given that it is emerging from a long war, however, people should know that Jordanian authorities are very strict about the quality of imported food entering Jordan from Syria," Jweihan told The Jordan Times.
Several refrigerated Syrian trucks are now at the borders pending the approval of Jordanian authorities, he said.
"Some 20 refrigerated trucks carrying fruits and vegetables have been denied entry to Jordan since the reopening of the borders. Jordanian authorities at the border only allow produce in after collected samples show it is safe," Jweihan highlighted.
Before the crisis broke out seven years ago, Jordan exported more than 250,000 tonnes of fruit and vegetables to Syria and Europe every year. Jordan's farmers and the entire agricultural sector suffered huge losses after the closure of the borders, as Jordan's annual production of fruit and vegetables at that time stood at around 2.5 million tonnes, 75 per cent of which was produced in winter and half of that was destined for export.
Jweihan noted that Jordan will start very soon importing onions and potatoes from Syria, noting that this will cause a drop in prices of vegetables in the local market.
Newsletter
Get top stories and blog posts emailed to you each day.