You are here
Study calls for investment in early childhood care, education for lifetime revenues
By Ana V. Ibáñez Prieto - Oct 04,2017 - Last updated at Oct 04,2017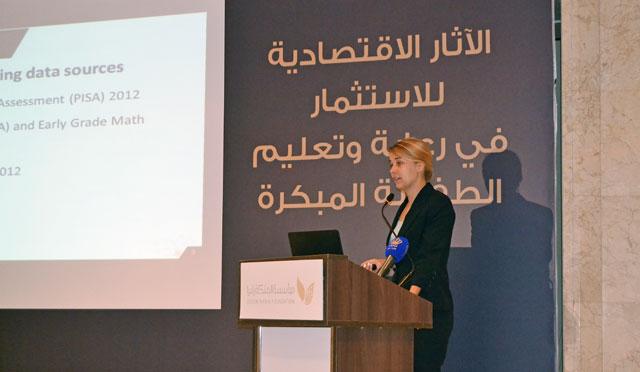 Researcher Helena Pylvainen presents the study on the economic implications of investing in early childhood care and education in Jordan on Tuesday (Photo by Ana V. Ibáñez Prieto)
AMMAN — The Queen Rania Foundation (QRF) on Tuesday presented a study on the economic implications of investing in early childhood care and education (ECCE) in Jordan, stating that every dollar spent on ECCE under the National Human Development Strategy would yield $9 in the form of labour market and life expectancy benefits.
The study was introduced by QRF CEO Haifa Dia Al Atta, who pointed out that "traditional household education is not sufficient", expressing hopes for the report to "influence the decisions of Jordanian families in the future".
In this regard, Atta highlighted that "80 per cent of children from four to five years old don't have a chance to access ECCE programmes, while 48 per cent of the families don't think that it [ECCE] has a positive effect", adding that "these figures need to change".
The results of the report were presented by researcher Helena Pylvainen, who explained that QRF partnered with two Harvard professors and an economist at the University of Jordan after the publication of several international studies showing that each dollar spent in early childhood development could generate private and social returns valued between $6 and $17.
The study relied on pre-existing datasets including standardised tests, a demographic and health survey, a labour market survey, and census data to link ECCE participation to educational attainment, employment and earnings and life expectancy.
The study also assessed a second scenario based on a "less ambitious" programme which provided universal kindergarten 1 (KG1) and kindergarten (KG2), where every $1 invested would generate labour market and life expectancy returns valued at $20.
Pylvainen highlighted that providing children with three years of ECCE would produce an increase of 0.7 years in average secondary and tertiary educational achievements, and an increase of one year in life expectancy.
Regarding the financial benefits, the study found that three years of ECCE access would produce an increase of $23,000 in average lifetime earnings, $1.7 in tax revenues per each dollar spent, and 30,000 jobs for educators and caregivers.
The benefits were estimated under the recommendations from the Jordan's National Strategy for Human Resources Development, according to which children born in 2016 would enter nursery at age 3, complete one year of preschool, and two years of kindergarten before starting first grade.
In this regard, Pylvainen pointed out that "the real benefits of ECCE are likely to be much higher than those estimated in the study, since the report assumed a conservative economic growth in the Kingdom."
QRF representative Ruba Samain outlined the implications that an ECCE expansion would have in terms of policy, stressing the need to increase KG1, KG2 and nursery capacity and enrolment through the encouragement of the private and non-governmental participation.
Minister of Education Omar Razzaz wrapped up the presentation by pointing out the benefits that ECCE can have in children, highlighting the need to "make parents not only understand, but ask for those services".
Razzaz noted that the ministry is willing to "invest and go in this direction", calling the private sector to "collaborate for the achievement of these goals".
up
57 users have voted, including you.
Related Articles
Dec 05,2017
AMMAN — Her Majesty Queen Rania on Monday attended the official launch of "Karim and Jana", a free mobile application developed by the Queen
Mar 28,2016
AMMAN — Her Majesty Queen Rania on Monday chaired a board meeting for the Queen Rania Foundation for Education and Development (QRF). T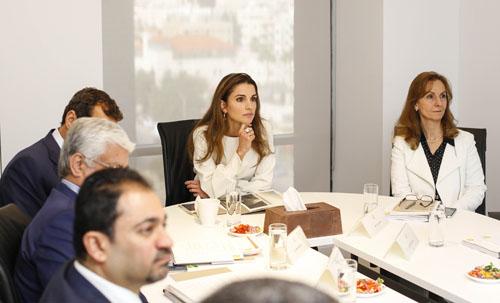 Nov 11,2014
Her Majesty Queen Rania on Tuesday chaired the Queen Rania Foundation for Education and Development (QRF) board meeting and listened to a briefing on the foundation's programmes and future plans.
Newsletter
Get top stories and blog posts emailed to you each day.