You are here
Structured, extensive political socialisation helps combat extremism — experts
By Dana Al Emam - Jul 18,2017 - Last updated at Jul 18,2017
AMMAN — "Efficient political socialisation" within the framework of the family and all concerned institutions is a "major tool" for preventing the recruitment of young people to extremist groups, experts agreed on Sunday.
They argued, however, that the younger generation generally lacks sufficient political culture and political awareness, despite technological advancements that have facilitated the access to knowledge.
These ideas, among others, were discussed in a recently published book titled "Theories of political socialisation and political culture", co-authored by Amin Mashaqbeh, a professor of political science at the University of Jordan (UJ) and a former minister, and Dina Shuqair, a researcher in political science.
In three chapters, the book discusses political socialisation, political culture and political participation.
Speaking at a discussion of the book event held at the Arab Thought Forum (ATF) on Monday, Mashaqbeh said political socialisation, a "continuous process" through which an individual obtains their political values, is "intimately connected" to what an individual is exposed to in the household, as well as in educational and religious institutions and through the media.
Meanwhile, he said political parties and civil society organisations need to have a "greater impact" in deepening values of respect, diversity, tolerance, justice and equality among citizens, particularly among younger people, in order to enhance their political awareness.
Political socialisation, the professor continued, requires individuals to learn the political history of their country, as well as the political system and its components, an issue Mashaqbeh thinks is being taught in Jordan in a "superficial" manner.
In addition, he said comprehension of political symbols, for example the components of the flag, and the ability to evaluate the performance of the political system, are two other dimensions of political socialisation.
For her part, Shuqair said the book, which falls into the field of comparative politics, underlines political socialisation as a way to "build a balanced and unified political culture among all segments of the society", a matter that gives legitimacy and sustainability to political systems.
ATF Secretary General Mohammad Abu Hammour noted that the desired medium and long-term reforms must engage generations that have at least a minimum of political awareness, an issue that he said accelerates reform.
Commenting on the book, Musa Shteiwi, director of the UJ's Centre for Strategic Studies, argued that political socialisation in the Arab world is affected by a number of factors, including non-state actors, which affect the relationship between the individual and the political system.
Another point he raised was that the performance of political parties is "generally weak", and so is their ability to take part in political socialisation, adding that some political parties oppose the current political system altogether.
Jamal Al Shalabi, a professor of political science at the Hashemite University, concluded by saying that citizens of democratic countries do not necessarily have more advanced political cultures.
Related Articles
Apr 05,2017
AMMAN —The Arab Thought Forum (ATF) on Tuesday discussed the recently launched book, titled "The History of Communication and Media for Arab
Aug 02,2017
AMMAN — Tailoring the religious discourse to serve political ends has empowered authoritarian regimes in the region over centuries and suppr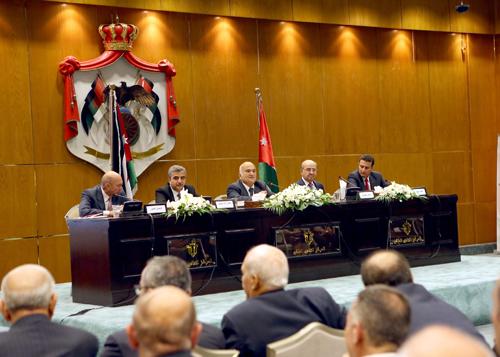 Sep 10,2015
AMMAN — The Arab Thought Forum (ATF) on Tuesday issued a publication compiling its dialogue sessions of the Royal discussion papers authored
Newsletter
Get top stories and blog posts emailed to you each day.