You are here
For some smokers, Ramadan was chance to kick the habit
By Dana Al Emam - Jul 16,2015 - Last updated at Jul 16,2015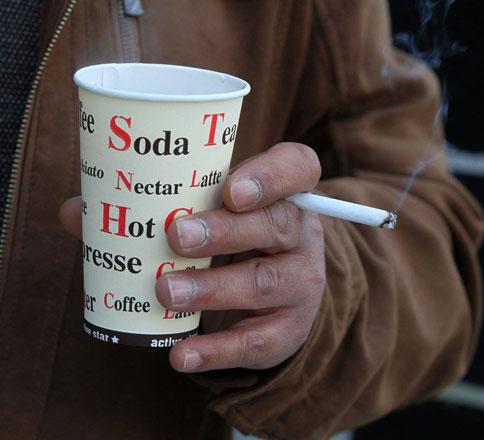 Those wishing to quit smoking should have a strong determination to do so, accompanied by the willingness to change their lifestyle and join a support group, according to an expert (Photo by Osama Aqarbeh)
AMMAN — Although he has been a smoker for the past 17 years, Abdullah Akayleh had more than one reason to benefit from Ramadan's long fasting hours to quit smoking.
Akayleh, a lecturer at the Hashemite University, decided to take on a challenge with a group of his smoker friends to compete to cut down tobacco consumption, which for him reached two packs daily.
"Whenever I receive post-course evaluation from my students, the only negative feedback they mention is my smoking habit," the 35-year-old said, adding that he is keen on improving that aspect of his lifestyle.
Unlike most of his friends, he succeeded in reducing the number of daily cigarettes to two at the most and is still "struggling to adapt".
"It is a difficult decision, especially after being a smoker for so long," he recently told The Jordan Times, noting that he used to spend around JD150 per month on cigarettes.
The headaches and fatigue he used to feel are now gone, and his olfactory abilities have improved.
"What matters the most to me is to stay away from any smoking environment and to distract myself whenever I feel like having a cigarette," Akayleh said, adding that he visits non-smoker friends when he needs support.
But Suad Abu Hantash had a different turning point in her story with smoking.
The 21-year-old told The Jordan Times that she was heading to her office at a journalism institution located on the fourth floor of a building in Amman, when the elevator broke down, forcing her to take the stairs.
"There was a non-smoker, an elderly man who works on the seventh floor, waiting for the same elevator," she said, adding that he reached his office way before she did, as she had to stop to take a breath every few steps.
That incident was a wake-up call for Abu Hantash to quit smoking.
"I felt bad that my body is too tired compared to my real age," she said, noting that she decided to consider Ramadan a chance to kick the habit.
Despite being surrounded by non-smokers, Abu Hantash developed the "bad habit" to cope with stress, something she now tries to control as much as possible.
"I was able to reduce my cigarette consumption from one-and-a-half packs a day to three cigarettes after iftar," noted Abu Hantash, who had previously tried to quit but was lured back into smoking.
"Smoking is everywhere… but life is beautiful, why lose it for smoking?"
It is very important for those wishing to quit smoking to have a strong determination to do so, accompanied by the willingness to change their lifestyle and join a support group, said Larissa Al Uar, a founding member and secretary of the Tobacco Free Jordan society.
A daily 30-minute-walk is necessary for the production of dopamine, the neurotransmitter produced by the body while smoking, which as a result decreases the desire for a cigarette, she said.
Also, individuals wishing to quit are strongly encouraged to change some habits associated with smoking, such as sitting in a certain place for a cup of coffee and a cigarette.
Changing the lifestyle also includes occupying the fingers with any an activity like crafts-making, sewing or gardening in order to overcome the physical addiction of holding a cigarette between the fingers.
Uar said smokers wanting to kick the habit should seek medical assistance to benefit from nicotine alternatives, including patches and medications, which are prescribed by doctors through a three-month course.
She added that there are four Health Ministry clinics that offer free services for those seeking to quit, and the King Hussein Cancer Centre (KHCC) offers similar assistance.
"Those wishing to quit are strongly advised to stay away from negative smoking," she stressed, calling for firmer enforcement of the Public Health Law, which bans smoking in public and obliges restaurants and cafés to allocate special areas for smokers.
Feras Hawari, director of the KHCC's cancer control office, said less than 5 per cent of those who quit smoking without assistance succeed, but the it remains to be seen whether they will commit to their decision over time or not.
"Fasting for long hours helps… those with the determination to stay away from tobacco after iftar," he said, citing an addictive effect of smoking on brain receptors and chemical substances in the blood.
Meanwhile, the "poor" implementation of regulations governing smoking, including the Public Health Law, has the greatest effect in the fight against smoking.
"It is difficult for the younger generation, which is becoming increasingly exposed to tobacco in restaurants and cafés, to quit smoking in light of the regression of efforts to combat tobacco use," Hawari said, citing a recent entry of a major international tobacco company to the local market.
The only guaranteed result of the lack of serious anti-tobacco efforts is a rise in the number of smokers in the Kingdom, which increases cases of cardiac and pulmonary diseases as well as cancer and diabetes, the expert said.
In order to carry on with his new lifestyle, Akayleh will see a doctor after Ramadan to help him get rid of the two cigarettes he still smokes every day.
"It is always easier and more economic not to start smoking in the first place," Uar said, noting that treatment for tobacco addiction costs JD200 a month.
Related Articles
Dec 06,2016
Smokers who go through much less than a pack of cigarettes a day still have a higher risk of an early death than non-smokers, a new study su
Dec 16,2015
AMMAN — The tobacco consumption rate among Jordanians is expected to reach 50 per cent by 2025, a matter that necessitates firmer implementa
Feb 18,2015
Jordanians spend over JD500 million in cash on tobacco every year, while the indirect costs are estimated at over JD2 billion, according to the Jordan National Anti-Smoking Society.
Newsletter
Get top stories and blog posts emailed to you each day.