You are here
'A smartphone is a school in itself'
Razzaz calls for diverse, technology-based teaching methods
By Camille Dupire - Nov 13,2017 - Last updated at Nov 13,2017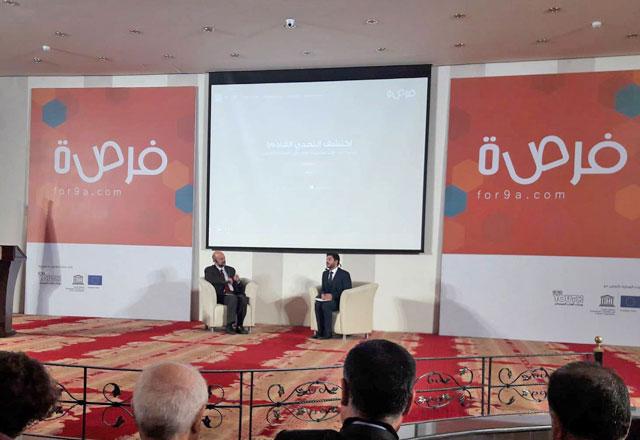 Minister of Education Omar Razzaz answers FORSA founder and CEO Sami Hourani during a Q&A session at the 'Transforming Access to Education' conference on Monday (Photo by Camille Dupire)
AMMAN — "We have confused two concepts into one: the high school graduation diploma and the university acceptance. As if academia was the only path towards professional success and any other option was a failure," said Minister of Education Omar Razzaz at the "Transforming Access to Education" conference held on Monday.
Calling for a diversity of educational paths offered to children, Razzaz stressed the importance of developing innovative and technology-based teaching methods to help school children "regain hope in their future".
The conference was organised by the online platform FORSA (for9a.com) and the UNESCO Amman Office, and funded by the European Union through the UNESCO-led "Networks of Mediterranean Youth (NET-MED Youth)" project.
In a discussion about the formal and informal educational landscape in Jordan, participants addressed how FORSA, MENA's largest online platform for educational and training opportunities, has contributed to enhancing youth opportunities in the region.
Quoting Her Majesty Queen Rania as an inspirational figure promoting education in the Kingdom, EU Ambassador to Jordan Andrea Matteo Fontana said: "In education, technology can be a life-changer, a game changer... Technology can bring textbooks to life … It can bridge the quality gaps."
The ambassador stressed the EU's continuous support to youth initiatives in Jordan and the region, saying: "This platform [FORSA] comes in line with our mission to connect all stakeholders in the field of education and vocational training, which we have done through the organisation of various job fairs and the implementation and promotion of vocational training initiatives."
Launched in 2011, FORSA is the largest online platform that links youth from the MENA region with opportunity providing institutions including universities, NGOs, training centres, companies, among others.
Almudaffar Shoubaki, marketing officer at FORSA said: "Today, we aim to spread the word about the platform to stakeholders and the public so as to connect even more people through this free and open access platform."
Commending the efforts of the EU and the Education Ministry, UNESCO representative to Jordan, Constanza Farina, said: "Innovative technology should be used to open new pathways to education, as it is a human right essential to all."
She stressed the positive impact of NET-MED Youth, a three-year regional project implemented by UNESCO in partnership with youth organisations and partners.
"NET MED Youth strives to develop inclusive societies and to facilitate platforms for dialogue. In achieving that goal, it strives to reduce the fragmentation of efforts and harness the collective potential of youth in affecting democratic transition towards active citizenship, political participation, economic development, and social inclusion," she said.
Farina stressed the need to encourage a stronger and direct participation of the youth in shaping policies, especially in light of the implementation of the Sustainable Development Goals 10 and 16, respectively related to reducing inequalities and promoting just, peaceful and inclusive societies.
Following the screening of several videos displaying youth success stories, FORSA founder and CEO Sami Hourani conducted a Q&A session with the Education Minister.
"FORSA represents a public good for society. Education and training opportunities need to come from outside the governmental channels if they wish to survive. They need to come from the youth themselves, and this is what this platform is doing," Razzaz stated.
"The world, including Jordan, is racing to redefine the educational system and we need to learn how to adapt to this ever changing environment. This can only be done through a sustainable continuous education that will enable us to face challenges as they come," he said, calling for a strong partnership between all parties involved.
Two FORSA users went on to share their success stories, including Sophie Bel, director of the French Institute in Amman, who explained how FORSA helped the IFJ find great young applicants for their SafirLab programme.
"Schools should only be a focal point for education where students get interested in learning. Anything outside of school can be used as a tool for informal learning. A smartphone is a school in itself," Hourani concluded.
The conference saw the attendance of representatives from leading universities, NGOs, civil society organisations, companies, and representatives from the international community, among others, according to a FORSA statement.
Related Articles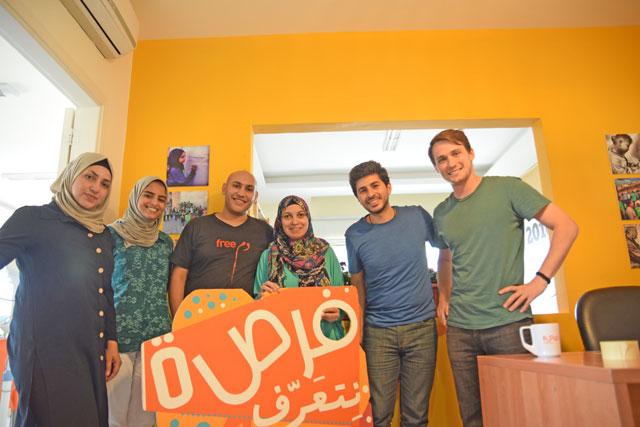 Nov 30,2017
AMMAN — Sami Hourani is a young Jordanian entrepreneur who turned his back on a lucrative job in robotic surgery to establish a youth educat
Feb 08,2018
AMMAN — Over 200 youths and experts in the field of development on Wednesday gathered at Ras Al Ain Hangar to discuss youth-led initiatives
Mar 15,2015
The Jordan Media Institute (JMI) on Sunday started a two-day data journalism workshop for its students in cooperation with the UNESCO Office in Amman and with EU support, according to a JMI statement.
Newsletter
Get top stories and blog posts emailed to you each day.