You are here
Sector leader seeks quick cure for 'ailing' pharmaceutical sector
By Bahaa Al Deen Al Nawas - Jun 12,2019 - Last updated at Jun 12,2019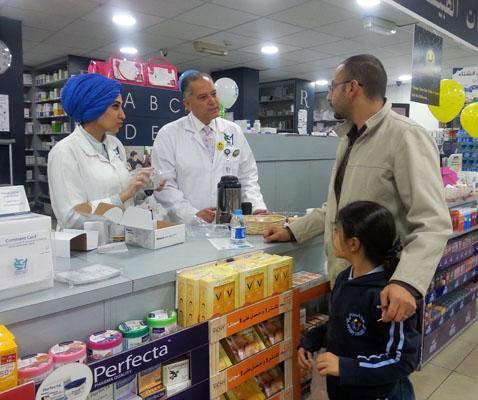 Jordan Pharmacists Association President Zeid Kilani said on Tuesday that 670 pharmacies shut down in the Kingdom over the past few years, calling for remedial measures to help the sector avert collapse (JT file photo)
AMMAN — The pharmaceutical industry is on the "brink of collapse" if urgent remedial measures are not taken, Jordan Pharmacists Association (JPhA) President Zeid Kilani said on Tuesday.
Over the past few years, 670 pharmacies in the Kingdom shut down after facing financial problems and bankruptcy, which raises a red flag for the sector's status and performance, Kilani said in a phone interview, noting that there are around 3,500 pharmacies in Jordan — one of the largest ratios in the world.
The number of pharmacies in 2012 was around 1,800 and almost doubled in the past five to six years; nonetheless, the size of the medicine market has remained the same as gross income has not increased since 1973, he claimed. This means the same income pouring into the 1,800 pharmacies back then is now the same but is feeding into a much larger number of pharmacies, Kilani said.
The issues causing pharmacies to lose revenue instead of generating profit include, but are not limited to, sharp increases in commercial property rent, electricity costs and even the costs of living.
There are also operational costs that include drug shipping and cooling, which when coupled with the aforementioned issues cause the sector to fall apart even further, he said.
"Medicine is the only commodity whose price does not increase," the JPhA president said, explaining that when medicine is manufactured, it is at its highest price, then five years later when its patent expires, its price goes down by around 50 per cent, and it keeps falling when alternatives are introduced.
He added that the more the prices go down, the less income pharmacies make, especially since they do not benefit from a drug's full price but only from a set profit margin, as medicine is sold at a fixed price in all pharmacies. The pricing of medicine is taken care of by the Jordan Food and Drug Administration.
"The very low percentage of medicines that cost lots of money, like the ones used in treating cancer, are dispensed by the government and not sold at pharmacies, bringing them no profit whatsoever," he said, noting that even if a pharmacy is licensed to dispense expensive medicine, they are not allowed to have any margin of profit but rather sell for the same price.
This costs pharmacies even more as they have to pay for shipping those medicines and are even included in the income tax despite generating no profit, Kilani said, adding the government should take action to change these policies and laws to allow the sector "some room for recovery".
As these are among the most pressing problems, the JPhA is currently working on a study to compile several proposed solutions that could help the sector get back on its feet.
In 2018, the association presented an amended by-law regarding the opening of new pharmacies, which entailed increasing the distance between pharmacies to serve their own areas instead of competing with each other in the same area, thus serving a larger segment of the population, Kilani said, noting that the government rejected the proposal at the time.
This system is followed in European countries like France, connecting pharmacies and populations to determine where best to open a new pharmacy, which would serve more people on its own rather than three or four pharmacies serving people from the same area, he noted.
Other solutions were inspired by countries like Canada, Australia and Switzerland, which in the past faced similar problems to that of Jordan, according to Kilani.
"In those countries, a pharmacist is paid a fixed amount of money for every dispensed medicine, regardless of its price, which is known as a dispensing fee that is intended to keep a stable income for pharmacists," the sector leader said.
For example, Kilani continued, if this was applied in Jordan, a patient could pay JD0.5 for each dispensed medicine in a prescription, regardless of the overall price, which protects pharmacists and allows them to compete only in a specialised area.
He added that Canada charges around C$10 in dispensing fees on each prescription as a whole, while Australia charges Aus$0.5 in dispensing fees on each medicine in a prescription.
This leads to a broader solution where pharmacists can present primary-care services for an area like weight control or asthma, which allows more room for competition as patients will buy more from the pharmacist that gives them more attention and advice.
The association is currently offering free training to a number of pharmacists to practise their job in a more specialised way, who for now provide their advice for free, Kilani said, noting that this approach focuses on primary care and benefits patients by saving their time, reduces burdens on hospitalisation and allows pharmacists to have more opportunities to expand their role.
A final solution focuses mainly on increasing cooperation between the public and private sectors, where the public sector could handle paying 50 per cent of medicines' prices, allowing people to purchase them from the private sector for half their price instead of relying completely on the public sector's health insurance, Kilani suggested.
In this way, the public sector reduces its burdens, rejuvenates the private sector and brings in more income that could help not only the pharmaceutical sector but "refresh the economy as a whole".
All in all, the sector requires the government's help and support, and there is a need to deal with imminent issues at once to avoid dealing with their inevitable consequences, he concluded.
up
25 users have voted, including you.
Newsletter
Get top stories and blog posts emailed to you each day.