You are here
Safadi discusses UNRWA cash crisis with Norwegian peer
Foreign ministers also go over Mideast peace process, regional crises
By JT - Aug 08,2018 - Last updated at Aug 08,2018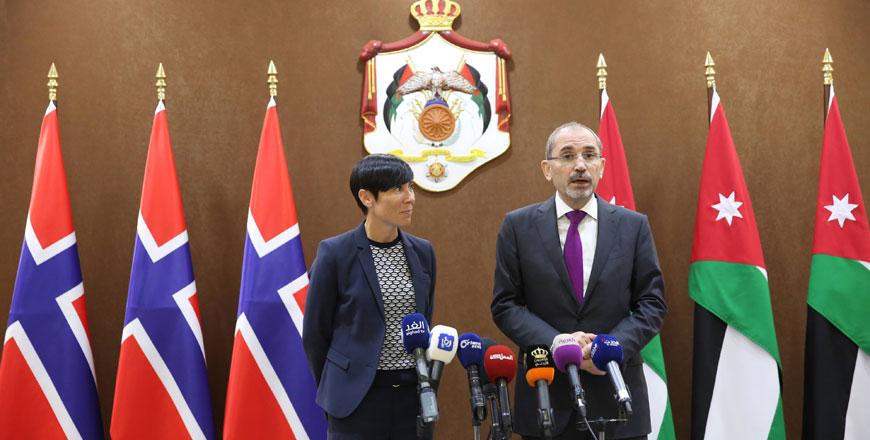 Foreign Minister Ayman Safadi speaks to reporters at a joint press conference with his Norwegian counterpart Ine Marie Eriksen Soreide in Amman on Tuesday (Photo by Sahem Rababaa)
AMMAN — Foreign Minister Ayman Safadi and his Norwegian counterpart Ine Marie Eriksen Soreide on Tuesday said that Jordan and Norway were working to boost bilateral economic and defence cooperation.
During talks that covered bilateral ties and the latest developments in the region, Safadi and Eriksen Soreide stressed that the two countries would intensify cooperation to help break the deadlock in the peace efforts aimed to solve the Israeli-Palestinian conflict on the basis of the two-state solution.
Safadi warned against the serious repercussions of the United Nations Relief and Works Agency's (UNRWA) financial deficit, urging further support for the agency to continue providing essential services to millions of Palestinian refugees.
The two ministers discussed the humanitarian situation in Gaza Strip, underlying the necessity of ending suffering the besieged strip's people.
The Norwegian minister, whose country chairs the special committee to support the Palestinian economy, outlined the efforts Norway is leading to deal with challenges facing Gaza and implement projects to help its people.
According to Norwegian press reports, Norway is a significant donor to UNRWA. It is providing NOK 125 million in core funding to UNRWA in 2018 (NOK1= $0.12). In addition, Norway provides humanitarian assistance and project support. In 2017, these additional contributions amounted to just over NOK 100 million.
Safadi and Eriksen Soreide also discussed the Syrian crisis and the need for a political solution to end the conflict there, as well as Jordan's burden of hosting 1.3 million Syrian refugees in the Kingdom.
The two diplomats went over the war against terrorism and the need to eradicate terrorists within the international anti-terror coalition.
The Norwegian official commended Jordan's role in fighting terrorism and cooperation with her county's armed forces.
Safadi and Eriksen Soreide signed an agreement on mutual exemption of visa for diplomats.
The two ministers held a press conference following the meeting, during which Eriksen Soreide praised Jordan's "unprecedented" support for the Syrian refugees, stressing her country's keenness on cooperation with the Kingdom in various fields.
For his part, Safadi voiced his appreciation for the visit of the minister in a time that witnesses a stalemate situation in the peace efforts.
He also expressed appreciation for the Norwegian support to Jordan in meeting the daily life needs of refugees.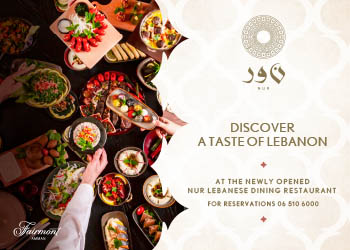 Newsletter
Get top stories and blog posts emailed to you each day.