You are here
Royal directives: Issawi launches pack of development initiatives in Ajloun
Royal Court chief also checks on development projects in Balqa, Irbid
By JT - Jun 23,2022 - Last updated at Jun 23,2022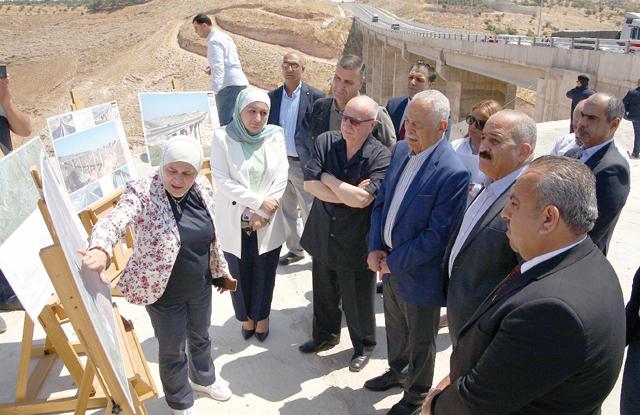 Royal Court Chief Yousef Issawi checks on Royal initiative projects during a field tour on Thursday (Petra photo)
AMMAN — In implementation of His Majesty King Abdullah's directives, Royal Court Chief Yousef Issawi on Thursday announced the launch of a pack of development Royal initiatives in the Ousarah area in Ajloun.
Issawi made the announcement during a meeting with dignitaries of the area, where he listened to their top needs and demands to be met under the available resources, in implementation of Royal visions that stressed the importance of ongoing communication with citizens, the Jordan News Agency, Petra, reported.
The initiatives include building housing units for underprivileged families, a multi-purpose hall, a football pitch and productive projects as part of finance portfolios to provide jobs for residents of the area.
Issawi said that His Majesty always directs stakeholders to develop the level of services provided to citizens and establish income-generating development and productive schemes that guarantee justice in distributing gains and development revenues, until reaching productive communities that can play a main role in the development process.
Dignitaries of the area praised King Abdullah's efforts to serve the homeland and Arab issues through his intensified endeavours at the local and foreign levels to develop the economic and living conditions.
Demands of Ousarah residents focused on addressing poverty and unemployment, supporting recruitment programmes, developing health, educational, cultural and infrastructure services, and supporting charity association and youth clubs, among others.
Meanwhile, Issawi, in the presence of Public Works and Housing Minister Yahya Kisbi, checked on the implementation of Royal initiative projects in Balqa and Irbid.
In Balqa, Issawi checked on a project to establish 400 housing units in Deir Alla, where the completion percentage stood at 97 per cent, and had a firsthand look the infrastructure of the entire location that can accommodate 800 housing units.
He also checked on the Wadi Al Ghafar bridge project, which is the highest in the Kingdom with a height of 270 metres and a width of 25 metres.
At the Kura District, he also visited the location of implementing the road to the city entrance, which has been recently completed under a Royal initiative.
These projects are carried out in implementation of Royal directives during His Majesty's communication meetings with dignitaries and residents of Ibid.
Newsletter
Get top stories and blog posts emailed to you each day.