You are here
'RJ plane to fly Jordanian students from Yemen'
By Laila Azzeh - Sep 20,2014 - Last updated at Sep 20,2014
AMMAN — Jordanian students in Yemen will be able to return home on Sunday aboard a Royal Jordanian (RJ) aircraft designated to transport them, the Foreign Ministry said Saturday.
Around 400 students are expected to take the flight back to Jordan amid the turmoil witnessed in Yemen, according to the ministry, as armed Shiite rebels closed edged closer to Sanaa over the weekend.
"So far our students in Yemen are safe and not facing any threats, especially as the vast majority of them reside far away from the clashes," Foreign Ministry Spokesperson Ashraf Khasawneh told The Jordan Times over the phone.
Only one Jordanian student who was in a high-risk region called the Kingdom's embassy in Sanaa, which brought him to the capital in coordination with Yemeni authorities, Khasawneh noted.
In earlier remarks, the official said that only nine Jordanian students were in regions witnessing turmoil.
The ministry coordinated with RJ to send a plane for those wanting to return home, he said, urging students and their families to contact the Jordanian embassy in case of emergency, including those who want to leave Yemen.
They can contact the embassy 24/7 on 009671413277 and 009671413276, or they can call the Foreign Ministry on 00967736412412, 0096265735150 and 0096265735166.
Also on Saturday, the Foreign Ministry urged Jordanians not to travel to Yemen, calling on those who do not have to stay in the crisis-hit country to leave immediately or exercise extreme caution.
Members of the Jordanian community in Yemen can call the numbers mentioned above in case of emergency, the Jordan News Agency, Petra, reported on Saturday evening.
Yemeni President Abed Rabbu Mansour Hadi on Saturday called for a UN-brokered political settlement with the Shiite rebels as some of the worst violence seen in the capital for years raged for a third day, according to Reuters.
The fighting, which intensified on Thursday after weeks of protests and clashes, appeared to be the biggest challenge yet to a UN-backed transition to democracy launched after veteran ruler Ali Abdullah Saleh stepped down in 2012.
Shiite Houthi rebels clashed with the army on the outskirts of Sanaa on Thursday.
Yemen's state-run television building, which is near other vital state institutions, caught fire on Saturday after three days of mortar attacks by the Houthis.
Yemeni television broadcast a written message calling on national and international organisations to intervene to save its employees from the shelling, Reuters reported from Sanaa.
In a neighbouring area close to the interior ministry where Houthis have been staging a sit-in, three mortars were fired, according to a Reuters witness.
Residents and relatives of victims reported at least 16 people dead between Friday night and Saturday morning, 10 of them from the same family who were trying to flee their home in the Shamlan district in the north of the capital while their minibus was hit by mortar fire.
Medical sources also told Reuters 13 Houthis had died on Saturday in confrontations with the army in the capital.
Related Articles
Sep 18,2014
All Jordanian students in turmoil-hit Yemen are safe and no one has been kidnapped, the Foreign Ministry affirmed on Thursday.
Sep 22,2014
Two Royal Jordanian (RJ) planes were scheduled to leave Amman on Monday night for the Yemeni capital, Sanaa, to bring home 145 Jordanians due to the instability there, a government official said.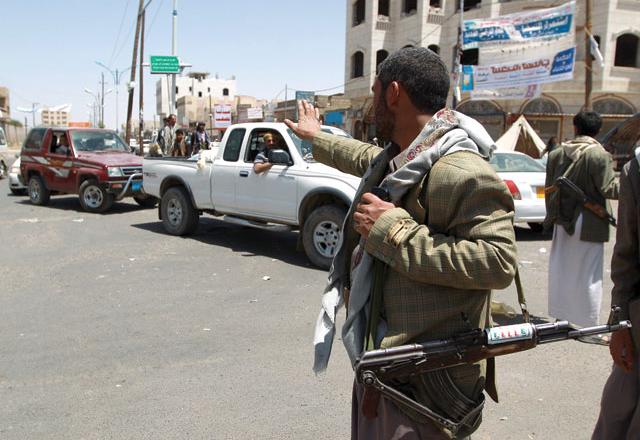 Sep 20,2014
Yemeni President Abed Rabbo Mansour Hadi called on Saturday for a UN-brokered political settlement with Shiite rebels as some of the worst violence seen in the capital for years raged for a third day.
Newsletter
Get top stories and blog posts emailed to you each day.