You are here
Researcher preaches new holistic approach to education in Jordan
By Camille Dupire - Nov 08,2018 - Last updated at Nov 08,2018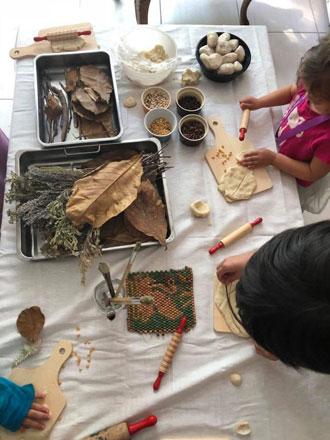 The Waldorf pedagogy focuses on practical, hands-on activities and creative play (Photo courtesy of The Kingdom of Childhood Initiative for Holistic Learning)
AMMAN — A pedagogical researcher specialised in holistic learning practices is aiming to bring educational reforms to Jordan, through the introduction of mainstream schooling paradigms following the Waldorf pedagogy.
A little less known than the Montessori teaching method, the Waldorf pedagogy (also known as Steiner education) aims to develop students' intellectual, artistic and practical skills in an integrated and holistic manner, with a central focus on the cultivation of pupils' imagination and creativity, according to web sources.
Developed by Austrian Rudolf Steiner in 1919, the co-educational system followed a comprehensive approach, serving children from all social classes, genders, abilities and interests.
An architect by profession, Ruba Asi said she started being interested in pedagogical methods when she had children herself.
"As I was raising my two children — now aged three and seven — I had a lot of concerns over the teaching paradigm in place in Jordan and I started questioning a lot of the existing norms," Asi remembered, recounting: "I did a lot of research that acquainted me with the Waldorf pedagogy, which is much closer to a developmental science than the top down approach currently used in Jordan."
"What struck me in the existing educational system, was the way we teach kids as young as four years old hard academic skills, which is very counter-intuitive and difficult for them," Asi told The Jordan Times in an interview on Thursday, claiming that "this fed into the trend of over medication of children, which seeks to 'make them sit still' in order to be able to attend long classes".
"Children do not play anymore, they are not aware of their environment, of nature. It seems like they have been numbed," Asi lamented, voicing hope to participate in a social reform in her community by introducing a pedagogy that waits until pupils show signs of readiness and interest for academic learning, which means that "they are then naturally ready for it".
She founded "The Kingdom of Childhood Initiative for Holistic Learning" in 2016, with the aim of bringing about this educational philosophy to Jordan, in a culturally appropriate manner.
"One of the key aspects of the Waldorf pedagogy is that it focuses on teacher's autonomy and democratic teaching methods, thus giving the leeway needed to adapt to various cultural settings," the mother of two explained, referring to the success of Waldorf schools in countries like Finland, the US, Canada and the UK.
Since the establishment of the Waldorf School in 1919, the number of accredited institutions rose to over 1,250 worldwide, according to academic sources.
When asked why she decided to launch her initiative instead of focusing solely on her children's education, Asi said she noticed "a growing awareness" among parents towards the choice of curriculum for their children.
"Jordan's educational marketplace has become swamped by an array of curricula which make it very confusing for parents who lack a guiding principle to help them make the best choice for their children," she continued, noting that her initiative seeks to highlight the main aspects of the Waldorf methodology "for those interested in the holistic developmental approach to education".
Asi has been translating material related to Waldorf pedagogy into Arabic, aiming to make it accessible to all, and not just to "a lucky few".
While studies about Waldorf education remain small-scaled, a 2010 comprehensive study indicated evidence that Waldorf education "encourages academic achievement as well as creative, social and other capabilities important to the holistic growth of a person".
Asi is currently organising the first Symposium on Holistic Education in Jordan and the Arab World, scheduled to take place on January 17-19, 2019.
The symposium will consist of a public seminar conducted by leading Waldorf and Holistic Education consultant Torin Finser and his wife Karine Finser, targeting teachers, educators, educational entrepreneurs and leaders in the educational sector, followed by two teacher training workshops.
Newsletter
Get top stories and blog posts emailed to you each day.