You are here
Razzaz lauds cooperation among authorities in managing snowfall
By JT - Jan 17,2019 - Last updated at Jan 17,2019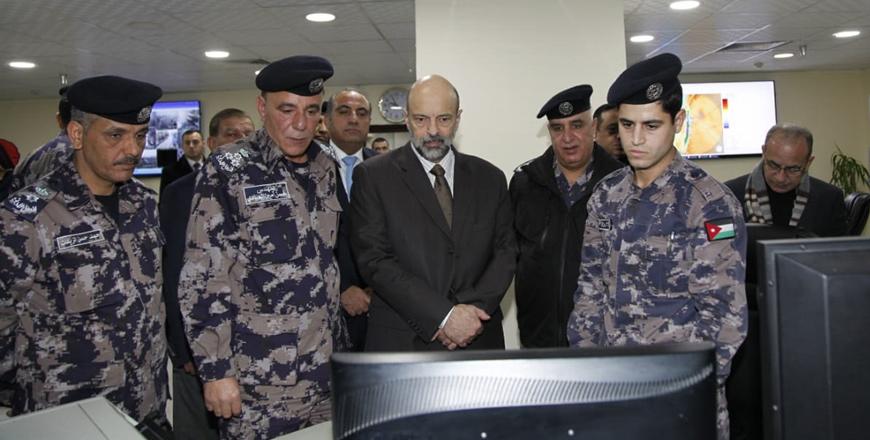 Prime Minister Omar Razzaz on Thursday visits the Civil Defence Department and the Ministry of Public Works and Housing, where he thanked the two public agencies for their efforts during the difficult weather conditions that affected the Kingdom (Petra photo)
AMMAN — Prime Minister Omar Razzaz on Thursday commended the coordination and cooperation among all concerned authorities in dealing with the difficult weather conditions that affected the Kingdom.
In remarks during a visit to the Civil Defence Department (CDD) and the Minister of Public Works and Housing, Razzaz lauded the volunteer initiative launched by the "Jordan 4x4 Club" and its cooperation with the CDD to provide rescue services for citizens, stressing the need for institutionalising such efforts to manage weather-related situations in the future.
Razzaz referred to His Majesty King Abdullah's call for prioritising that the service of Jordanians, the Jordan News Agency, Petra, reported.
CDD Director Maj. Gen. Mustafa Bazayah briefed the premier on the measures taken during the past polar front, noting that the CDD had developed a comprehensive plan to deal with the arising situation.
During his visit to the Public Works Ministry, the premier was acquainted with the process of opening and maintaining the roads throughout the snowfall, during which no serious accidents were registered.
Razzaz commended the ministry's efforts to clear blocked roads, with Public Works Minister Falah Omoush noting that heavy machinery was deployed around the clock to ensure safe flow of traffic, according to Petra.
Chairman of the Joint Chiefs of Staff Lt. Gen. Mahmoud Freihat has directed police and army officers to provide citizens with needed assistance in situations arising from the unstable weather conditions, Petra said on Thursday.
Heavy snowfall, witnessed in various areas of the Kingdom on Wednesday night, has left many people stranded, including 48 people heading to Saudi Arabia to perform umra (minor pilgrimage), who were evacuated after their bus broke down 27km from the Desert Highway in the Marigha area.
Military personnel of the southern area transferred the passengers to Marigha School in a military bus, according to Petra.
Meanwhile, Director General of the National Electric Power Company (NEPCO) Amjad Rawashdeh on Thursday said that the company did not record any electrical faults during the two-day depression, a NEPCO statement said.
Rawashdeh also said that the maximum electric load during the depression reached 3,210 megawatts, noting that the load hit a record-high 3,380MW days earlier and assuring that the Kingdom's power-generating capacity is sufficient.
He added that power stations are operated according to the electric system's priorities and by the NEPCO control centre.
The Jordan Electric Power Company said that the company received 1,543 complaints in the central region regarding electrical faults in the last 24 hours, 99 per cent of which were resolved, according to Petra, while Electricity Distribution Company (EDCO) Spokesperson Sami Zawateen noted that EDCO fixed 96 per cent of the electrical faults recorded in Karak, Tafileh, Maan, Aqaba and the Jordan Valley area.
Newsletter
Get top stories and blog posts emailed to you each day.