You are here
Queen visits Mujaddidun society in Iraq Al Amir
By JT - Jun 13,2016 - Last updated at Jun 13,2016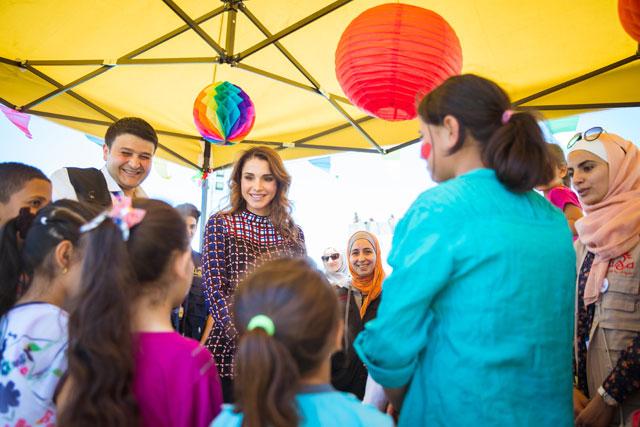 Her Majesty Queen Rania meets with volunteers from the Mujaddidun Society for Charity and Development in Amman on Sunday (Photo courtesy of Royal Court)
AMMAN — Her Majesty Queen Rania on Sunday met with volunteers from the Mujaddidun Society for Charity and Development in the recreation ground of Iraq Al Amir Secondary School for boys, where she was briefed on several of the society's programmes to promote volunteerism among youths in Jordan during Ramadan.
At a meeting with the charity's management, society founder Rami Abulsamen briefed Her Majesty on the society's activities and programmes in Zarqa, Irbid, and Ruseifa, which have benefited up to 150,000 people so far, according to a statement from the Queen's office.
Her Majesty met with a group of volunteers who were preparing food packages set to be delivered to underprivileged families as part of the Mujaddidun society's Ramadan parcels initiative, which is expected to distribute 2,700 packages during the fasting month.
The Queen also listened to a briefing about "Ana Ensan" (I am human) project, the first development programme the society launched in 2010, which funds small businesses for school dropouts caused by poverty to help generate an income for their families.
With the participation of more than 160 volunteers, this initiative has helped some 47 families, the statement said.
Her Majesty also met with a number of young volunteers who shared success stories of the "Qudwa" programme.
The project, whose name translates into "Role Model", was launched in 2014 with the goal of educating school children about the importance of volunteer work in preparing a new generation of young people who give back to their communities.
At the end of her visit, the Queen joined a group of 80 volunteers in the school playground, who were conducting various activities and games, including face painting, puppet shows and sports competitions for a group of more than 100 orphaned children.
In a post about the visit on her official Instagram account, Her Majesty said she is "inspired by these youth volunteers for the Mujaddidun Society, who have come together during the holy month of Ramadan to create a positive change".
Established in 2009, Mujaddidun Society for Charity and Development is a faith-based association registered under the Ministry of Social Development.
The society aims to help underprivileged families in Jordan, and bring volunteers together to create positive change in Jordan's communities, the statement said.
The society's head office is based in Amman and it has teams in Irbid, Zarqa, Ruseifa and Aqaba, in addition to teams in private and public universities and colleges, and a network of more than 2,500 volunteers.
Related Articles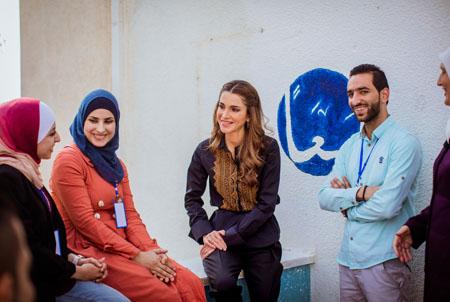 Oct 28,2015
AMMAN — Her Majesty Queen Rania met on Wednesday with the members of the Jerasa Charitable Society for Women in Jerash, some 48km north of A
Jun 15,2016
AMMAN — Her Majesty Queen Rania on Tuesday visited programmes run by Caritas Jordan in Jabal Luweibdeh, including its community centre and t
Jan 05,2015
Her Majesty Queen Rania on Monday said it is crucial to raise awareness on health-related issues such as the importance of balanced nutrition, the dangers of drug abuse and the necessity of obtaining patients' medical history prior to their treatment.
Newsletter
Get top stories and blog posts emailed to you each day.