You are here
Queen Rania visits Amman secondary school
By JT - Apr 28,2014 - Last updated at Apr 28,2014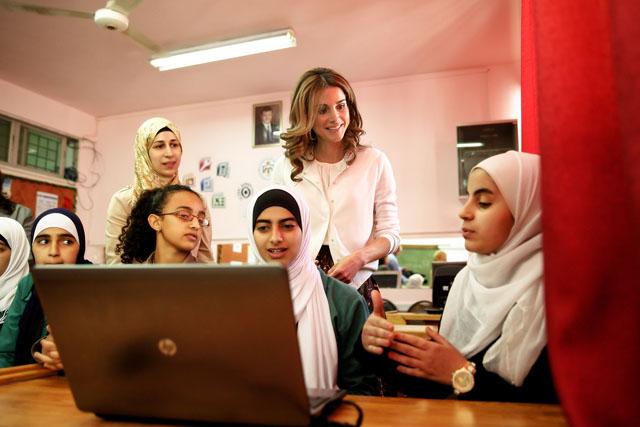 AMMAN — Her Majesty Queen Rania on Sunday visited the Eskan Al Jamaa Mixed Secondary School and checked on the progress and outcomes of two projects carried out by the Jordan Education Initiative (JEI).
The "Fursati Liltamayyoz" (My Chance to Excel) programme is designed to bridge the gap between the outcomes of the education system and the needs of the job market by providing students with advanced skills to improve their chances of employment with well-reputed companies, according to a statement from Her Majesty's office.
Meanwhile, the JEI started implementing the "Demoqrati" programme, which was launched by the King Abdullah II Fund for Development (KAFD), to help young people build their national identity and create positive attitudes towards their national responsibility.
It also helps young Jordanians to master the skills of dialogue and dealing with differences, the statement said.
JEI is implementing both projects in several public schools in Jordan.
During Sunday's visit, Queen Rania first went to the school library where mothers of students were attending a session on PC maintenance and safe Internet usage.
Her Majesty then checked on two computer labs where students were taking part in a mobile game development training session as well as a programming session with the Oracle education tool Alice.
All three programmes are part of the Fursati Liltamayyoz project.
The Queen also attended part of a session organised by the dialogue and volunteerism clubs, which are part of the Demoqrati programme currently being implemented in 96 schools across the country in partnership with the Ministry of Education and JEI.
At the school's theatre, Queen Rania joined students who were watching a live broadcast session on first aid measures conducted by the Civil Defence Department. The same session was being broadcast simultaneously to five schools in different governorates.
Launched in 2013, Fursati Liltamayyoz is an internship programme that seeks to enhance employability skills of school and university students and transform schools into ICT community hubs.
It is implemented by JEI in partnership with the ICT, education and labour ministries.
During the internship period, interns are provided with comprehensive soft and practical training courses coupled with a structured mentorship support system.
Interns then assist a number of schools targeted by JEI in applying, sustaining and benefiting from the JEI model, the statement said.
Interns also share their experiences with local communities through developing projects based on their needs. This is followed by four-months on-the-job training in different companies.
Related Articles
Oct 27,2014
Several ICT graduates on Monday said the Fursati Liltamayyoz programme not only helped them contribute to the development of schools in their areas but also helped them find jobs.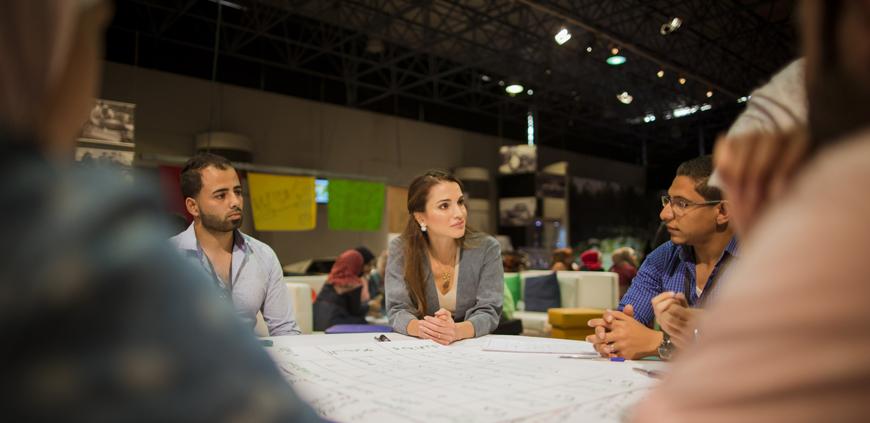 Sep 09,2015
AMMAN — Her Majesty Queen Rania on Tuesday attended part of an orientation session at the Royal Automobile Museum for youth participating in
Nov 23,2014
Her Majesty Queen Rania on Sunday checked on different learning technologies applied by the Jordan Education Initiative (JEI) in a number of public schools in Jordan.
Newsletter
Get top stories and blog posts emailed to you each day.