You are here
Queen Rania honours winners of 2018 Queen Rania Award for Excellence in education
By JT - Dec 12,2018 - Last updated at Dec 12,2018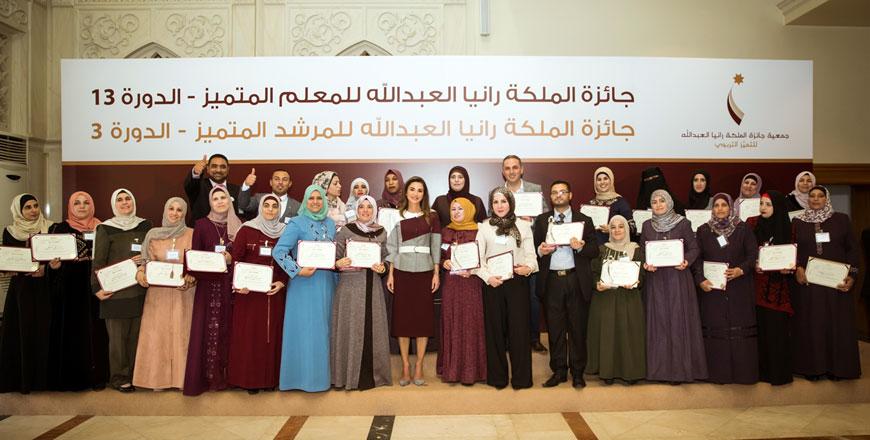 Her Majesty Queen Rania honours winners of the Queen Rania Award for Excellence's 13th Teacher Award and third School Counsellor Award, on Wednesday (Photo courtesy of Royal Court)
AMMAN — Her Majesty Queen Rania on Wednesday honoured winners of The Queen Rania Award for Excellence's (QRAEE) 13th Teacher Award and third School Counsellor Award during a ceremony held at the Royal Cultural Palace, a statement from Her Majesty's office said.
In her capacity as chairperson of QRAEE's board of trustees, Her Majesty presented 28 winners with their awards. A total of 24 Teacher Awards were handed out to the winners selected from a pool of 2,471 applicants, while four School Counsellor Awards were handed out to those chosen from a pool of 139 applicants.
Launched in 2005 by Their Majesties King Abdullah and Queen Rania in partnership with the Ministry of Education, QRAEE aims to set a national standard of excellence in teaching, and to celebrate and honour educators who work tirelessly to meet it.
Minister of Justice and acting minister of education, higher education and scientific research Bassam Talhouni addressed the audience, listing the achievements resulting from the partnership between QRAEE and the Ministry of Education, chief amongst them being the preparation of a charter for careers in education approved for use starting April 2018. He also said that a plan has been developed to invest in the winners and employ their talents in the education sector.
In her opening remarks, QRAEE Executive Director Lubna Touqan commended the finalists for their efforts, describing them as ambassadors of excellence in education. Referring to the partnership between QRAEE and the Ministry of Education, and the plan to apply the winners' expertise to the field, Touqan explained how that will help winners realise their full potential as "active community and change leaders".
Touqan stated that the winners will be able to tour schools within their districts and share their knowledge and experience, and partake in authoring and revising school books through their district's school curricula committees.
Within the ministry, the winners will act as advisers to future cohorts of the Queen Rania Teacher Academy's Teacher Education Professional Diploma, Touqan said, underlining their crucial role in spreading a culture of excellence across Jordan's schools and directorates.
This year's ceremony witnessed a total of 1,800 attendees, including representatives of Zain Jordan — the event's main sponsor. Other guests included members of Parliament, education ministry staff, presidents of universities, members of the award judging panel, heads of media institutions, the finalists and their families, as well as previous winners.
All winning teachers and school counsellors who earned first, second, and third place in their respective categories received monetary awards and excellence certificates. Teachers were granted JD4,000 for first place, JD3,000 for second place and JD2,000 for third place, while counsellors were offered JD3,000 for first, JD2,000 for second and JD1,000 for third.
Winners also received non-monetary awards from the Ministry of Education, including a higher rank and access to quality professional and academic development in Jordan and abroad.
The other finalists were also entitled to monetary awards and certificates of honour at the national level.
Two districts were recognised for their contribution to QRAEE, including the district of Military Education for housing the largest number of schools to apply to the awards and the largest number of qualified applicants for this year. Brig. Gen. Mohammed Aref Abu Zaid accepted the award on behalf of this district.
The Marka Province district was also awarded for having the largest number of applicants to qualify for field visits, a crucial stage in the selection of winners. Principal Intesar Ibrahim Abu Shariaa accepted the award on behalf of the Marka district.
Empowering the winners to serve as role models for their peers, the awards aim to motivate educators to strengthen the educational sector by reinforcing a culture of excellence.
The nominees kicked off the ceremony with a celebratory parade on stage. The award ceremony also included collaboration by a number of local folkloric dance groups, who joined forces for the first time on stage for a performance.
Newsletter
Get top stories and blog posts emailed to you each day.