You are here
PSD launches 'enough is enough' campaign in bid to combat festive firing
By JT - Jul 16,2019 - Last updated at Jul 16,2019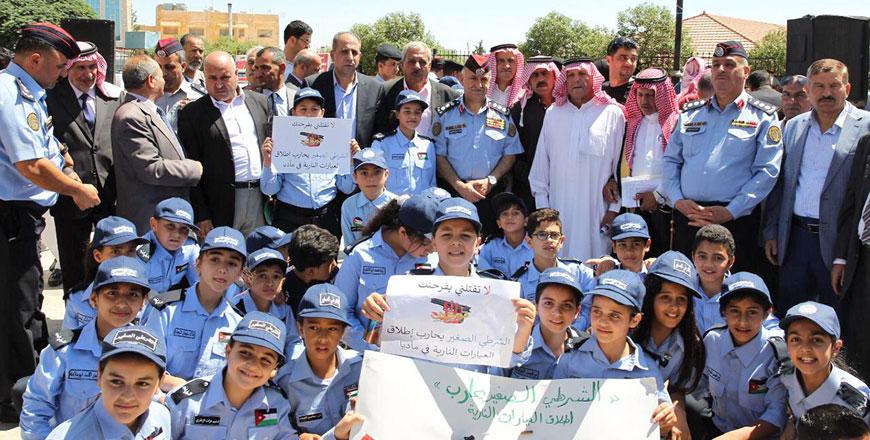 Children pose for a photo at an awareness campaign activity targeting festive firings on Monday (Petra photo)
AMMAN — The Public Security Department (PSD) on Monday launched a nationwide campaign to combat festive firing and create a social environment that rejects the phenomenon.
The awareness campaign was launched in cooperation with administrative governors from around the country to send the message: "No to festive firing... enough is enough," the Jordan News Agency, Petra, reported.
The initiative seeks to deliver a message of unity in the face of the dangerous phenomenon and against all those who take part in it, the PSD said.
As part of the campaign, various activities, roundtables and educational sessions have been held, witnessing the participation of individuals whose lives have been directly affected by celebratory firing.
PSD personnel, in collaboration with members of the public, have also visited a number of locations to distribute brochures and educational material to citizens, warning them of the hazards of festive firing.
The initiative's activities will continue over the coming few days at various locations and residential areas across the Kingdom to send the message to all sectors of society.
The PSD called on citizens to stand together in supporting its efforts to curb the mishandling of firearms in all its forms, in addition to playing their role in raising awareness to end the threat of celebratory firing once and for all.
Newsletter
Get top stories and blog posts emailed to you each day.