You are here
Prime minister inaugurates 150-bed Tafileh Public Hospital
By JT - Sep 24,2022 - Last updated at Sep 24,2022
Prime Minister Bisher Khasawneh inaugurates the 150-bed Tafileh Public Hospital, which was built at a cost of JD45 million, on Saturday (Petra photo)
AMMAN — Prime Minister Bisher Khasawneh on Saturday inaugurated the 150-bed Tafileh Public Hospital, which was built at a cost of JD45 million.
Accompanied by Health Minister Feras Al Hawari, Minister of Public Works and Housing Yahya Kisbi and Interior Minister Mazen Faraya, Khasawneh toured wards of the hospital, which extends over 33,000 square metres, according to the Jordan News Agency, Petra, reported.
The prime minister exchanged talks with patients and medical personnel, highlighting the importance of providing the local residents with the best services
Hawari said that the hospital has carried out several surgeries since it became fully operational earlier this month.
The minister said that the hospital's operational plan includes a training programme for all staff followed by an assessment period.
A three-phase trial period was established by the ministry to operate the hospital, the minister said.
The first phase includes the emergency wards and the 17 outpatient clinics with various specialties, he noted.
Besides the 150 inpatient beds, the seven-storey hospital includes seven operation rooms, 11-bed dialysis room, two quarantine rooms, a 17-bed recovery and intensive care unit, a 15-incubator pickup unit, and an emergency ward with a capacity of 30 beds, in addition to gastroenterology and pulmonology units, a catheter unit and accommodation for medical staff.
The total area of the hospital building is approximately 33,000 square metres, at an implementation cost of JD34 million, while the cost of medical equipment and medical and non-medical furniture is approximately JD11 million.
In March, the health minister opened the first stage of the hospital, including the outpatient clinics and emergency wards.
Related Articles
Apr 05,2020
AMMAN – The new emergency ward at Al Bashir Hospital will start receiving patients in a few weeks, as its expansion has been completed, and
Nov 03,2022
AMMAN — Prime Minister Bisher Khasawneh on Thursday opened the new 250-bed Al Iman Public Hospital in Ajloun, after construction of the JD40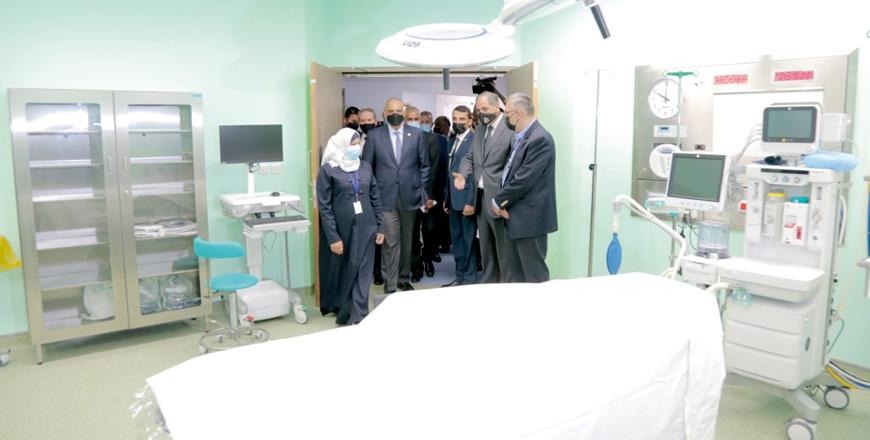 Jul 07,2021
AMMAN — Prime Minister and Minister of Defence Bisher Al Khasawneh on Tuesday inaugurated the specialised surgeries hospital affiliated with