You are here
Premier announces plan to trim public spending, improve services
Razzaz vows open communication with public, reconsideration of 'unfair' legislation
By Mohammad Ghazal - Jun 20,2018 - Last updated at Jun 20,2018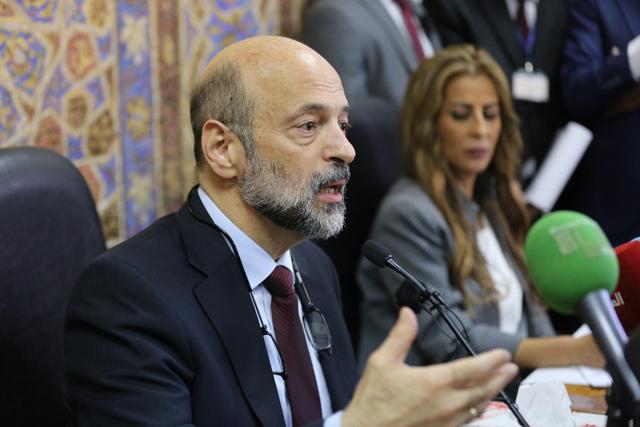 Prime Minister Omar Razzaz speaks to reporters in Amman on Tuesday (Photo by Osama Aqarbeh)
AMMAN — The government will cut public spending by JD150 million this year and will implement a series of projects to improve services, Prime Minister Omar Razzaz said on Tuesday.
The premier also announced a series of other decisions that addressed outstanding issues inherited from the previous governments.
"It is unacceptable whenever there is slow economic growth, a decline in revenues or budget deficit that we offset that by imposing taxes. We should start by cutting public spending," he told reporters in the presence of Minister of State for Media Affairs Jumana Ghunaimat on Tuesday.
The premier said the Ministry of Finance has already prepared a report on how to reduce spending by all ministries and independent government units this year.
Razzaz said the step is meant to evade levying new taxes.
He announced that the government would immediately embark on a national dialogue about the controversial income tax bill, which triggered mass protests that led to the resignation of his successor Hani Mulki.
"There will be a comprehensive revision of the overall tax structure and the tax burden with focus on the income tax draft bill to ensure justice," said the premier, pledging transparency in the process to ensure accountability.
"We need to take well-studied decisions so we do not have to revoke them a few months after," he said.
Razzaz said the government would also focus on improving the quality of services.
"When citizens pay taxes, they are entitled to receive, in return, quality services in education, transportation, health at public agencies," he said.
He said that the government would also reconsider the Civil Pension Law and the Social Security Law with regard to life-time pensions given to ministers.
"Does it make sense that a minister who serves for 2-3 months gets a life-time pension? This is unacceptable by all standards of justice… civil servants and SSC subscribers wait 20, 30 and 40 years sometimes to start receiving a pension," said Razzaz.
On a government's decision taken earlier this year that cancelled tax exemptions on hybrid cars, the prime minister said the government started studying the financial impact of the decision and its effect on citizens and their ability to purchase such cars as well as on the environment.
He said a decision would be announced in this regard next month.
"The financial impact of the cancellation of the tax exemptions was below expectation and we will look into that," said Razzaz, adding that discussions will be held with stakeholders in this respect.
He said an online platform will be announced next week through which citizens can submit suggestions and complaints to the government.
"You will see this platform coming to live in less than 100 days…We want all citizens to be part of the decision-making process and contribute with their ideas and suggestions," Razzaz said.
On challenges the Kingdom is facing, the premier stressed the need for continued support by partners and allies for the Kingdom in light of the current conditions and the pressure ensuing from the refugee influx.
He added that the government would be transparent in all measures while highlighting the burdens Jordan is shouldering and sharing all information about public debt challenges, revenues, grants and all related matters.
During the presser, he announced that a code of conduct for Cabinet members would be introduced next week to ensure accountability and avoiding conflicts of interest.
Razzaz added that there are plans for restructuring independent public agencies to ensure effective performance and better services.
"Any plans in this regard do not mean sacking of any staff at all.. We need to make sure that there is no overlapping in services between these entities and existing ministries," he explained.
Newsletter
Get top stories and blog posts emailed to you each day.