You are here
Political parties need to include at least 30 per cent of youth — IEC chairman
Former minister calls for youth participation in all aspects of the state to achieve 'real political reforms' and democracy
By Renad Aljadid - Jul 11,2018 - Last updated at Jul 11,2018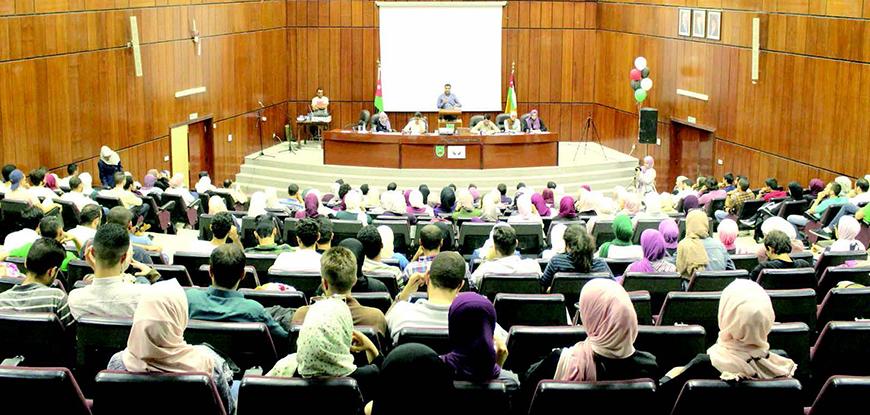 Chairman of the Independent Election Commission Khaled Al Kalaldeh addresses attendees of a seminar at the University of Jordan on Tuesday (Photo courtesy of UJ Students' Union)
AMMAN — The only way to achieve a parliamentary government is by enhancing the participation of political parties, stressed chairman of the Independent Election Commission (IEC) Khaled Al Kalaldeh, noting that "at the moment, any political party that does not include at least 30 per cent of youth is 'doomed to fail'".
During a seminar organised by the University of Jordan's (UJ) Students' Union, the former minister of political and parliamentary affairs said: "Political parties are weak in Jordan because there have been so many restrictions on them in the past. Even now, after laws were issued to enhance and regulate their activities, their members are still living in the old mentality."
"With a society where more than 70 per cent of the population is under the age of 30, youth should be involved in all of the state's aspects," he underscored, stressing that the solution needed now to achieve "real" political reforms is democracy.
"If it seems like democracy is causing problems among the society, then this is an indication that even a higher level of freedom is needed," Khalaldeh stated.
During the open discussion, one of the attending UJ students claimed: "There is a contradiction between the call for more political parties' activities and the simultaneous arrests of students, their dismissal from university or deprival of their advantages if they are involved in any political party."
"We resort to expressing ourselves through protests and strikes at the university or in the streets because the Lower House, which is supposed to represent the people, is not doing its job," another student commented.
Kalaldeh noted that universities' regulations in various countries prohibit political parties' activities on campuses but otherwise allow students to express their political opinions.
"I disagree with any attack against the Lower House, as they are the door for any reforms," the IEC chairman stressed, adding that "the measure of an election's success is not just the election law, but, more importantly, the awareness of the electors themselves".
He said that all candidates had electoral programmes which they announced to people, who then had the choice to vote accordingly and said citizens should follow up with what has been achieved and what is yet to be done.
"We need an increased level of awareness among the people to stop giving their votes on geographical or tribal bases," Kalaldeh underlined.
The seminar also witnessed the participation of three speakers who commented on issues related to the Fourth Circle protests.
Mohammad Zawahreh, a consultant at the Jordanian Youth Government initiative, stated that Jordan is witnessing the birth of a "fifth authority", formed by civil society and youth.
Meanwhile, political activist Obada Ali said that Jordanians are "smart and willing for real reforms". "The income tax draft law was only the spark that made them move collectively," he stated, adding "there is now a necessity for an extraction capability that utilises the country's existing potential and resources".
Laith Alawneh, an activist student, said that Jordan is heading from restrictions on political participation towards more political openness, stressing "the youth involvement in that the Fourth Circle protest was a major reason behind its success, and their absence from political parties is a major reason behind their failure."
Newsletter
Get top stories and blog posts emailed to you each day.