You are here
PM launches second phase of National Service Programme
By JT - Jan 14,2020 - Last updated at Jan 14,2020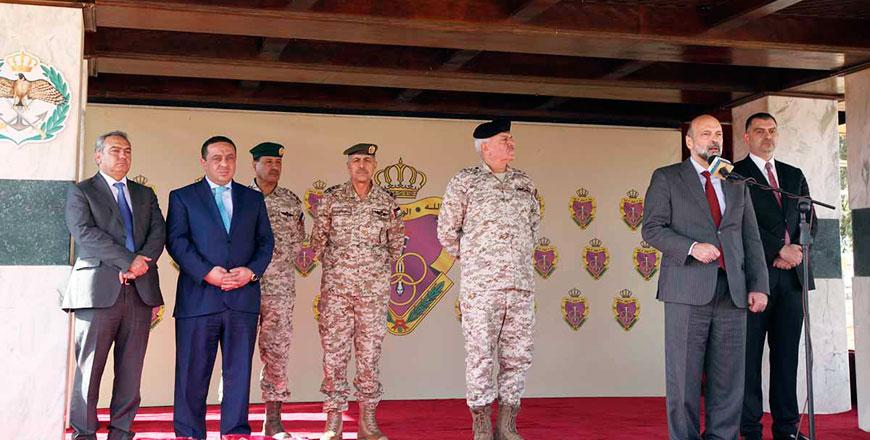 Prime Minister Omar Razzaz inaugurates the second phase of the National Service Programme at the Zarqa Military College on Tuesday (Petra photo)
AMMAN — Prime Minister Omar Razzaz on Tuesday inaugurated the second phase of the National Service Programme with 6,000 trainees during a ceremony held at the Zarqa Military College.
The programme, revamped by the Ministry of Labour to provide training for recruitment purposes and to have a higher absorptive capacity, aims at supporting the national economy and supplying the market with qualified young personnel, while also aligning the vocational and technical outputs of Jordan's education systems with the needs of the labour market, the Jordan News Agency, Petra, reported.
The programme falls under the National Employment Charter and is one of the government's priority projects.
The second phase provides training for 6,000 trainees, with an equal number of females and males, who have been selected from 15,000 recent applicants. The lion's share of the interns come from various governorates, at 76 per cent, and 24 per cent are from Amman.
Conducted through the partnership of the Jordan Armed Forces-Arab Army and the Labour Ministry, the programme offers courses in the industrial, construction and tourism sectors, among others, including male-exclusive military training and vocational training courses for all participants, as well as training on developing life skills.
The 3,000 female trainees, along with the 3,000 males following their military training, will enroll the vocational and professional training courses in early February.
During the ceremony, Razzaz said: "We started this year implementing Royal directives related to declaring 2020 to be the year of employing young people and seeing a successful start to reducing unemployment rates."
He pointed out that His Majesty King Abdullah is following up the national programme closely, for expansion purposes.
Lauding the young participants' decisions to enroll in the national programme, the premier stressed that the trainees "will have jobs after the completion of training".
The training is not to be thought of as an alternative for those who do not wish to pursue an academic degree, he said. Many of the applicants are college and university graduates who need real-life training before entering the job market.
Along with offering graduates jobs, the programme provides interns with a JD100 monthly allowance, a daily meal and medical insurance in case of work-related injuries, as well as coverage for transportation fees, uniform costs and the issuance of a professional licence by the Centre of Accreditation and Quality Control.
Newsletter
Get top stories and blog posts emailed to you each day.